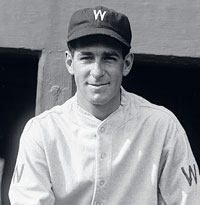 Nats fans, history is on your side. In a sport in which numbers mean everything and "nine" has a special resonance, it's been nine decades since Washington's professional baseball team won the World Series. And it's been 81 (nine times nine!) since DC took a league pennant, in 1933.
Or consider, in a sport so fickle that chance is the only thing you can count on, the coincidences: By 1924, only two American League teams had yet to win a pennant—the St. Louis Browns and the Washington Senators, also known at the time as the Nationals. But under rookie manager Stanley "Bucky" Harris, the '24 Nats were so successful that by September, the Washington Evening Star declared that DC baseball "no longer is a national game. It is a disease, a flaming epidemic."
After the Senators won the deciding game of the Series against the New York Giants, at Griffith Stadium, so many fans jammed Pennsylvania Avenue that cars were forced to drive on the streetcar tracks.
The 2014 campaign begins with another rookie skipper in Matt Williams, like Harris known for his hard-charging demeanor. In his 17 years as a player, Williams was nicknamed the Big Marine, for both his size and his passionate approach. Nats general manager Mike Rizzo, who knew Williams when both were with the Arizona Diamondbacks, recalls: "You screwed up, Matt Williams put you in a locker. And that was the end of it."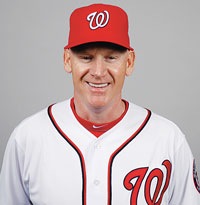 The correlations with 1933, however, get downright spooky. That year, Senators owner Clark Griffith had turned to another novice manager, Joe Cronin, famed, as Griffith put it, for his "pep and fight." Both Williams and Cronin replaced an easygoing former player named Johnson. Cronin replaced Walter Johnson, the legendary Senators pitcher who managed the team for four seasons; Williams replaces Davey Johnson, who played 13 years and had managed around the majors since 1984 but for the last decade probably preferred fishing. Like Walter, the more recent Johnson did everything as Washington's manager but win the crown.
That was Cronin's fate, too. The '33 Senators compiled the best winning percentage in Washington baseball history (.651) and cruised to their third American League pennant in a decade, but this time the Giants beat them in the Series.
That Williams's associations are stronger with the '33 Series losers, instead of the '24 victors, might make some Nats fans' hearts quail. But here's one more uncanny coincidence to tuck away: In 1924, the year they won it all with rookie skipper Harris at the helm, the Senators had on their roster a Missourian named Bert Griffith. He was Matt Williams's grandfather.
Frederic J. Frommer is author of You Gotta Have Heart, a history of baseball in Washington. This article appears in the April 2014 issue of Washingtonian.