Saturday, 11:10 AM
Long after his motorcade is scheduled to arrive at Skyland Town Center in Ward 7, Mayor Vince Gray is still at a ribbon-cutting for the Washington Nationals Youth Baseball Academy, 12 minutes away in Fort Dupont. Steve Glaude, on leave from his job as the Gray administration's director of community affairs so he can serve as the Gray campaign's political director, runs back and forth across the Skyland parking lot, making sure the vehicles participating in the eventual caravan are outfitted with Gray logos. A sport-utility vehicle rigged with loudspeakers queues up a playlist composed of Chuck Brown, Pharrell, Stevie Wonder, and, of course, the latest radio ads for Gray's re-election campaign. It looks the sky is about to open up.
In the race's closing weeks, Gray has focused his campaign almost exclusively east of the river, largely with former mayor Marion Barry in tow. On the final, rain-drenched weekend of the campaign, the current mayor hits Ward 7, and the mayor-for-life rolls through Ward 8, following a playbook that trades computer-targeted canvassing for old-school sound trucks.
12:19 PM
Gray finally arrives. Carl Williams, who works at Like That Barber Shop across Naylor Rd., SE, walks up to the mayor and asks him to drop in. Gray obliges and leads his entourage and media followers to the strip mall across the street. "Chuck Baby" is blasting from the sound truck.
"We got his back," Williams says inside the barber shop as Gray works his way around every chair. "He got a good man supporting him—Marion Barry. He's been good for the people. You gotta let him finish his work."
After working through Like That, which is festooned with NFL memorabilia and photos of DC boxers Dusty Hernandez-Harrison and Lamont Peterson—both of whom get their hair cut there, Williams says—Gray goes a few doors down two Vision's Hair Salon. The perfume-filled salon is less busy than the neighboring barber shop, but Gray, stuck at 27 percent in the polls with Muriel Bowser pulling even or ahead less than a week before the election, he's desperate to churn up as much of his base east of the Anacostia River.
Twenty minutes later, Gray finally returns to the Skyland parking lot, climbs in the lead SUV, and the 10-vehicle motorcade, plus two more reporters' cars, finally gets rolling.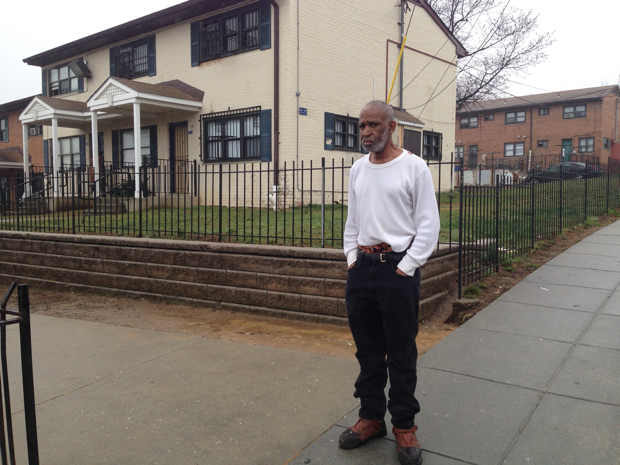 1:25 PM
The caravan stops in Stoddert Terrace, a rundown housing project in the Lincoln Heights neighborhood with a sweeping view of Northeast DC. While Gray makes door-to-door visits, the speakers blast a radio ad boasting about a recent $187 million increase in funding for low-income housing.
But some are not impressed by the mayor's drop-in, or by any of his competitors either. "He didn't do shit," says a young man named Scott Thompson as he storms past the idling motorcade. "I ain't voting for none of these people."
On the other hand, few people are talking in Stoddert Terrace about the federal investigation into Gray's 2010 campaign. "There's a lot of misinformation," says Brittney Wright, a 25-year-old DC government employee driving one of the cars in the motorcade. "He's innocent until proven guilty. Muriel's people ignore that fact."
Instead, the conversations here are about economic hardship. Matthew Morton, an unemployed construction worker says Gray promised him work in 2010.
"Last two years I've been out of work," Morton, 55, says. "Why should I vote for him?"
1:44 PM
The next stop is the Benning Road Metro station, where Gray runs into a church group with members from DC and southern Maryland. Michael Barber, a pastor from Lexington, Maryland, leads a prayer as his parishioners lay their hands on the mayor's shoulders and torso. "He's done a fine, blessed job," adds Sheldon Turner, a pastor at Grace Apostolic Church in Northeast.
2:25 PM
Gray's motorcade pulls into the parking lot of the Dorothy Height Neighborhood Library, an early-voting location for Ward 7. Pete Ross, a furniture magnate and convicted tax cheat who's running for one of DC's shadow senator positions, waits under a polka-dotted umbrella. As he walks toward Gray's car, Ross, who spent $200,000 in his failed shadow senator campaign in 2012, says he plans to blow just as much this time.
"It's a shadow campaign you can be proud of," Ross tells the mayor, who smirks at the joke.
Gray heads into the library, where poll workers tell him he has to take off the sticker with his campaign logo before they ask him to stand for a few photographs. "I don't distinguish campaigning from governing," Gray says.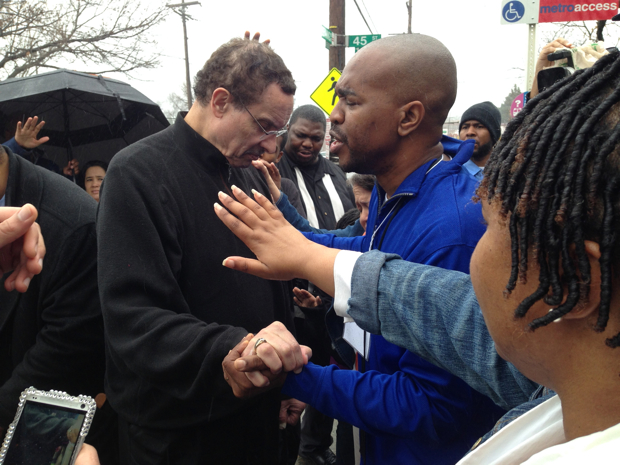 2:55 PM
The caravan stops in another Lincoln Heights community, where Gray visits with Patricia Malloy, a member of the local advisory neighborhood commission. This mayoral election, the first since the Council moved the primary from September to April, has candidates bracing for an exceptionally low turnout. Only 14,000 people cast ballots during the early-voting period, compared with 22,000 in 2010.
A small electorate could help Gray, who is depending on the 27 or 28 percent of voters who decided they were for him from the start. Bowser's chances hinge on a larger, motivated anti-incumbent groundswell.
"Regardless of what it is, he's going to win," Malloy says.
"Good answer," says Gray.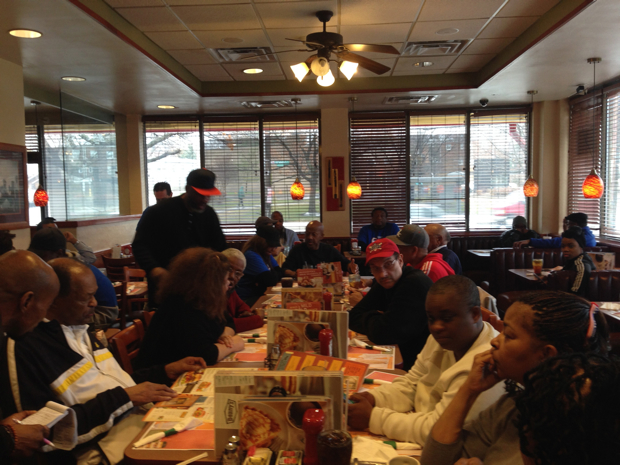 3:23 PM
Finally, the motorcade arrives at Denny's on Benning Rd., NE, where Barry and his 17-car motorcade are waiting. Barry needs the help of two people as he gingerly sits down. Ten days after endorsing Gray, Barry is still reeling from his long hospital stay to fight off a blood infection, but he's sharp-tounged as ever when it comes to assessing a race between his old friend Gray and Adrian Fenty protege Bowser.
"Muriel Bowser is Fenty 2," Barry says. "Muriel would be a disaster. There's no textbook for being mayor."
Barry also can't help but give himself credit for propping up the Gray campaign in the closing days. "There's nothing but love for me," he says. "I think everybody knows I'm a straight shooter. [Gray] has nothing but integrity."
And for Barry, there's nothing wrong with a strategy that focuses almost exclusively east of the Anacostia. "Washington is racially divided like most cities," he says. "That's not Gray's fault. Not my fault. It's the nature of society."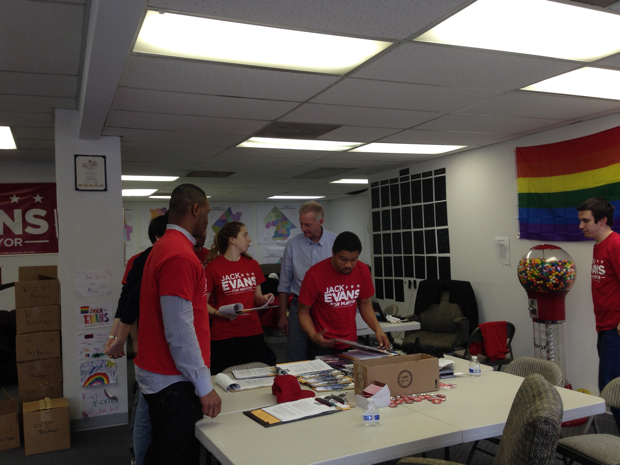 Sunday, 11:56 AM
Jack Evans's campaign office on 14th St., NW is a ghost town. "It's almost snowing out there," Evans says, walking in wearing duck boots, jeans, and a denim shirt. Evans sank to 6 percent in last week's Washington Post poll, tied with first-time candidate Andy Shallal. Soda and snacks are piled up on tables, surrounded by thick reams of door hangers. His staff waits for volunteers to pick up canvassing packets.
Evans's young campaign staff is there to believe there's still a path to victory, but the candidate, who criticized Gray far less than any of the other challengers, seems to know he's been defeated.
"I ran the campaign I wanted to run," he says with a sigh. "Ran a real positive campaign. People told me, 'You'd be the best mayor.'"
And in his latest agreement with Gray, Evans echoes the mayor's criticism of Bowser.
"I don't think she is ready," Evans says, paraphrasing Gray's advertising. "The mayor's the mayor, and he's doing a good job. What made Muriel the alternative? Was it the Washington Post?"
Evans says he has to run back to his office before he knocks on some doors himself. But he knows it's nearly over.
"I don't regret it," he says. "I'd regret it if I was sitting here and had not run."
3:35 PM
The temperature outside has dropped into the mid-30s and the driving rain solidifying in to thick, heavy snow. But Bowser's campaign is flush with canvassers. "How many hours?" Muriel Bowser asks her packed campaign headquarters on Georgia Ave., NW. "Fifty-two!" her supporters yell back, marking the amount of time until polls open on Tuesday.
Some present are volunteers, others signed up with the promise of $100 for a day's work. Boxes from nearby Ledo Pizza are stacked high, while Bowser's supporters get ready to head out with walk packets, leaflets, and photocopies of one of Bowser's multiple Post endorsements.
Asked about the "Muriel's Not Ready" cover that the Gray campaign put on every copy of Friday's edition of the Washington Post Express, Bowser says, "Nobody can be surprised that a flailing campaign throws a Hail Mary."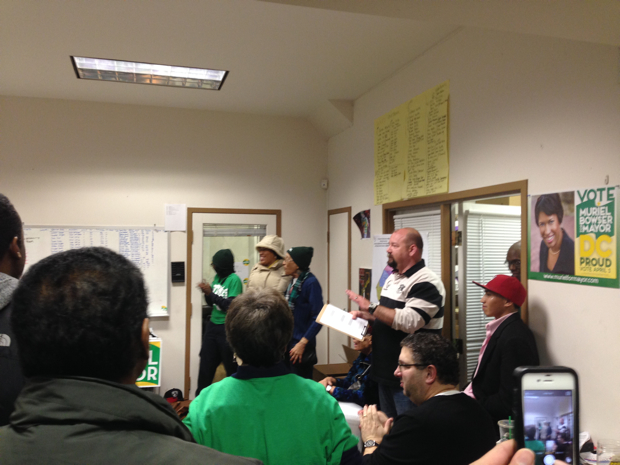 4:24 PM
Bowser's Lexus SUV pulls up to a neighborhood of detached houses in North Michigan Park in Northeast, not far from where Bowser grew up. The candidate walks down the quiet street through the fat snowflakes while a half-dozen canvassers dart between houses, calling her to sprint over when someone answers the door.
Nikki Kasparek, 31, tells Bowser she's choosing between her and Wells, and is concerned about education as she and her wife try to start a family.
"Gray hasn't been bad," Kasparek says. "The scandal just leaves a bad taste in your mouth."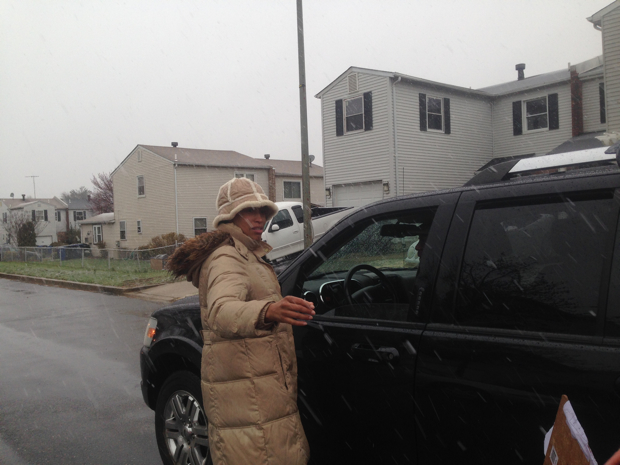 5:25 PM
"Anything other than Gray," says Maegan Graham, 25. "I was through when that man passed out," she says, referencing Medric Mills, who died in January when he had a heart attack outside a Northeast DC fire station and none of the on-duty fire fighters came to his aid.
Graham isn't committed to any candidate other, but she's emblematic of the anti-incumbent vote that Bowser's team is trying to congeal.
"DC Council members select April 1 for the primary, now find themselves campaigning in the snow. Mother Nature, I like your style!" NewsChannel 8's Bruce DePuyt writes in a snarky tweet.
"Doesn't bother me none," Bowser says on the way back to her office.
6:58 PM
Tommy Wells, polling in third place, sits with a few supporters are in the basement of Fed Restaurant, an eatery and nightclub in Adams Morgan, for an event organized by a group called Unwined, which hosts politically themed happy hours. The snow and rain have finally stopped, but the place is deserted. One of the event's organizers says over the pulsing music that it might be more happening in about an hour, and that Wells will probably stay until around 9:30.
But an hour and a half later, Wells is gone. "There wasn't really much of a crowd," the organizer says.