If you haven't been to the Nationals Park environs since last season, prepare for a changed landscape when it comes to feasting and boozing. Sure, the Bullpen is still best for a Bud Light and bag toss, Shake Shack burgers are worth the wait, and you can always celebrate a win with Ben's chili cheese fries. But the new options are looking good; let's just hope the season is the same. Here are a dozen new options to check out during the home opener this weekend, plus happy hours and opening specials. Let's go Nats!
Near Nationals Park
301 Water St., SE; 202-484-0301
A recent chef change at this modern Mexican eatery may have brought new items to the menu since our initial preview, but you can still expect the same pitchers of margaritas, tacos, and other zesty eats. A 50-seat patio opens April 14.
Specials: Sip $6 margaritas two hours before and after every game, including frozen flavors and fresh watermelon. If the Nats win, the price dips to $5 post-game.
Bluejacket's Grill & Patio
300 Tingey St., SE; 202-524-4862
This brewery/restaurant extends service outdoors starting Thursday, through the remainder of the season. An extensive "tailgate" space opens at 10 for the home opener with a grill menu from chef Kyle Bailey offering burgers, barbecue pulled pork sandwiches, 18-hour-roasted ribs, kielbasa, and more. There's also an outdoor bar stocked with six of the brewery's beers.
Specials: See all of the above. The patio will regularly open two hours before each game (except opening day) and close at 10 (for later games, the area will close an hour after).
300 Tingey St., SE; 202-524-4989
Drop in for one of Tiffany MacIsaac's confections before or after the game, from cupcakes to cookies and more.
Specials: Welcome the warm weather with chocolate and butterscotch pudding pops, which you can eat on the outdoor patio.
301 Water St., SE; 202-484-0660
Divinely rich pastas and wood-roasted meats aren't the typical pregame fare, but they're hard to resist at this spinoff of restaurateur Michael White's SoHo Italian. If the weather is warm this weekend you can sip pitchers of white cucumber sangria ($30) on the 100-seat patio.
Specials: A new happy hour menu runs 4 to 7 Monday through Friday. Head in for $5 craft drafts, $7 wine on tap, and $20 bottles. An array of small bites such as crispy ravioli with meat ragu and fried smoked mozzarella go for $5. Hungry post-game? You'll find $12 pasta deals after 9.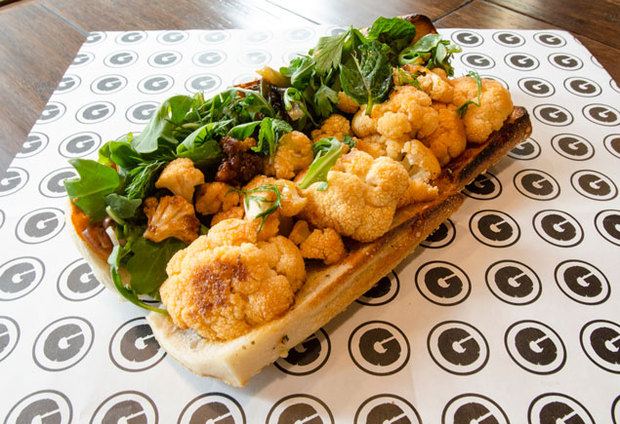 Inside the Stadium
Bullpen Burrito (Section 140)
This Chipotle-esque vendor offers burritos in wrap, bowl, and salad form, with a choice of chicken, steak, veggies, and toppings.
Chesapeake Crab Cake (Section 114)
You'll find crab meat in more than just cakes at this new stand—it's scattered over nachos, rolled into balls, and tucked inside grilled cheese.
Field of Greens (Section 113)
Vegetarians no longer have to resort to a french fry dinner. Items include salads, a mushroom burger, and a meat-free cheese "steak."
G by Mike Isabella (Section 136)
The chef brings his popular 14th Street sandwich spot to the park with Italian-style offerings including chicken Parm, Italian heroes, and a killer roasted cauliflower option for vegetarians.
Gluten Free (Section 136)
A progressive stand without a very inventive name, but hey, points for clarity. Head over for gluten-free beer, hot dogs, pulled pork, and more.
International Wok (Section 233)
Fans of drunken noodles, pad Thai, and more can grab Chinese-style takeout containers to bring back to their seats.
Kosher Grill (Section 143)
The Rabbinical Council of Greater Washington oversees this stand selling kosher dogs, knishes, falafel, and shawarma.
South Capitol Sushi (Section 129)
Sushi and baseball may sound like an odd pairing, but you may be happier with light spicy tuna rolls over hot dogs come August.