It's hard to believe coming out of this never-ending winter, but the outdoor-drinking landscape has changed for the better since your limbs last felt sunshine. With highs today around 70 and an even warmer weekend ahead, it's prime time to discover newly opened al fresco dining and drinking spots. Note that a number of prime patios—such as those at Fiola Mare, Mission, and Agua 301—are still in the works, but will open very soon.
1725 Wilson Blvd., Arlington
Not much has changed menu-wise at the first standalone spinoff of the iconic U Street Ben's. One major difference: a handful of outdoor tables for taking down a chili half-smoke al fresco.
919 U St., NW
This Mexican beer garden has been covered by a retractable roof since its January debut. Now the U Street bar is going topless on nice days, and opening at noon on Saturday and Sunday so you can catch some weekend sunlight. Daily specials include domino tournaments on Monday, $3 Tamale Tuesdays, and screenings of Mexican wrestling matches on Wednesday.
7945 MacArthur Blvd., Cabin John; 301-229-0900
If your weekend plans involve working up an appetite on a Great Falls hike, consider stopping at this taqueria. About 14 outdoor seats are available for sipping margaritas and munching on tacos, including grilled fish, carnitas, and a standout veggie. Thursday brings $5 marg specials.
1734 N St., NW; 202-524-5202
Cooler weather has kept the crowds away from this gem of an urban garden, but expect that to change soon. A charming brick enclosure, century-old wisteria vines, and heat lamps for cooler days add to the cozy ambience. The Mediterranean-leaning menu is made for snacking or dining; also make sure to check out the list of unusual craft brews, wines, cocktails, and liqueurs including ouzo.
301 Water St., SE; 202-484-0660
Feel like sipping sangría before a Nats game? This Italian spot a few blocks from the ballpark is your spot for pitchers of white cucumber sangría with a water view. The 100-seat patio opens on nice days for the full menu of pastas, wood-roasted meats, and more.
1401 R St., NW; 202-234-0400
The latest addition to the 14th Street scene comes in the form of this dessert-and-cocktail bar, which opens on Saturday at 4 with a 45-seat sidewalk patio. Summer will bring an outdoor slushie stand, but in the meantime you can order a boozy, fruit-studded "riverstone slush" or, if the evening is chilly, an Irish coffee fortified with absinthe.
6939 Laurel Ave., Takoma Park; 301-270-3000
If you're looking for an excuse to check out Jeff Black's newish Takoma Park eatery, outdoor seating is a good one. The side patio is open with a number of communal tables for downing craft brews, oysters, and more. A live music lineup adds to the experience.
7940 Norfolk Ave., Bethesda; 240-245-7663
The name says it all at this downtown Bethesda spot, which debuted in January. Now you can take full advantage of one of the largest roof-deck bars around. Lounge at one of the tables, or catch the game on one of the flat-screens above the bar.
2446 18th St., NW; 202-232-7663
You can glimpse the Washington Monument in the distance at this sky-high roof bar (formerly the Reef). Rooftop beverages include pitchers of craft beer and house-made punch, such as the refreshing, rum-spiked Summer Wind with Campari, lemon, and mint. You'll also find chef Marjorie Meek-Bradley's lineup of house-made sausages, skewered meats and prawns, and a pretzel hot fudge sundae.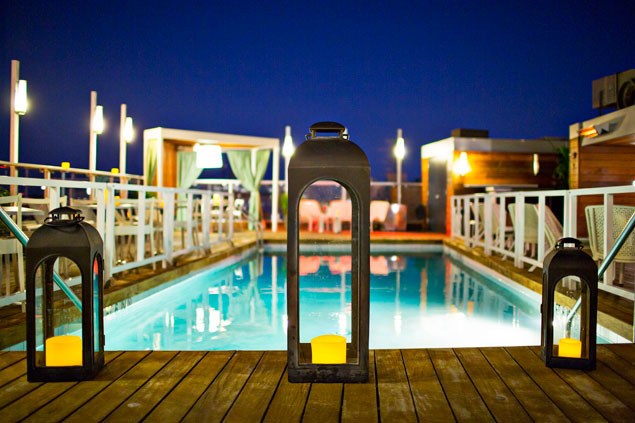 New Menus to Note
3815 Georgia Ave., NW; 202-506-2080
The reopening of the patio brings a new cast of specials, which include $3 PBRs and half-price "royale with cheese" burgers topped with bacon and special sauce (typically $15) from 5:30 to 7:30 Monday through Thursday.
1155 14th St., NW; 202-379-4366
This Kimpton Hotel rooftop stunner opens on Friday with a new lineup from chef Jennifer Nguyen and barkeep Jon Harris. Look for Asian-inspired tacos filled with tamarind beef barbacoa and kimchee and drinks such as a gimlet with yuzu.
Front Porch at the Evening Star Cafe
2000 Mount Vernon Ave., Alexandria; 703-549-5051
You'll still find old favorites like bourbon slushies, but chef Jim Jeffords expanded the menu to include eats like hushpuppies with harissa aïoli, pulled-pork sliders, and Polish street food (why not?) in the form of zapiekankas, French bread pizzas with a variety of toppings.
1940 11th St., NW; 202-332-9463
One of our favorite places to lounge and play bocce launches a new spring grill-and-cocktail menu with items such as a house-made chicken dog, a burger topped with basil aïoli and mozzarella, and grilled-mango Caipirinhas. A generous outdoor happy hour runs 5 to 7 daily.