Amaris Bradley is a dietitian and nutritionist who works in the Food, Beverage & Nutrition practice at Porter Novelli, a public relations firm. Tight deadlines and long workdays have taught her a thing or two about eating healthfully on the go, so she has plenty of tips for nutritious meals that are easy to throw together. When she's not working, she loves to stay fit with jogs around the monuments and hot yoga in Dupont Circle. You can follow Amaris on Twitter @AmarisBradley.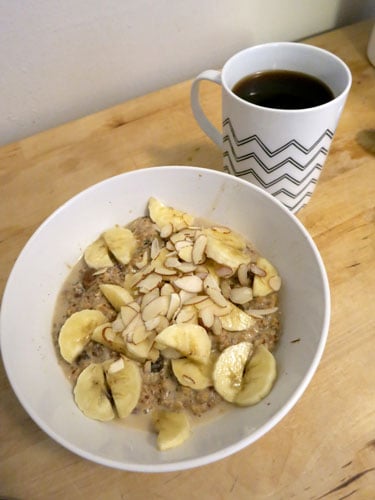 Breakfast: "Oatmeal is my mainstay. To save time in the mornings, I make a big batch at the beginning of the week and then portion out a serving each morning before zapping it in the microwave. Most Americans don't get enough fiber in their diet, so oatmeal is a great way to start the day with a healthy dose. I make mine with unsweetened soymilk, a spoonful of ground flaxseed, chia seeds, sliced almonds, raisins, a dollop of peanut butter, and a generous dusting of cinnamon. This morning I threw in sliced banana and sliced almonds. I always have my morning bowl with a hot cup of black coffee, a rich source of disease-fighting antioxidants!"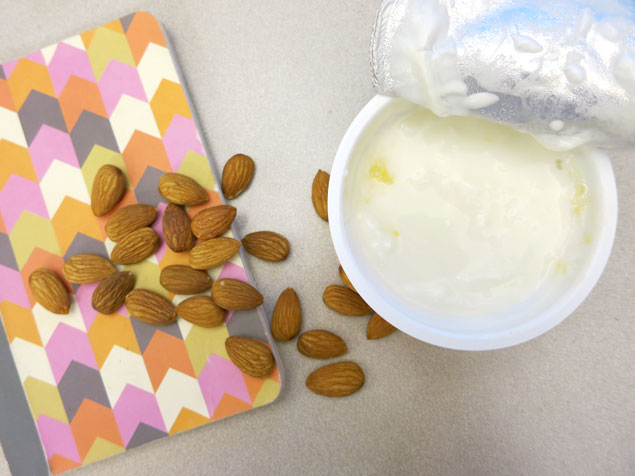 Late-morning snack: "I tend to have a snack in the late morning hours so my stomach grumbling doesn't disturb my workmates. Usually I turn to nonfat Greek yogurt and a handful of unsalted roasted almonds, which is a deliciously satiating snack pair loaded with protein (18 grams!). I'm never without my stash of almonds, high-fiber crackers, or apples in my desk drawer—always prepared to fight energy lows with a healthy snack."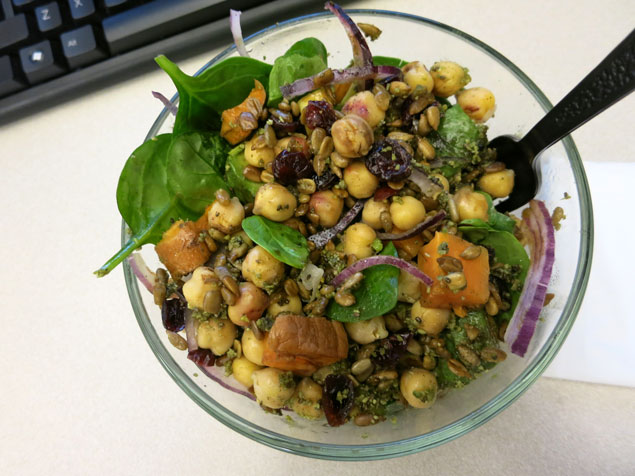 Lunch: "I packed a big bowl of mixed greens topped with chickpeas, sliced red onion, unsweetened dried cranberries, chopped roasted sweet potato, avocado, and sunflower seeds, all drizzled with olive oil and balsamic vinegar. Aside from roasting the sweet potato, all these ingredients are a breeze to throw together the night before—and definitely take less time than standing in line to pick up lunch anywhere on K Street. By this point in the afternoon I'd been drinking water continuously, but I brewed a cup of hot green tea to accompany lunch for—you guessed it—more antioxidants."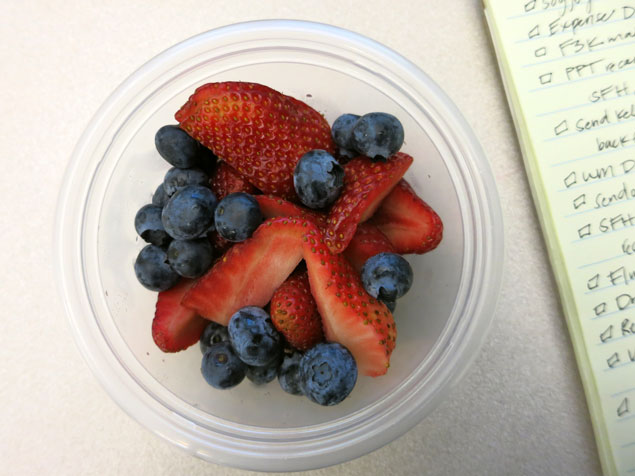 Afternoon snack: "As the end of the day neared, I busted out some berries for a few more nutrient-dense calories to hold me over until I made it home for dinner."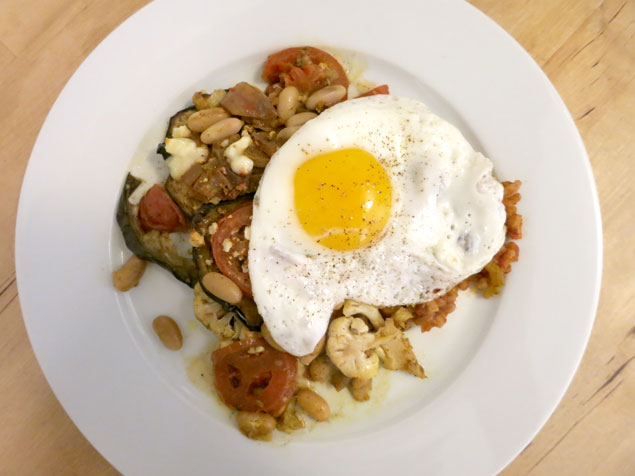 Dinner: "Dinner was a favorite for this batch cook: leftovers. Earlier in the week I made several meals' worth of farro risotto with roasted eggplant, tomato, cauliflower, beans, and feta cheese. Tonight I topped it with a fried egg for good measure. Fiber-filled carbohydrates from the farro, plenty of vegetables, and protein from the egg and cannellini beans make this a balanced and tasty meal."
The Food Diaries series is intended to be inspirational and is not an endorsement of each individual's diet.
Are you a local health, fitness, or nutrition expert with a love of food? E-mail wellbeing@washingtonian.com to find out how you could be featured in our series.