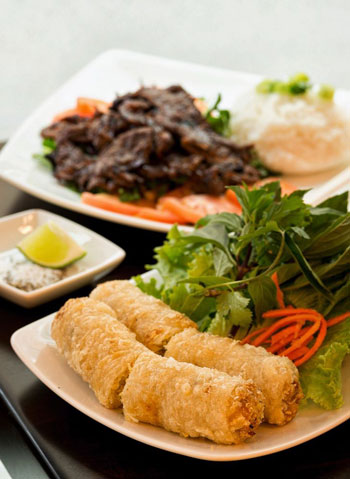 If you've eaten Vietnamese in Virginia over the past two decades, chances are you've made at least one trip to Four Sisters. The family-run Falls Church eatery is one of the most popular in the area, its cheerful dining room regularly filling up for 20-plus years. Now the family is set to expand for the first time with Four Sisters Grill, a fast-casual spinoff opening steps from the Clarendon Metro on Thursday.
Chef/co-owner Hoa Lai condensed his menu of 110 items at the flagship to just over 20 dishes for the new space (formerly Fat Shorty's). The kitchen adapts longtime customer favorites such as papaya salad, black-pepper beef, and bun vermicelli noodle bowls for quick service and carryout. Customers order at the counter and then find one of 70 seats inside the warm-hued space, or can opt for a table on the patio in warmer weather. You might bask in the sun with a Thai iced tea or one of the many beers—both imports such as Saigon Export and American crafts—selected to pair with the food.
Those looking for dishes new to the Four Sisters lineup will find a selection of bánh mì stuffed with meats like grilled chicken and cold cuts with pâté. The Grill sources its baguettes from the Eden Center bakery Song Que, and if the sandwiches are similar, you're in for some of the best around. Vegetarians can opt for a tofu version, and will find similar meatless options in each section of the menu. One dish you can't order: pho. Lai says customers have already asked about the signature Vietnamese soup, but he hopes instead to expand their knowledge of other types of dishes.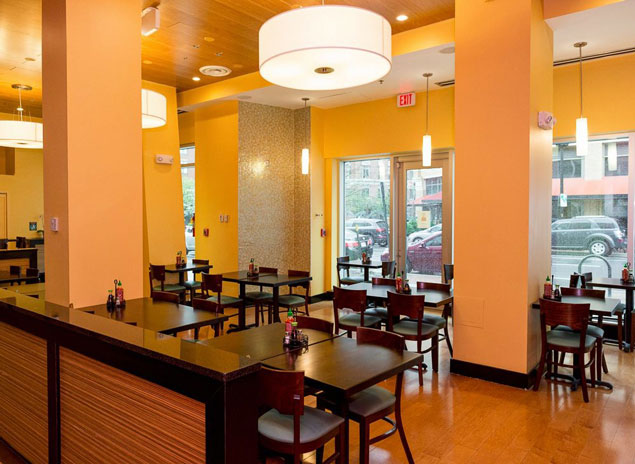 If this venture proves as well-received as its flagship, Lai says you may see more Four Sisters Grills in the future.
Four Sisters Grill. 3035 Clarendon Blvd., Arlington; 703-243-9020. Open daily 11 to 9.