Emily Robins understands the importance of a balanced diet. As the owner of the Lancaster, Pennsylvania-based bakery Goldilocks Goodies, which supplies Washington-area cafes and natural-food stores with fresh, gluten-free treats, Robins works 12- to 16-hour days and spends a lot of time on the road. "Though I don't always eat at designated meal times, I definitely need to keep my blood sugar stable and energy going," she says. She's not strictly vegetarian, but "hardly ever" cooks meat, relying instead on protein from eggs, hummus, quinoa, and protein shakes. On the weekends, she loves to practice yoga. "My joints are severely weakened from a ten-plus-year history of Lyme disease, so I can only do low-impact exercises now," she says. "The meditation and stress release are bonuses!"
Read on to see what a typical day of eating looks like for Robins.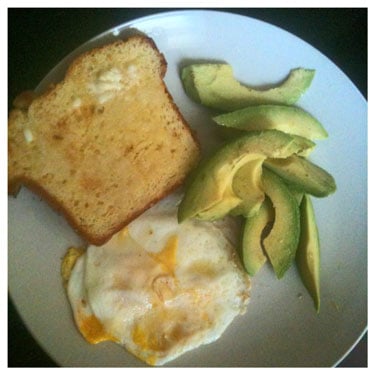 Breakfast: "My mom has free-range chickens in her back yard. I pan-fry two eggs with turmeric for breakfast and have a piece of my gluten-free bread with butter. Two cups of coffee are a necessary ritual, but no caffeine after 11 AM. My favorite mug from China says, 'May all your wishes come true.'"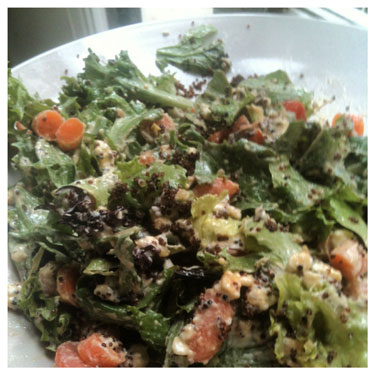 Lunch: "If it's a delivery day, I pack a chocolate protein shake for the road and eat a late lunch. It's usually salad greens with red quinoa and vegetables. I love Dress It Up dressings or Bragg's ginger-and-sesame dressing. Here, I stirred in hummus to make it creamier and add more iron and protein."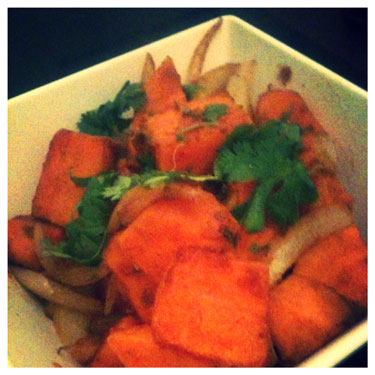 Dinner: "Sweet potatoes! They're comforting, pick up any flavor I'm in the mood for, and are nutritious and available year-round. What's not to love? Here, I baked them with onions sautéed in garam masala spices and tamari, then topped with fresh cilantro."
Disclaimer: The Food Diaries series is intended to be inspirational and is not an endorsement of each individual's diet.
Are you a local health, nutrition, or fitness expert with a love of food? Keep a food diary for us! E-mail wellbeing@washingtonian.com for details.