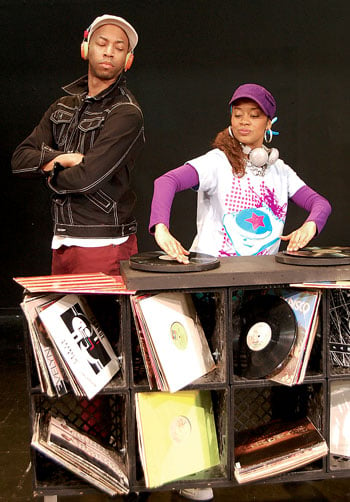 Actor/director Psalmayene 24 completes his trilogy of hip-hop shows for young audiences with the world premiere of Cinderella: The Remix at Bethesda's Imagination Stage. The show stars Paige Hernandez, who also choreographs, as a girl who dreams of making music in a world where girls are shut out. Written by Psalmayene 24 and featuring original music by Nick Hernandez, the show runs through May 25. Here's a conversation with the creator and director.
Where did the idea for a hip-hop retelling of Cinderella come from?
I was thinking about what would be a good follow-up to my last show, P.Nokio, and got the idea for a trilogy. I looked at my first two plays and saw that Zomo the Rabbit was an exploration of the past and P.Nokio looked at the present, so I thought about what could serve as a vibrant future for hip-hop culture. What's lacking right now is a multitude of strong and progressive female voices, so I thought I would focus on that challenge. At the core of Cinderella is transformation and dreams coming true, so those were the seeds I started with.
Can you summarize the show?
It's about a girl who wants to be a deejay, but she lives in Hip-Hop Hollywood, where deejaying is illegal for girls. It's the journey of this young woman who's trying to be herself, trying to be authentic against all odds, which is something that all people struggle with. The idea of doing something you love when it's difficult or even illegal for you to do is timely in terms of thinking about marriage equality, so that was something else I hoped would resonate.
What are the challenges in making theater for young audiences?
The main challenge is making sure you're capturing their attention and imagination. Kids have pretty pure truth meters, so they'll let you know if what you're doing isn't fun or worthy of their attention. In theater, we work with dramaturges a lot, and their job is to make sure the world of your play makes sense. In my mind, young audiences are the best dramaturges because instinctively they have a gauge for what works and what doesn't.
Tickets ($10 to $30) at imaginationstage.org.
This article appears in the May 2014 issue of Washingtonian.