Cinco de Mayo may land on a Monday, but Washington restaurants and bars are celebrating all this weekend. Read on for details on parties, margarita and taco specials, brunches and more.
2106 18th St., NW
Starting on Saturday you'll find happy hour from 3 to 6:30 with $5 margaritas, sangrias, antojitos, and $4 tequila-tamarind shots. Sunday and Monday bring brunch starting at noon.
When: Saturday, May 3, through Monday, May 5
701 14th St., NW
In addition to house margaritas ($5) and Mexican street fare, this downtown Latin spot celebrates Cinco with a monthlong passport tasting menu. The regional cuisine includes papas con chorizo (Mexican potatoes and sausage) and sour-orange pork tenderloin. May is also margarita and tequila festival month at the restaurant, so you can keep the party going long after the 5th.
When: Starting Monday, May 5, 3 to close
1443 P St., NW
There's a five-course dinner tasting menu ($30) available for just 25 people, and you can throw in six drink pairings—including Sauza tequila, mezcal, and Negra Modelo—for an additional $10.
When: Monday, May 5, starting at 7
777 I St., NW
Get the party started early with this taco celebration in Penn Quarter on Saturday. The all-inclusive ticket ($30) includes food, drink, and a guest-voted taco competition.
When: Saturday, May 3, noon to 3
1819 14th St., NW; 1218 Wisconsin Ave., NW
An all-you-can-eat buffet ($10) at both locations includes carnitas, tacos, refried beans, and other Mexican comfort fare, as well as $5 margaritas. Dance it all off to tunes from a deejay.
When: Monday, May 5, 5 to 11; deejay 7 to close
3313 11th St., NW
You can show up early on Monday for a special menu of breakfast burritos, and stay for drinks through the afternoon. Offerings include margaritas on tap ($4.50), frozen margaritas ($5.50), and Tecate tallboys ($3), in addition to $12 tequila flights.
When: Monday, May 5
919 U St., NW
The recently opened restaurant will serve a special five-pork taco ($5) along with an assortment of margaritas.
When: Monday, May 5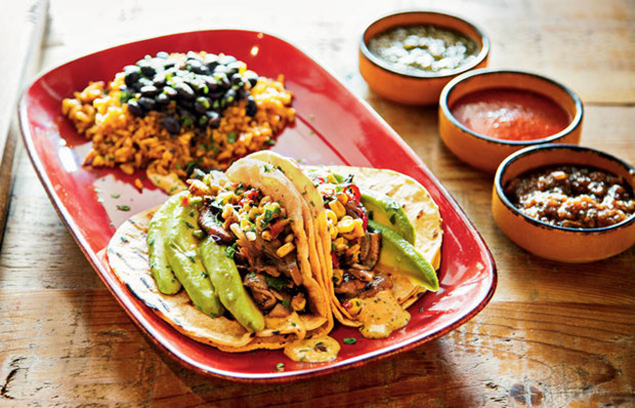 7945 MacArthur Blvd., Bethesda
It's a family affair at this Mexican-inspired taqueria, which is offering frozen margaritas ($5) and draft beers ($4) as well as complimentary cheese fondue for kids.
When: Monday, May 5
2800 Clarendon Blvd., Arlington
Chef Alfredo Solis, a Mexico City native, recreates some of his favorite street eats for a special Cinco de Mayo small-plates menu. An all-day happy hour will accompany the dishes, with specials on margaritas.
1727 Wilson Blvd., Arlington
Start drinking margaritas at noon on Saturday at this Arlington spot. Signature drinks include the MargaChela, a baby Corona inside a house margarita.
When: Saturday, May 3
1825 14th St., NW
Whether you're drinking at the 74-seat bar or the 64-seat rooftop deck, festivities involve three different types of margaritas ($5 each): classic, strawberry, and mango. You can also try pairing them with five small plates ($5 each).
When: Monday, May 5, 3 to close
600 14th St., NW
A team of DC mixologists will guest-bartend throughout the evening, with a specially created cocktail for $6. Ongoing specials include Dos Equis and Tecate beer ($3), tacos ($5), and El Jimador Blanco tequila shots ($6).
When: Monday, May 5
5225 Wisconsin Ave., NW; 575 Seventh St. at F St., NW
Mariachi bands, margarita discounts, special menus, and more are part of this Mexican chain's "five days of Cinco."
When: Through Monday, May 5
2190 Pimmit Dr., Falls Church
Taste a variety of tacos all in one place at chef Victor Albisu's Bamba Bowl, where eateries including Oyamel, Mexicana Bakery, and more compete to make the best. Tickets are $30, inclusive of food and drinks.
When: Saturday, May 3, noon to 3
Third Annual Running of the Chihuahuas
Between Sixth and Seventh sts., SW
This annual charity race featured nearly 100 chihuahuas last year. The speediest pups can win more than $500 in cash and prizes, while their owners can enjoy Pacifico beers, live music, and food. The admission-free event allows non-Chihuahua owners to get involved with the best-dressed-dog and best-trick competitions.
When: Saturday, May 3, noon to 3
400 First St., SE/1460 P St., NW
It's a weekend of specials at these sister spots as they kick off their celebrations with Dos Equis drafts ($3) Friday and continue with Tecate bottles ($3) Saturday and Coronaritas ($10) Sunday. Come Monday you can enter to win a new Corona Beach Cruiser for every Corona you buy.
When: Friday, May 2, to Monday, May 5
2323 18th St., NW
The open bar requires an online RSVP, but you can just show up and enjoy the taco baskets ($3), Coronas ($4), and margaritas ($5). You also get half off your first drink if you wear a mustache or sombrero.
When: Saturday, May 3; open bar 8 to 10, drink specials until midnight
781 Seventh St., NW
Cut out of work early for a party with free chips, salsa, and hors d'oeuvres in the lower-level lounge, starting at 3. Drink specials, including flavored margaritas ($5), will be accompanied by music at night.
When: Monday, May 5; free food at 3, deejay 7 to close