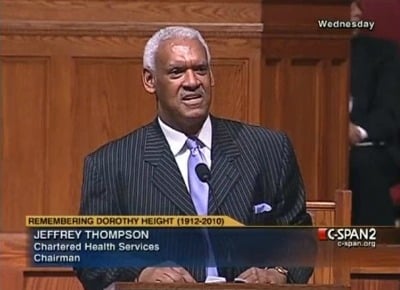 The District's campaign finance fiasco orchestrated by admitted shadow campaign mastermind Jeffrey Thompson is going to be shaking out for a while, considering another guilty plea from a DC political hand and the unsealing of a court document suggesting more charges could be on the way.
Kelvin Robinson, a former chief of staff to Mayor Anthony Williams, pleaded guilty Tuesday morning to felony charges that he took $33,500 in unreported contributions from Thompson for two DC Council campaigns he waged in 2010.
According to the statement of offense entered with Robinson's plea, Thompson associate Jeanne Clarke Harris, one of the first to plead guilty in the scandal, wired the money through companies she owned to a firm owned by Robinson.
Thompson, working through Harris, gave Robinson about $12,500 to run for an at-large Council seat. After he aborted that campaign for the Ward 6 race, Robinson told Thompson he would need $90,000 to run that campaign. Thompson furnished $26,000, including $5,025 for office space, $9,800 for direct mail, and about $10,400 for yard signs, posters, and other campaign swag. (Maybe if Thompson had fronted a bit more money, Robinson would have done better than a 25 percent showing against Tommy Wells.)
Robinson, who was charged May 20, is the second DC Council candidate in a week to appear in court in connection with Thompson's schemes. Last week, former Council member Michael A. Brown was sentenced to 39 months in federal prison for accepting $55,000 in bribes. Brown's plea also included evidence he benefitted from Thompson's largesse multiple times, including his successful 2008 campaign.
More local politicians could be on their way. A March 10 court order in Thompson's case, unsealed Monday, lists six mayoral and Council candidates— identified only by letters—who could face charges. The exception is "Mayoral Candidate A," whom Judge Colleen Kollar-Kotelly ordered prosecutors to name during Thompson's plea hearing as Mayor Vince Gray.
The Justice Department prefers not to name individuals who are under investigation but not charged (like Gray), but Kollar-Kotelly ordered Gray to be identified because Thompson's part in Gray's 2010 run was "necessary" and "integral" to Thompson's plea. She also noted that it was already publicly known that his 2010 campaign was under investigation.
Kollar-Kotelly left the other five candidates connected to Thompson under wraps because revealing their names "could hinder the ongoing grand jury investigation."
But thanks to today's proceeding, we now can identify "DC Council Candidate B" as Robinson. The description of another pseudonymous figure in Thompson's case—"D.C. Council Candidate D"—matches Council member Vincent Orange, who has said he's innocent.
Robinson will be sentenced in August and faces between one and 12 months in prison.