It seems like yesterday that "going raw" was a lifestyle embraced by just a handful of people—but pick up a fashion magazine these days and you'll find any number of the über-glamorous touting the practice as the new fountain of youth. Sipping a glass of green juice is suddenly sexy; juice bars have squeezed out oxygen bars as the healthiest not-so-secret beauty movement around.
Around the time I was pondering my kale-and-spinach intake versus Pirate's Booty consumption, I read yet another interview with Gwyneth Paltrow about her almost obsessive love of juicing—the greener, fresher, unpasteurized version that promises to do everything from cram more produce and "colors" into your diet to de-bloat your belly and clear your skin.
A few days later, as if by design, a large box arrived at my front door. It contained a Breville fountain juicer and a book called The Juice Generation: 100 Recipes for Fresh Juices and Superfood Smoothies, written by one of the country's premier juicers, Eric Helms. A native Virginian, he founded ten locations of Juice Generation in New York and partnered with Salma Hayek on a juice cleanse line called Cooler Cleanse. Visions of Gwyneth's flawless complexion and willowy limbs danced through my head.
And, more important, so did my four-year-old's recent aversion to vegetables, which had forced me to spend the past year sneaking as many puréed, fiber-rich veggies as I could into everything from brownies to mashed potatoes.
I called Helms to find out more about his method. I loved what he called the "green curve" approach: starting with fruit-based juices and slowly introducing dark, leafy greens over the course of several weeks to allow the palate time to adjust and move away from the sweeter, more processed flavors we're used to. He convinced me that making my own juice—from prepping the produce to cleaning the juicer—can take as little as five minutes. And just like that, I was hooked.
We started with oranges, apples, pears, and carrots, because they were reminiscent of the store-bought juices my son liked, and within a week we'd moved on to greener pastures with cucumber, celery, and spinach.
No doubt part of the appeal for my little one was working the juicer, controlling the power dial, and turning it into one big science experiment. But soon, he was drinking kale, beet, and green-apple concoctions with almost the same ease as a juice box. I replaced my afternoon java with a ginger-root-and-collard-green juice, which, besides giving me an energy boost, seemed to quell my sweet tooth. It could have been the fiber that cleared my skin, or maybe replacing processed sugars and caffeine with natural produce—but I was undoubtedly glowier, which is one reason, Helms says, that Hayek and other celebrities juice before red-carpet events.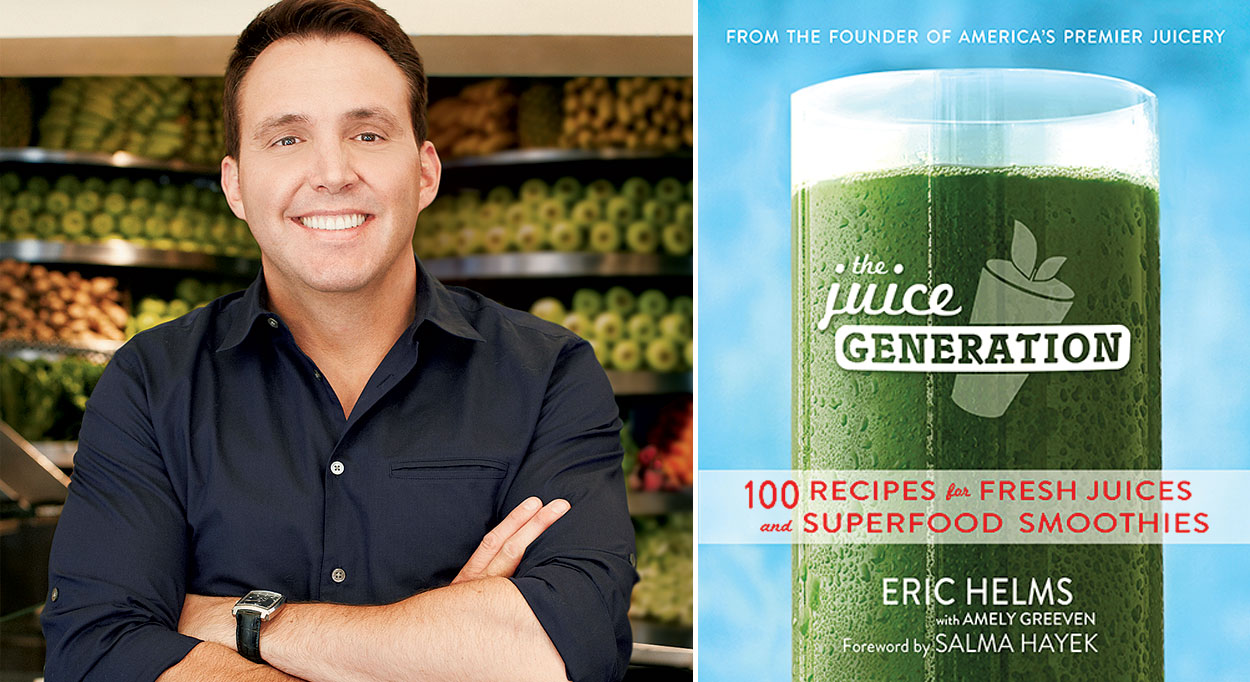 A Better Blend
People say it takes 21 days to build a habit; it's now five months later, and I've officially drunk the juicing Kool-Aid. I'm still making it fresh five or six days a week—though sadly my legs do not yet look anything like Gwyneth's. If you're ready to start sipping, follow these tips from Ashley Koff, a DC-based dietitian and co-author of Mom Energy: A Simple Plan to Live Fully Charged, who's been juicing since before it was cool.
Go organic
"I'm amazed at how many people wouldn't feed their kids anything that wasn't organic because of the chemicals, yet they'll buy them juice that isn't certified organic, which is most of them," says Koff. Buy your own fruits and veggies and carefully wash them, or choose a juice bar that's 100-percent organic. Koff's local favorite, Puree Artisan Juice Bar, has locations in Bethesda and Adams Morgan, plus a delivery service.
Pay attention to quantity
Four ounces of juice is the equivalent of one apple in terms of carbohydrates and calories—yet the average bottle or sippy cup often holds 12 to 16 ounces. Use juicing as a way to get in veggies you're not normally having, but keep portions at four to six ounces max.
Get used to feeling not as full
"Chewing is what engages the mind and starts digestion," explains Koff. With juicing, "you can drink something that has the calories of a snack but not feel as full or satisfied." Grabbing a small handful of nuts can help by adding protein and giving you something to actually munch on.
Don't throw away the pulp
This is where many of the antioxidants and minerals live, so put all that colorful goop into other foods you're cooking. Zucchini, carrot, orange, and apple pulp taste fabulous in muffins (just make sure to remove stems and seeds before juicing), while spinach works well in tomato sauce or any ground-meat recipe.
Recipe: Supadupa Greens
(pictured at top)
Ingredients
2 cups kale
1 cup spinach
1 cup parsley
2 leaves romaine
3 stalks celery
1 medium green apple
¼ medium cucumber
¼ medium lemon, peeled
Choose the right tool for you
There are two common kinds of at-home juicers: centrifugals (such as my Breville Fountain, $199.95 at williamssonoma.com), which grind produce into a pulp and swiftly spin the juice through a strainer; and masticating juicers (such as the Omega Vertical Masticating HD Juicer, $379.99 at bedbathandbeyond.com), which squeeze out juice by pushing everything through a drill. Because less heat is produced, more nutrients are retained, and juice stays fresher longer.