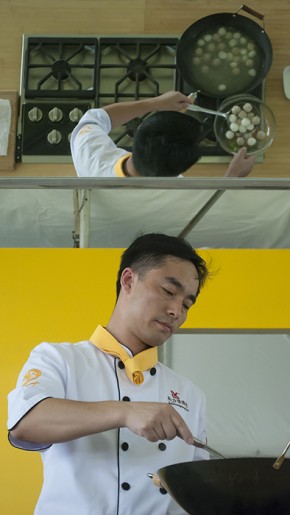 Curators of the Smithsonian Folklife Festival wrestle with the same problem every year: fitting the cuisine of an entire country into a single concession stand. The two-week event, which concludes Sunday, July 6, on the Mall, celebrates cultural traditions in the US and around the world, from Appalachian bluegrass to Bhutanese archery. This year's spotlight is on China and Kenya, with both cuisines represented in the festival's concessions and foodways demonstration areas.
So what can you expect to eat when you visit over the holiday weekend? China's concession feature Chinese-American staples such as lo mein, as well as more unusual dishes such as Szechuan ma po tofu with minced pork and spicy chili sauce. Many Washingtonians have become familiar with the latter at places like Great Wall Szechuan. Program curator Preston Scott faced a sharper learning curve when it came to African cuisine.
"Americans may think, 'Kenyan cooking—what could that possibly be?'" says Scott. "They'll see similarities that may not be quite as strange as they anticipated."
Folklife partnered with Beltsville's Swahili Village and a number of Kenyan caterers to create traditional dishes, which are split into coastal and uplands varieties. Coastal cooking, served at the Spice Routes Cafe, features ingredients including coconut milk, basmati rice, and masala spices familiar to Indian food lovers. Meanwhile, at Choma Grill, guests can dig into grilled meats and ugali, a cornmeal mash similar to polenta.
Foodways demonstrations offer more opportunities to explore the depths of each cuisine. In China's Five Spice Kitchen pavilion, chefs prepare regional specialties including duck-blood glass noodle soup and zongzi, sticky-rice tamales eaten during the Dragon Boat Festival. Due to National Park Service regulations, guests won't be able to sample dishes prepared in the demonstration areas, but the festival posts recipes online so visitors can try them at home.
Since the weekend is looking steamy, you can beat the heat at China's concession stands with a cucumber salad and a mango coconut dessert that resembles tapioca pudding. On the Kenyan side, snack on meat and veggie samosas, perfect for festival eating on the go. Both areas also highlight the great equalizer of beer—Tsingtao for China and Tusker for Kenya, among other national brews.