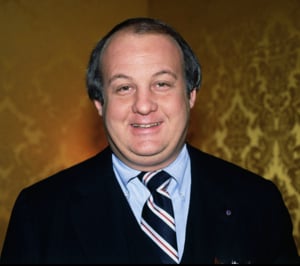 James Brady, the White House press secretary who was critically wounded in the 1981 assassination attempt on President Ronald Reagan and became an advocate for gun control, died Monday in Alexandria at the age of 73, his family announced. The cause was not disclosed.
Brady barely survived a bullet fired by John Hinckley Jr., whose attack outside the Washington Hilton left Brady with permanent brain damage, partial paralysis, and short-term memory loss. While Reagan left the hospital within two weeks, Brady's convalescence took a nine-month stay followed by years of physical therapy. As recounted in the March 1983 issue of Washingtonian, Brady's life was very likely saved because of an argument between another White House staffer and an ambulance driver over which hospital he should have been taken to.
The driver insisted he was taking Brady to Washington Hospital Center, four miles away. [White House advance man Rick] Ahearn wanted George Washington University Hospital, less than a mile from the hotel. The driver refused to change direction, and then suddenly admitted he didn't know the way to Washington Hospital Center. Incredulous at this news, Ahearn, with the backing of a Secret Service agent, prevailed, and the ambulance sped off toward GW.
The doctor who operated on Brady told Washingtonian that Brady, who was in the GW emergency room ten minutes after the shooting, would have died on the longer drive to Washington Hospital Center.
He returned to the White House on a very limited basis by the end of Reagan's first term, although he could never resume his press-secretary duties.
Instead, Brady and his wife, Sarah, became tireless promoters of enhanced gun control, particularly concerning handguns like the $29 revolver Hinckley used. The couple became the leaders of the gun violence-prevention group now called the Brady Campaign to Prevent Gun Violence and pushed for a federal law, also named for Brady, that requires computer background checks on handgun purchases.
"I wouldn't be here in this damn wheelchair if we had some commonsense legislation," he said on Capitol Hill in 2011 after needling Congress to improve federal gun-control measures. Sadly, Brady's message to Congress went unheeded, as Congress neglected to pass gun-control measures following mass shootings in Aurora, Colorado; Oak Creek, Wisconsin; Newtown, Connecticut; and DC's Navy Yard, among many other incidents.