"How hot would you like it?" my server wanted to know.
"India hot," I replied.
His eyes widened. "No, no," he said, his voice grave. "You don't want India hot. Trust me. Trust me on this."
If I were to tell you that he spared a friend and me on a recent trip to Punjabi Junction—a short drive from Dulles Airport—you would probably conclude that we probably had a mild time of it at the table. But as appetizer gave way to entrée, our palates went from hot to burning to scorching (though this was only an illusion, the accumulation of heat over time). Even the papri chaat—ordinarily a bright and lively little street snack of fried chips, chickpeas, yogurt, tamarind, and cilantro—set our mouths aflame.
And this was going easy on the chilies?
"I shudder to think what 'India hot' is like," my friend said as we sought relief in our basket of bread. The onion kulcha was hot, buttered, crunchy, and without a trace of spice. We devoured it. The Haywards 5000 beer was crisp and cold and vanished almost as soon as it arrived, as if we'd been wandering for days in the desert. We immediately ordered a second.
Surely not everyone is game for heat this blistering, but even so, there's another takeaway: This is a kitchen admirably willing to cook for Westerners with the same passion and intensity it does for natives.
And in fact, there's plenty here that doesn't scorch. The frying in particular shows finesse. Witness the pakoras—light and airy and reminiscent of great hushpuppies. Or the samosas, which aren't leaden lumps but flaky and fine, more like the hand-held pot pies they're intended to be.
If you're timid, the main course to get is the lamb chops, served hot from the tandoor, the edges of the meat charred, the interior pink and juicy. But if you're the least bit adventurous, the pick has to be the goat curry, its bone-in bits of meat cloaked in a chocolate-brown sauce brought to life with chilies and vinegar.
Not a meat eater or meat lover? Go for the bhindi masala, with spears of slit, blistered okra tossed in a stew of chili powder, tomatoes, onions, garlic, and cilantro.
Yes, your mouth will burn. Though you'll probably be enjoying it too much to care.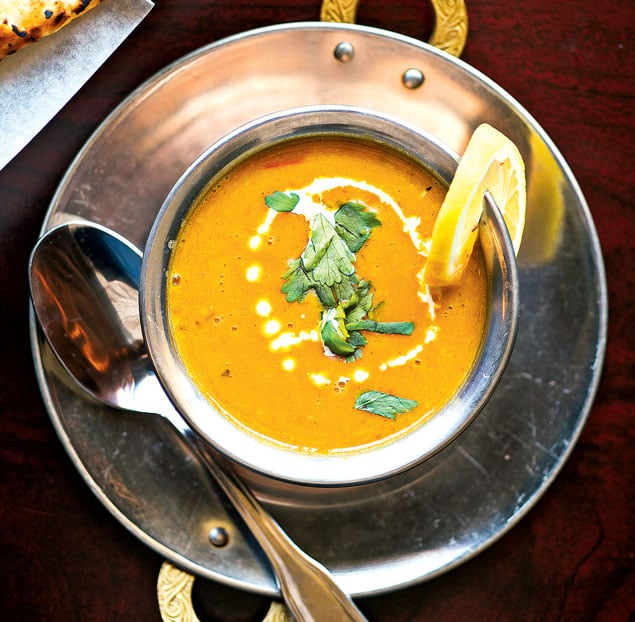 This article appears in the August 2014 issue of Washingtonian.
---