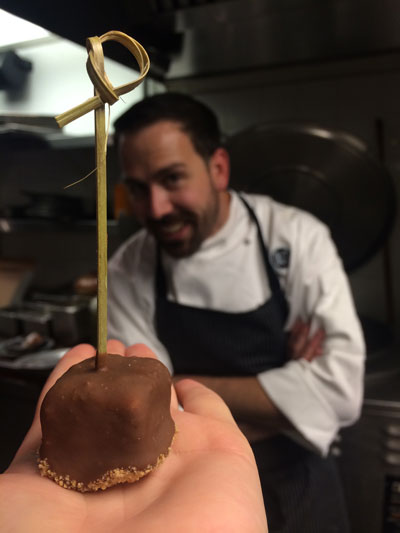 Chef's counter opens at B Too
1324 14th St., NW
Chef Bart Vandaele goes beyond waffles and mussels with a six-course, modern-Belgian tasting menu. The meal is available on Wednesday at the chef's counter beginning August 13 (seats must be reserved two weeks in advance, for a minimum of eight). Dishes change frequently, but could include marinated scallops topped with sturgeon caviar, hay-smoked lobster with whiskey perfume, and sweet avocado soufflé. At $45, it's one of the more affordable tastings in town.
All-night happy hour at Menu MBK
405 Eighth St., NW
Drink and eat on the cheap at chef Frederick de Pue's Penn Quarter spot, which launches a generous happy hour from 5 to close Monday through Sunday. Specials include brews such as Belgium Tripel Kasteel for $5, $6 glasses of wine, and $7 cocktails. A special bar menu is priced at $10 and under, and includes dishes like duck confit cigars and curried mussel salad.
Congressional recess menu at BLT Steak
1625 I St., NW
Who says kids get to have all the fun during recess? Head to this downtown steakhouse for a special menu of $10 bar bites during the congressional lull. Dishes include crispy pig ears with chili and lime, sausage sliders, and grilled watermelon. The ten-item lineup runs from 5 to 10 PM through Monday, September 8.
Brunch at Tico
1926 14th St., NW
One of 14th Street's newest additions adds Saturday and Sunday brunch to the roster, serving weekends from 10 to 3. Menu items include duck confit and green-chili hash with poached eggs, caramelized-banana pancakes, and fried chicken with maple butter. On the drinking side: a bacon-infused tequila Bloody.
Happy hour at Protein Bar
Multiple locations
While your colleagues head out for beer and wings, you can give yourself a big ol' pat on the back at Protein Bar for going with a half-price, high-protein shake instead. The drinks, free of syrups and concentrates, are discounted weekdays at the DC branches from 4 to 8 (at 19th and K sts., NW); 5 to 8 (17th and K sts., NW); and 3 to 6 (Seventh and D sts., NW).