Back in June, MOARfit owner and blogger Amy Rizzotto shared a peek at her daily diet with her one-day food diary. Her meals—many of them from original recipes—looked so delicious that we asked her to share yet another healthy recipe with Well+Being. She obliged with these dill pickles that are simple to make and taste great on top of a burger or on their own as a snack.
"Pickles are especially wonderful in summer, when it's easy to get fresh, locally grown baby cucumbers," Amy says. "They are mostly water, so they're not only refreshing and hydrating on hot summer days, but they're also low in calories and loaded with vitamins C and A, as well as potassium." She recommends buying organic cucumbers, as the vegetable is high on the Environmental Working Group's 2014 Dirty Dozen list, which ranks produce most contaminated with pesticides.
There are myriad flavor and spice combinations for pickles available, but "there's nothing more classic than a crisp and sour dill pickle," says Amy.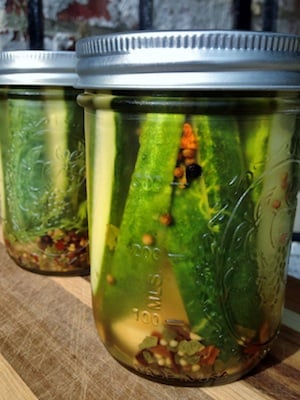 Refrigerator Dill Pickles
Makes 2 pint jars
Nutrition per serving: 15 calories, 0 grams fat, 0 grams fiber, 3 grams carbohydrates, 1 gram sugar, 440 milligrams sodium.
Ingredients
1½ pounds baby cucumbers (about 8 to 10 small cukes)
1 cup water
1 cup apple cider vinegar
¼ cup lemon juice
1 tablespoon kosher or pickling salt
2 teaspoons sugar
1 fresh sprig of dill for each jar
1 tablespoon mustard seed, whole
1 teaspoon ground turmeric
½ teaspoon red pepper flakes
4 cloves garlic, smashed
Directions
1) Wash and dry the cucumbers. Trim away the blossom end of the cucumber, which contains enzymes that can lead to limp pickles. Leave the pickles whole, cut them into spears, or slice them into coins, according to preference.
2) Divide spices and herbs (dill, mustard seed, garlic, turmeric, and red pepper flakes) evenly between two pint jars.
3) Pack the pickles into the jars. Trim the ends if they stand more than half an inch below the top of the jar. Pack them in as tightly as you can without smashing the cucumbers.
4) Combine the vinegar, water, lemon juice, salt, and sugar in a small saucepan over high heat. Bring to a rolling boil. Pour the brine over the pickles, filling each jar to half an inch from the top.
5) Gently tap the jars against the counter to settle their contents and remove all air bubbles. Top off with more pickling brine if need be, then tightly close jars with lids.
6) Wait at least 1, but ideally 3 days before eating. Store in the refrigerator for up to 3 weeks.
7) Serve alongside your favorite veggie burger or with a plate full of light summer barbecue fair. Or, if you're like me, munch on them for a healthy snack any time of day!
Find more of Amy's healthy recipes on her website. Have a recipe of your own to share? E-mail wellbeing@washingtonian.com for a chance to be featured.