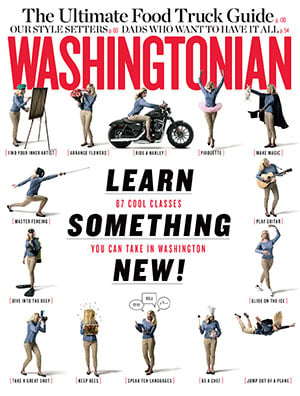 Whatever your passion, you can find a class in Washington. While the September 2014 "Learn Something New" cover article highlights some of the most interesting courses we found, there were simply too many good classes in the area to list. We didn't focus there on academic or professional-development programs at local universities and colleges such as Georgetown and George Mason. Instead, we looked at workshops and courses, often short in duration, that help you explore a hobby or personal interest.
Looking for more classes? Check out the following centers of learning, not all of which were mentioned in the September issue. Each offers a wide range of classes.
Arlington Public Schools Adult Education Program | The county's offerings include how to sell on eBay, staging a home, the art of small talk, repairing a car, using sign language, and researching your family genealogy.
The Art League | Along with an extensive slate of art classes—including painting, printmaking, sculpture, and fiber arts—the Art League offers short "jump-start" classes for beginners to try media such as pottery and felting.
CulinAerie | From Couples Cooking and Date Nights to Kaimana Chee's series, Classics With an Asian Twist (Italian Classics, Southern Classics, and more), instructors aim to make cooking fun.
DC Department of Parks and Recreation | Rec centers throughout the District offer adult programs in jujitsu, Zumba, tennis, and lots more.
Digital Commons | This program through the DC Public Library offers such new-media courses as digital audio editing, blogging, 3-D printing, and mastering Adobe and Photoshop.
Fairfax County Parks | From martial arts to fishing to fine arts. Check out the gardening classes, in particular, at Green Spring Gardens.
Fairfax County Public Schools | Through the Adult & Community Education curriculum, adults can learn elementary home maintenance, cake decorating, how to use Twitter, and more.
Glen Echo Park | Ceramics, dance, music, photography, puppetry, and more.
The Great Courses | Prefer to take a class in your pajamas? This Chantilly company sells videos of lectures by engaging instructors from around the world, including George Mason University's Robert Hazen (Joy of Science) and Catholic University's Jennifer Paxton (Story of Medieval England).
G Street Fabrics & Home Decorating Center | This Rockville institution can fulfill all your DIY fantasies, whether that means instruction in embroidery, knitting, quilting, or fabric dyeing.
Herndon Parks and Recreationm Department | Swimming, belly dancing, watercolor painting, and more.
L'Academie de Cuisine | This local institution is a respected training ground for recreational cooks (in Bethesda) and professional chefs (in Gaithersburg). In Bethesda, we recommend the Basic Knife Skills classes as well as any of the fun demonstration classes offered by the husband-and-wife team of Sandy and Brian Patterson.
Levine Music | Along with lessons for children and teens, Levine offers adults voice classes, jazz jam sessions, beginner guitar, and more—including Rock Band for Adults, an eight-week course in which wannabe rockers are matched with fellow musicians and coached.
Live & Learn Bethesda | These mostly daytime courses—with such titles as Smartphones: Learning the Basics, Downsizing the Home, and How to Write Your Life's Story—are often geared for those over age 50. But the classes are well priced (the nonprofit offers some for just $15 or $20) and open to everyone, even those who live outside Bethesda.
Loudoun County Adult Education | Beginning Arabic, crochet, astronomy, and more.
Montgomery County Recreation and Parks Programs | Scuba diving, Chinese watercolors, ballroom dancing, badminton—the list goes on.
Northern Virginia Community College | Besides academic and professional-development programs in fields such as accounting and graphic design, NOVA offers credit classes in areas like art appreciation, languages, the history of film, and visual arts such as painting and ceramics.
Prince George's Community College | Noncredit courses include Boating Basics and Maintenance, Make-up Artistry, Nutrition & Weight Management, and Videography.
Prince George's County Department of Parks and Recreation | An array of intriguing classes, from underwater pole dancing to hula hoop.
Prince William County Department of Parks & Recreation | Stand-Up Paddleboarding, Women's Self-Defense, Healing With Meditation, and more.
Reston Community Center | Computer skills, woodworking, bridge, chess, and more.
The Smithsonian Associates | Lectures, seminars, and courses in just about every aspect of art, history, and culture. Fall courses include Star Trek's Never-Ending Voyage: How TV Future Became Real-Life Present; Moonshine Goes Modern; and Confucius and Friends: The Golden Age of Chinese Philosophy.
U.S. Botanic Garden | The garden in Southwest DC, near the Capitol, offers a surprising array of learning opportunities, from container gardening and plant-centric photography to urban farming.
Washington Studio School | This 29-year-old nonprofit offers classes in painting, drawing, sculpture, and other visual arts.
Workhouse Arts Center | In this Lorton facility, which once housed DC's prison, are now 18 classrooms and an array of courses—from cooking and weaving to photography and glass-blowing.
The Writer's Center | Founded nearly 40 years ago, this is one of the area's most respected places for workshops taught by published authors, poets, and journalists. Subjects range from memoir to travel writing to blogging, and more. Instructors include songwriter Cathy Fink, novelist T. Greenwood, poet Nan Fry, and many others.