1. Gerry Connolly
Since his days as a Fairfax County supervisor, he's dreamed of bringing transit and development to the car-oriented county. With the Silver Line finally open, Connolly—now a congressman—won't even need a ride to dinner.
2. Michele Roberts
The Skadden Arps litigator, whom we once called "one of the city's most feared trial lawyers," becomes the first woman to lead the NBA players' association—or any major sports union. Notice served.
3. Debbie Dingell
A shoo-in for husband John's seat in Congress, she'll go from being one of Washington's most powerful lobbyists to being a backbench member of the minority party. Invite her while she can still dish on the influential.
4. Wayne Frederick
Howard University's new president, hired to lead the financially troubled, vision-challenged school, knows what he's getting into. A cancer surgeon, the Trinidad native has a long history with life-or-death battles.
5. Aba Kwawu
The founder of the publicity agency TAA PR recently added Daniel Boulud's forthcoming DC restaurant to a client list that includes a José Andrés eatery and Fabio Trabocchi. She'll owe us a meal!
6. Pedro Ribeiro
As Vince Gray's flack, he delighted in punching back against the DC mayor's critics during an ongoing federal ethics probe. Now doing PR at Homeland Security, Ribeiro goes from bemoaning aggressive feds to working on their behalf.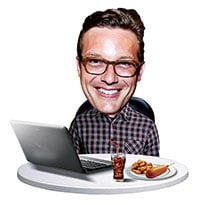 Disinvited: Benny Johnson
Everyone disapproves of plagiarism, but when a "viral politics" writer gets canned for lifting political information from Wikipedia, it brings a special scorn. Johnson lost his BuzzFeed job, became the butt of jokes, and won a spot on our disinvited list.
This article appears in the September 2014 issue of Washingtonian. In our print issue, photos of Michele Roberts and Aba Kwawu were misidentified. We have corrected the error in this version.