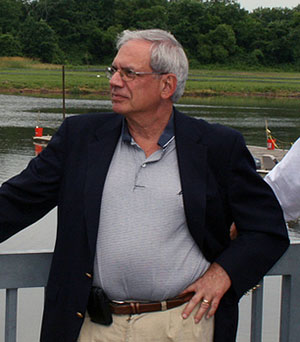 It's no surprise that DC Attorney General Irvin Nathan has little respect for Paul Zukerberg, one of the five candidates running for his job in the November election. Nathan, who, like previous attorney generals, was appointed to his post by the mayor, argued in court earlier this year to stop the 2014 attorney general election from going forward. Zukerberg, who had sued to force the election to go forward, beat him.
In an exchange that followed in the Huffington Post, Nathan wrote that Zukerberg's brutal critique of past attorneys general's failings "suggests he is not worthy of the position he seeks."
We also know Nathan is close to Karl Racine, a well-known attorney for a large law firm who's challenging Zukerberg.
But according to three staff members in the Office of the Attorney General, Nathan has now sought to have a hand in a race he never wanted. During a staff meeting on July 9, a day before Racine formally announced he was running, witnesses say Nathan used a staff meeting to endorse Racine.
"He praised and recommended Karl Racine," one of the three employees told Washingtonian, "and he asked us to support him." None of the three staffers would talk on the record for fear of retribution.
If the statements are true, Nathan may have violated the District's Hatch Act, which prohibits public officials from using their authority to influence elections while on the job.
Questioned about whether Nathan endorsed Racine, his office said in a statement Nathan noted that Racine's "entrance into the race was a positive sign for the District and for the office's interest in continued quality management due to Mr. Racine's qualifications and experience managing a large law firm."
Nathan's comments appear to have been a crucial part of the July 9 meeting and not an offhand remark during a political discussion. On June 27, Nathan sent an email to the OAG staff that he would hold two meetings on July 9 to discuss the election and its "implications for this office." There are no audio or video recordings of the meetings.
The District's Hatch Act, rewritten last year as part of a broader ethics measure, hasn't been tested. But it bars a public official from using his "official authority or influence for the purpose of interfering with or affecting the result of an election."
Nathan's aides said it was "perfectly appropriate" for him to make his comments about Racine. They added that it would be inaccurate to say Nathan "has endorsed any candidate or encouraged staff members to support any particular candidate."
However, one aide admitted that staffers might have drawn the wrong inference from Nathan's glowing comments about Racine. Nathan was not available to comment.
Since the 1973 Home Rule Act, DC's attorney general has been appointed by the mayor. The office's 325 attorneys and 300 staff employees handle civil cases and minor criminal matters involving juveniles.
In 2010, District voters approved a referendum to make the attorney general an elected position, beginning this year, but soon afterward the Council voted to postpone the election until 2018. After Zukerberg successfully sued to overturn the Council's delay, the first election for attorney general was set for this Election Day, November 4.
Zukerberg, a criminal defense attorney, was the first to declare for attorney general. Racine, and attorneys Lorie Masters, Lateefah Williams, and Edward "Smitty" Smith have since entered the race. When Nathan praised Racine at the July 9 meetings, Racine had neither announced his candidacy nor filed papers to enter the race. He did make his candidacy official July 10.
Racine is in the mold of former appointed attorneys general. A prominent white-collar litigator, he is a partner at the Venable law firm, which he managed for many years. Racine worked on Mayor Vince Gray's transition and met Nathan, whom the mayor had picked for AG, at one of the transition team's sessions.*
In addition to the allegation that Nathan endorsed Racine, a complaint was filed against OAG staff member Timothy Thomas for violating the Hatch Act. An anonymous staffer accused Thomas of asking colleagues to sign a nominating petition for Racine during work hours on the morning of August 6, the deadline for submitting the petitions.
An attorney with the Board of Elections confirmed receipt of the complaint, which was passed on to the Board of Ethics and Government Accountability (BEGA).
Darrin Sobin, BEGA's director of ethics, would not say whether or not the board had received the complaint. Among the penalties for violating DC's Hatch Act are public censure, public reprimand, and a $5,000 fine, according to Sobin.
*This post originally stated, incorrectly, that Nathan served with Racine on the transition team's public safety cluster.
Find Harry Jaffe on Twitter @harryjaffe.