Politics and Prose, the Connecticut Avenue bastion where Washington's literate dependably turn out for the world's literati, turns 30 this month. For an independent retailer, the run is astonishing—and increasingly so for a business depending on the teetering book industry.
The trick to sticking around long enough to be beloved, of course, is to change constantly while extending the illusion of familiarity. P&P's customers still come and go, browsing, arguing, listening, eating, drinking, and recommending, all the while joining in the evolution of Bradley Graham and his wife, Lissa Muscatine—who took the lead from founders Carla Cohen and Barbara Meade in 2011—from booksellers to literary impresarios.
"The key has been to strike a balance between preserving the store's ethos and adjusting to new industry challenges," says Muscatine.
We asked longtime staffers for the P&P guide to surviving the disruptions of the market.
Give customers ownership.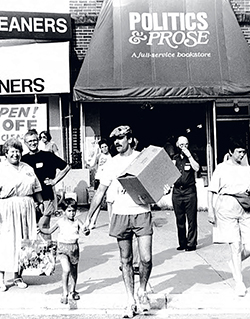 Five years after launching the store at 5010 Connecticut in the fall of 1984, Politics and Prose moved across the street to its current digs. Neighbors' offers to help turned the move into a mass action, then a national event when NPR arrived to cover it. Over the years, the number of purported participants in the book brigade has grown apocryphally.
Break your own rules.
The store's first author appearance, in 1984, was by political cartoonist Herbert Block, better known as Herblock. At the time, Meade once told Washingtonian, "talking an author into coming was something we had to work very, very hard at," but soon they had more requests from writers than they had nights to fill.
Julia Child's, in 1993, was the first event that sent a line of people winding down the sidewalk. When David Sedaris read this June, the store required customers to secure a free ticket before lining up, but to accommodate them the doors stayed open until 2 am.
Authors, too, sometimes force P&P to bend the rules. For his recent reading of The Good Lord Bird, James McBride brought a band to play music appropriate to the Civil War-era novel.
Be the store.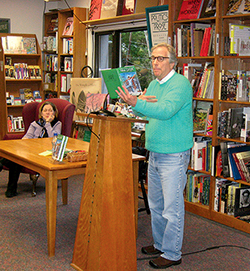 The owners' office has always been literally at the center of P&P, its social and intellectual hub.
Meade and Cohen read voraciously, bought all the inventory, and curated the expanding list of classes, readings, and other happenings. Graham and Muscatine remain as involved, writing a note for P&P's weekly e-mail. You'll also find them behind the registers and hosting events in the store every week.
Don't try to get rich.
"There's a great deal of profit loss when you decide quality is more important than making money," Meade once said.
DIY.
There's always been an appealing immediacy about the place that makes it easy for customers to connect. In the early days, Cohen and Meade had no safe—the day's take went into a paper bag at regular intervals and got stashed under a seat cushion, to be deposited in the bank when they could.
Today the store has a print-on-demand machine, called Opus, which allows it to publish local authors. A literary journal, District Lines, began last year and recently released its second volume.
Treat staff like assets.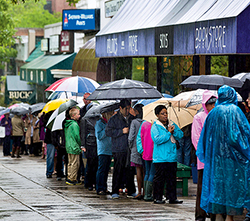 In the day of Goodreads and book-obsessed Twitter feeds, customers still ask for certain booksellers by name—they want to talk over the last one and find their next page-turner.
"We've had so many talented, competent, interesting, and funny coworkers who share a love for literature," says longtime employee Ron Tucker—workers so deeply, widely read that they can track down a definitive book on trail running as easily as they can tout a great World War I history.
Staffers also create the shopping experience, which at P&P is palpably homey. "Over the years, we've added structure to the staff," says Tucker, "but in all the important and best ways, it's still like the early days. We still care about each other as if we are family."
Books are only the start.
Every serious bookstore seems to have readings and a cafe; P&P also has a liquor license and sells beer and wine at most events. In addition, it takes customers out—to farmers' markets with restaurateur Alice Waters, to intimate dinners with New York Times food columnist David Tanis. This summer's DC-brewery tour promptly sold out, as did the fall poetry class, a favorite that has sold out since it was first offered in 2006.
"Changes in the industry have forced independent bookstores to look harder at what they do best, which is to function as community centers," says Susan Coll, P&P's events director (and a novelist).
Those changes have transformed what was once just a very good bookstore into something else, necessary both for its own survival and for a city's culture: "a place," says Coll, "where people are welcome to come together and discuss ideas."
This article appears in the September 2014 issue of Washingtonian.