Summer may be on the way out, but it's always boardwalk season at Pop's SeaBar. The beach-inspired Adams Morgan eatery from Cashion's Eat Place co-owners Justin Abad and chef John Manolatos opens at noon on Thursday, and no one will complain if you show up in shorts and flip-flops. Here's what you need to know about one of fall's hottest openings.
The vibe: Beach casual. The former Taan Noodles space has been transformed into a colorful hangout with bar-stool seating for 55 and more room to stand with your orange crush. One lucky large group can gather around a six-seat booth on the upper level, or eventually grab picnic tables on the front patio.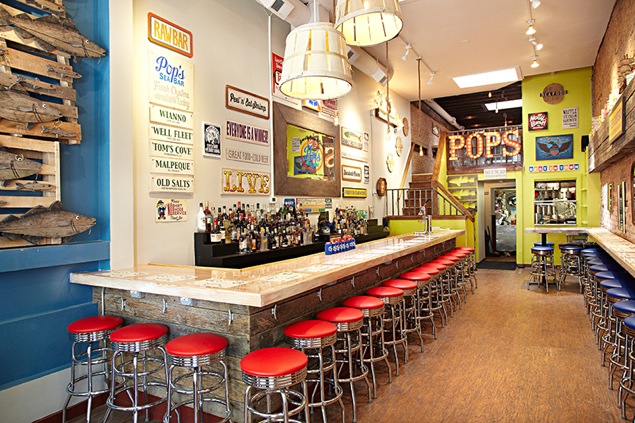 The eats: Comfort food of the sea. Manolatos's all-day menu boasts dishes inspired by childhood days on the Jersey Shore. Think peel-and-eat shrimp, fried oysters or calamari with hot pickled peppers, and crabcakes. Carnivores can opt for "boardwalk chicken"—a poultry version of popcorn shrimp with spiced mayo for dunking—and a variety of diner-style griddled burgers. Extra-hungry? Try the version with an egg, American cheese, a fried slice of Taylor Pork Roll—like bologna, but better.

The interactive drinks: Ever wanted to carve a booze luge with your tongue? Creative sips include the "ice cream luge," which is basically an ice cream sandwich served with a shot of Amaro. Should you care to make a booze slide, just lick out a portion of the ice cream, aim the pathway toward your mouth, and get pouring. Or put the bartenders to work and order Pop's version of an orange crush mixed with vodka, aquavit, orange liqueur, and citrus smashed to order.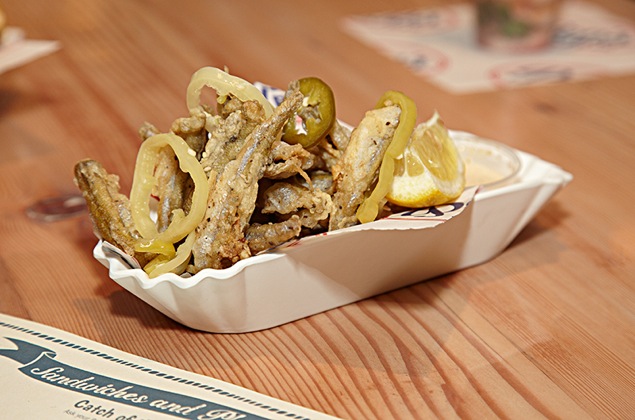 The conversation piece: Smelts (and that booze luge). The tiny Atlantic fish are fried whole, tossed with pickled Cubanelle peppers, and served with a wedge of lemon. Eating whole fishies may sound daunting, but done right, they're delicious.

The good news for night owls: The kitchen will open at noon each day and churn out the same menu through midnight on weeknights and until 2 on Friday and Saturday.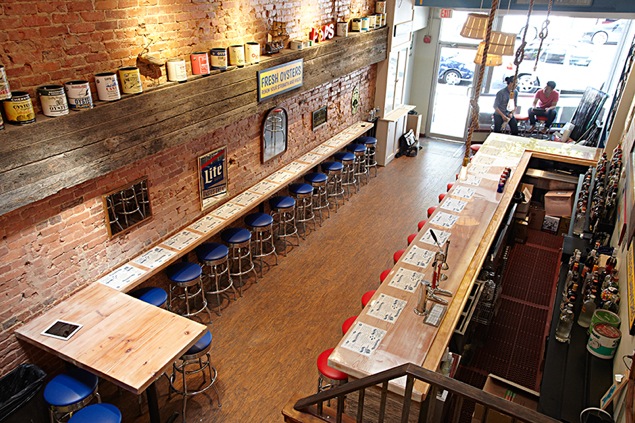 The good news for everyone sick of "hand-cut, artisanal fries": Delicious curly fries. From a bag. Cashion's house-made ethos carries over for most items, but thankfully these starchy spirals of goodness aren't one of them.

The next step: Once Pop's is up and running smoothly, look for daily specials such as lobster rolls, fish tacos, or fried clam sandwiches on a given day. Carryout will be available from the start, but Abad says they're hoping to eventually let the takeout crowd use kiosks to order and pay.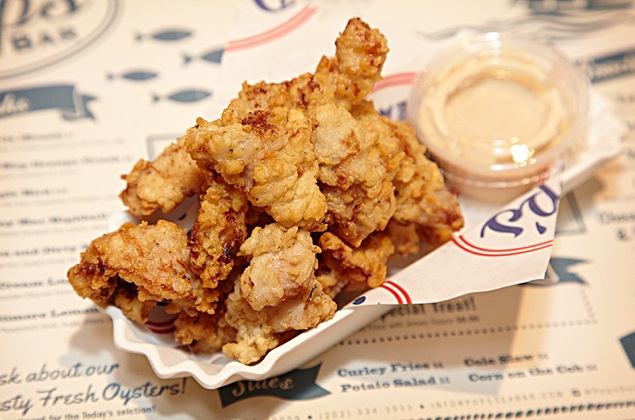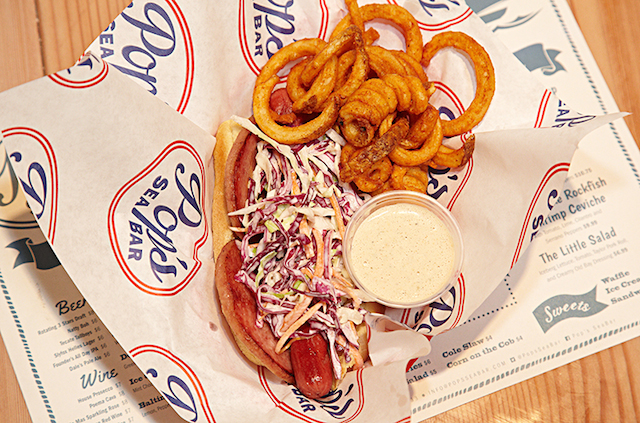 Pop's SeaBar. 1817 Columbia Rd., NW; 202-534-3933. Open Sunday through Thursday noon to midnight, Friday and Saturday noon to 2.
Find Anna Spiegel on Twitter at @annaspiegs.