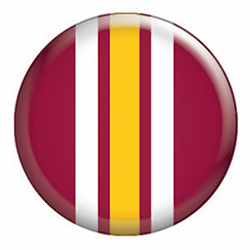 Like any good big-city tabloid, the New York Daily News will print just about anything: lurid crime details, adult-themed celebrity photographs, and lots of political hyperbole.
Something the Daily News won't print anymore? The name and logo of Washington's NFL team. The Daily News—the nation's fifth-largest paper by circulation—is the latest big publication to join the stacks of newspapers, magazines, and websites that would prefer not to give a platform to a team name that most dictionaries define as a racial slur against Native Americans.
The Daily News's rationale is pretty straightforward. In an editorial, the tabloid writes that even though the team's name has been in place for 80 years, it simply doesn't stand a test of time.
See the end of "Negro" and the rise of "black" or "African-American," the end of "retarded" and the rise of "developmentally disabled," the end of "handicapped" and the rise of "people with disabilities."
Here's a simple test of whether Redskin passes muster: Would you use the term in referring to Native Americans in anything other than a derogatory way?
The answer, of course, is no. So it will pass from stories and columns chronicling Washington's ups and downs. An inextricable extension of the brand, the logo will go as well.
Unlike the Washington Post, which last month announced that its editorial board will stop using the local team's name while continuing to print it in news pages, the Daily News's policy covers the entire paper and website. (The paper admits the name may appear in online scoreboards provided by third-party vendors, though it will try to scrub out those references, too.) The tabloid's news staff encouraged the style change.
"We do feel the name change is inevitable, or at least we hope so," the Daily News's sports editor, Teri Thompson, tells Washingtonian in an e-mail. "We feel our editorial speaks for itself, and as it says, we believe as a news organization the time has come to leave the word behind. We are proud to be a part of that movement."
The Daily News is also canning any appearance of the team's logo and will replace it the well-known visage of a Native American in a ceremonial headdress with a burgundy-and-gold-striped orb.
Diehard fans of Washington's NFL team might not care that much that a New York tabloid is ditching any references to the name, but the Daily News's decision strikes closer to Dan Snyder than most might realize. Daily News owner Mort Zuckerman was an early and frequent backer of many of Snyder's enterprises, and helped finance Snyder's 1999 takeover of the team.
Find Benjamin Freed on Twitter at @brfreed.