The top half of the front page of today's Washington Post is devoted to the dazzling no-hitter Jordan Zimmermann threw Sunday to close out the Nationals' regular season. There's a large photo of Zimmermann's teammates crowding him, another shot of rookie outfielder Steven Souza Jr. making that improbable diving catch to end the game, and an appreciative essay by Nationals head cheerleader Thomas Boswell, who can die happy now that he's witnessed a no-hitter, the first for the Nationals since they moved here in 2005 and only the third ever recorded by a DC baseball team.
Chalk up the Post's giddyness to playoff excitement and an 81-year drought since the last time a Washington pitcher hurled a no-no, but these kinds of feats didn't always earn coverage splashed across the front page. Senators lefty Bobby Burke's August 8, 1931, no-hitter against the Boston Red Sox made it above the fold on the front of the following day's Post, but only briefly. The Post marveled at Burke's achievement, but the more astonishing statistic might be that only 3,000 people were inside Griffith Stadium to witness it. (Yesterday's Nationals-Marlins game had a reported attendance of 35,085.)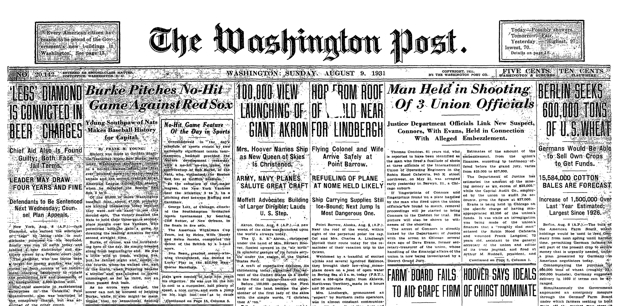 That's still better press than what Walter Johnson's July 1, 1920, no-hitter got. Johnson, the greatest pitcher ever to play for a Washington baseball team, blanked the Red Sox at Fenway Park, allowing his only base runner to reach on a fielding error. Just like Zimmermann yesterday, the "Big Train" only faced one batter over the minimum of 27. The Post gushed over Johnson's game, but the coverage was buried on page 10 of 16.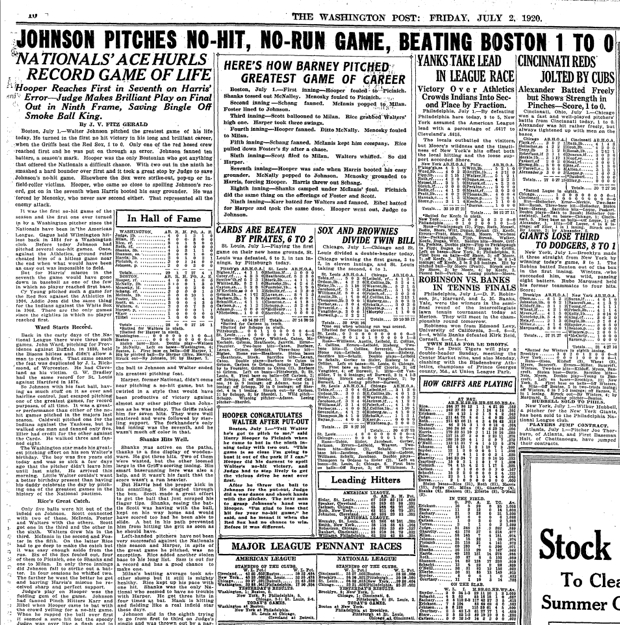 Find Benjamin Freed on Twitter at @brfreed.