Jeff Bezos made his fortune fending off his employees' attempts to organize into unions, but now that he owns the Washington Post he's going to have to take a seat at the negotiating table, and it's not off to a great start. Several dozen Posties, upset with Bezos's proposed cuts to their pensions and severance pay, turned 15th and L into a picket line Thursday afternoon.
The Post, now a year into the Bezos era, wants to freeze its unionized workers' pension plan and introduce a cash-balance model, which provides a lump sum or annuity on retirement, rather than the traditional plan which guarantees benefits regardless of market conditions. The switch only affects people hired before September 2009; newer employees will be given 401(k) retirement plans and supplemental savings accounts.
Bezos's side also proposes cutting severance benefits in half from two weeks' pay for every year saved to just one. A flier printed by Local 32035, the union representing Post employees, suggests that employees could be let go with even less if Bezos's proposals go through. "[The] Post thinks that an employee who served two years—doing things such as covering a hurricane, or delivering newspapers in a hurricane—should be okay with two weeks' pay," the flier reads. "Oh, and cake."
These are suggested changes that longtime staff writer Fredrick Kunkle, a co-chair of the local, says will turn the paper from a career destination to a "way-station" where journalists only stay for a few years before moving on. And the Post's pension plan, unlike many other newspapers', is relatively robust. It was $604 million ahead of its outstanding liabilities when Bezos bought the paper, a financial position earned by following some smart advice Warren Buffett offered Katherine Graham in 1975.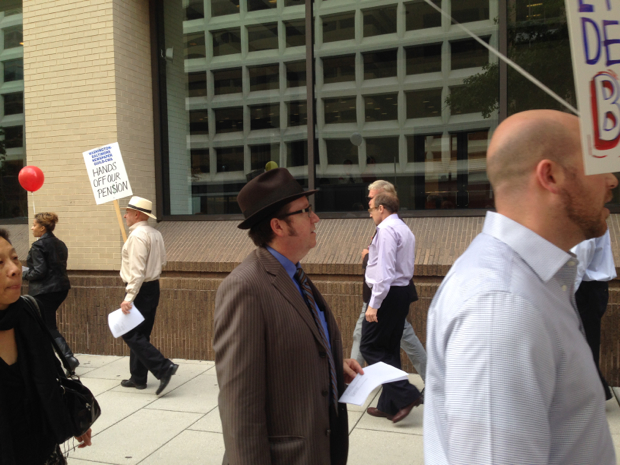 "The Post used to be a destination place," Kunkle said while standing in front of Posties circling outside their building toting slogans like "Another Wall Street Smash and Grab" and "Shame on Bezo$." The picket line appeared to be made up of mid- and late-career employees from the editorial, circulation, and advertising departments. The demonstration included some familiar bylines, like fedora-clad Metro columnist John Kelly, reciting chants like "Post employees, unite and fight! Make Jeff Bezos do what's right!"
That Bezos would try to pare back the union's benefits comes as no shock to many Posties, though. Amazon has successfully busted every one of its employees' unionization efforts, most recently in June when workers at a warehouse in Delaware voted against joining a union after what labor organizers called "intense pressure" from management and outside consultants.
But the Post, said Kunkle, is a different beast than a global commerce company. "We were bracing for it, but it was wait and see," he said. "He bought something that is a public trust."
Under Bezos, the Post has thrived journalistically, hiring more than 100 new staffers and making ambitious plays for print and online audiences. Kunkle says newsroom employees are "thrilled" with Bezos' investment in the editorial product, but even mid-management editors who aren't part of the union are "stunned" by some of their new boss's proposed clawbacks.
Kunkle says it's "too soon" to talk about a strike. The union's contract expires October 31, and the Post will continue operating as long as the two sides are negotiating in good faith, but the atmosphere at the paper is unpleasant enough right now that Kunkle served up the most cutting anti-corporate dig in labor relations.
"This is what Walmart has done," he said. "We're saying no, the Post should not be like that."
Find Benjamin Freed on Twitter at @brfreed.