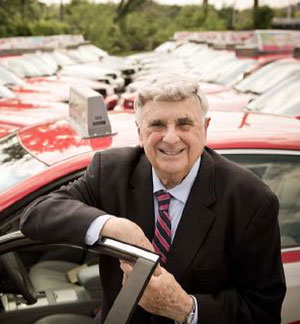 Ron Linton, the man in charge of DC's taxicabs, has had a crazy week. On Monday, his office released the results of an undercover operation targeting cab drivers who illegally refused to pick up passengers. They weren't good, with 84 violations out of 308 rides just last month.
And on Wednesday, taxi drivers flooded downtown DC, horns blazing, in protest of new proposals by the DC Council that would permanently legalize their hated competition, ride-sharing services like UberX and Lyft. It gridlocked traffic in the area, just as it did this past June, when drivers protested for the same reasons.
In between, Linton, as chairman of the DC Taxicab Commission, proposed a few big measures that would bring the tumultuous industry into the modern age. The One City One Taxi app would allow for Uber-like smartphone hailing and payment, and would be required for every cab in the city. He also wants to create a van service that could shuttle riders around neighborhoods where catching a cab has been historically tough, like east of the river.
We e-mailed Linton five questions about the week's bad news, what his solutions are, and what he sees down the road.
What gave you the idea for the One City One Taxi app? Are you trying to directly compete with apps like Uber and Lyft? And why do you think customers will choose your app over the others?
The first thing to understand is that the DC Taxicab Commission is a regulatory agency and does not compete with anyone. Our responsibility includes seeing that consumer demands are met by the industry. Clearly, consumers have expressed their desire to use electronic hailing through apps, and we want to make sure that service is available to consumers. We will encourage the taxi industry to organize itself to provide that service. The industry would be able to fairly compete, provided they understand it's their responsibility and not DCTC.
Mandating that all cab drivers adopt a new piece of technology hasn't gone so smoothly in the past, as we saw when drivers revolted against the switch from cash-only to credit-card readers. Won't we see the same thing face the app down the road?
Probably from the same element of the pool of 9,000 drivers who simply don't understand their own industry. Once they learn this non-cost item is likely to generate an increased number of rides during a given shift, the same reaction will occur that has happened with credit cards. Many drivers tell me that accepting credit cards is responsible for increasing revenue.
On Wednesday, taxi drivers protested in downtown DC against legislation that would permanently legalize services like UberX and Lyft. But blockading streets seems to do more harm than good for public perception of the industry. Is this an effective demonstration? And how can DC's taxicabs heal their relationship with riders who have switched to the services being protested?
How drivers choose to organize and lobby on public issues is not within the purview of DCTC. District taxis can improve their business by servicing their customers, which means having clean vehicles, pleasant attitudes, reliable service, and competitive charges. Drivers must understand they are merchants selling a service; thus, it is imperative to satisfy their customers.
Your commission's most recent undercover sting of DC cabs that illegally refused to pick up passengers found 27 percent of drivers breaking the law. What's causing this, and what solutions are you working on?
DCTC does not conduct stings; that's a media term. We have a three-pronged enforcement program: enforcement officers who patrol the street and issue Notices of Infraction (tickets), consumer complaints investigated by Office of Taxicabs, and test rides through the Anonymous Riders Program that principally target adherence to the requirement to accept credit cards and that service is not refused. DCTC does not determine a reason why a violation has occurred as a driver offering a public accommodation must stop when hailed when their dome light indicates Taxi For Hire. The Anonymous Riders Program introduced a year ago has been an effective solution in changing driver behavior.
With the emergence of Uber and Lyft, you've presided over probably the most difficult time the taxicab industry has ever faced. How do you think you handled it, and where do you see the industry in the next five years?
Moving an industry to reform itself is always difficult. It has taken some tough love to accomplish what we have: universal acceptance of credit cards, standardized dome light, uniform color scheme, and vehicle modernization. We are now pushing the industry to electronic hailing. The response heard from drivers today, compared to the negative attitudes of three years ago, says we've done well. The accolades from users compared to the negative comments offered three years ago reinforces that point. The health of the industry in the next five years depends on the attitudes of drivers and owners towards their customers. Providing good, reliable, cost-competitive service will result in success.
Find Michael Gaynor on Twitter at @michael_gaynor.