If you haven't spent time at Kapnos, you may not know chef George Pagonis—but the nation is about to meet the man behind Mike Isabella when Top Chef season 12 debuts on Wednesday next week.
While Isabella's empire expands and his television appearances become more frequent, Pagonis has been the guy cooking in the trenches. The Greek-American chef worked his way up with Isabella as a line cook at Zaytinya, then as a chef de cuisine at Graffiato, and now he's Kapnos's lead toque and a partner in the business. The upcoming Boston-set season will be his first solo media debut, though he admits not loving the camera as much as the kitchen.
We caught up with Washington's one and only cheftestant this season to talk Top Chef training, his fellow contenders, and what to expect in the upcoming season. Tune in to Bravo next Wednesday at 10 to catch his debut.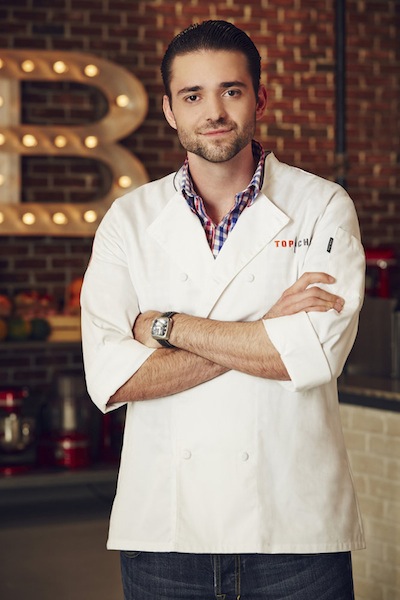 What made you apply for Top Chef?
Top Chef seeks out the former contestants on the show to ask if they have any suggestions, and my name got thrown in the mix. We had to go through the whole interview process, so it was up to me to get on the show. The hardest part was making a video of myself. No one really likes that, and you kind of feel uncomfortable doing it.
How did you train in the weeks prior to filming?
My main focus preparing for the show was to brush up on my cooking abilities. I have a Greek restaurant and surround myself with Greek products, so I went to my friends' restaurants, like Scott Drewno's [The Source], and staged. Also Aureole in New York where I used to be sous chef, to get French cooking back in my system.
What's the best piece of advice you received about the competition?
Mike said something really important, which was, "Just do your thing. Do what got you as far as you are now. You know how to cook; just believe in yourself and be you. You have to have confidence in yourself."
Which recurring Top Chef challenges were you most looking forward to? Excited about?
I was nervous about the group competitions where you get placed with certain people and maybe you don't get along with that person, and it could lead to something bad. I was really looking forward to meeting the cool judges they bring in, the big chefs and celebrities.
How is it coming into the spotlight after Mike has been Mr. Top Chef for so long?
It's starting to feel a little surreal. We had to keep it a secret for a while, and it hasn't really sunk in yet. I've also been around the spotlight for a while with Mike. I'm always the guy who's behind him and making sure the restaurants are running well. Now I'm making a name for myself.
What are your thoughts on the fame and media exposure Top Chef can bring?
Being with Mike, I know it's an opportunity you can't pass up. I would probably regret that for the rest of my life. I saw what it does for people like Mike and Spike [Mendelsohn] and Bryan [Voltaggio]. It brings great attention to you and your restaurant, and you can't pass that up.
What were you most nervous about going into the competition? Most excited?
My biggest fear, hands down, was the camera, the lights, and all the people watching you. I've been on live news and it was a lot for me, and that's a small local network. I was most excited about going on the show and cooking and showing who I am and what kind of food I can do, what I'm all about.
A lot of chefs compete hoping to start their own restaurant. Is that a goal for you?
No, actually. I'm invested in this restaurant, my brother [Nicholas Pagonis] is a general manager, and we're both partners with Mike Isabella. We're doing it to build the brand of Kapnos. There are expansions going on, and he has the right people lined up in the right places. I'm going to be focusing on the Kapnos line, where other people will be focusing on Graffiato.
What should fans be most excited about this season?
This season has a lot of great talent—not that others don't. There are a lot of chefs de cuisine, executive chefs, people who run their own restaurants, people with phenomenal experience. As Top Chef progresses, you find higher-caliber cooks applying to the show. In seasons past you'd get people fresh out of culinary school and line cooks, but this group makes it super intense and challenging.
Did Top Chef spark your interest in doing more television?
I'm not opposed to it. I had a pretty good time on the show. I don't mind doing certain things, but I still want to maintain focus on my restaurants. I don't want to get caught up in the whole TV spotlight and forget what got me here in the first place.
So all in all, would you rather be in the kitchen or in front of the camera?
Kitchen, any day of the week.