Uniformed officers and plainclothes detectives swarmed a house at 30th and O streets, Northwest, at about 8:30 Tuesday morning. According to neighbors, the house belongs to Barry Freundel, the rabbi at Kesher Israel, a prominent Orthodox synagogue in Georgetown. The neighbors say Freundel was led away in handcuffs by Metropolitan Police Department officers following what appeared to be a major investigation. Cops were later seen removing computers and other items from the residence.
"You don't usually see a rabbi led away a handcuffs," said Michael Friedman, who lives across the street from Freundel.
Police sources confirmed the investigation and the arrest, but said the warrant was sealed. "We're still on the scene," says MPD spokesperson Gwendolyn Crump.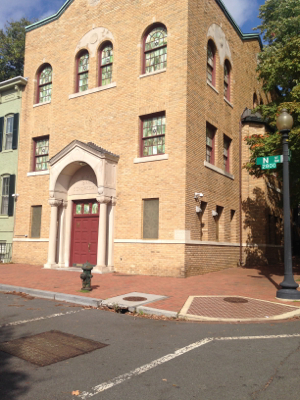 Any charges against Freundel are still unknown. A female voice behind the locked front door of Freundel's house declined Washingtonian's request for an interview after the cops left the block. "Sorry, he's not here right now," the voice said.
As Kesher Israel's rabbi, Freundel is the spiritual leader to a congregation that counts Treasury Secretary Jack Lew and former senator Joe Lieberman among its many influential members. Synagogue members contacted by Washingtonian said they are unaware of today's incident.
Freundel has been at Kesher Israel since 1989, and also serves as the vice president of the Rabbinnical Council of Greater Washington, the Orthodox body that supervises kosher dietary laws.
UPDATE, 3 PM: Crump confirms Freundel's arrest and says the rabbi is being charged with voyeurism.
UPDATE, 11:25 PM: In a statement, Kesher Israel's board of directors says Freundel has been suspended without pay.
"This is a painful moment for Kesher Israel Congregation and the entire Jewish community," the statement reads. "At this challenging time, we draw strength from our faith, our tradition, and our fellow congregants. Upon receiving information regarding potentially inappropriate activity, the Board of Directors quickly alerted the appropriate officials. Throughout the investigation, we cooperated fully with law enforcement and will continue to do so."
Kreundel, 62, is expected to appear in DC Superior Court on Wednesday.
Find Harry Jaffe and Benjamin Freed on Twitter at @harryjaffe and @brfreed.