Brothers Eric and Ian Hilton have been pioneers of the U Street scene, creating hotspots such as the Gibson, Marvin, and Brixton. Now they're taking on new territory with the opening of Chez Billy Sud, their first Georgetown venture. The sleek French eatery is a spinoff of the popular Chez Billy in Petworth, and takes the place of Cafe La Ruche, which closed in July after 40 years. Here's what you need to know about the sleek spot.
The look: Tres chic. Though meant to be a casual neighborhood eatery, gone are the yellow walls and dark bistro decor, swapped for an airy interior with gold-leaf accents and gilded mirrors. Thankfully, the spacious outdoor patio remains intact for sipping bottles of rosé and brunching in warmer weather.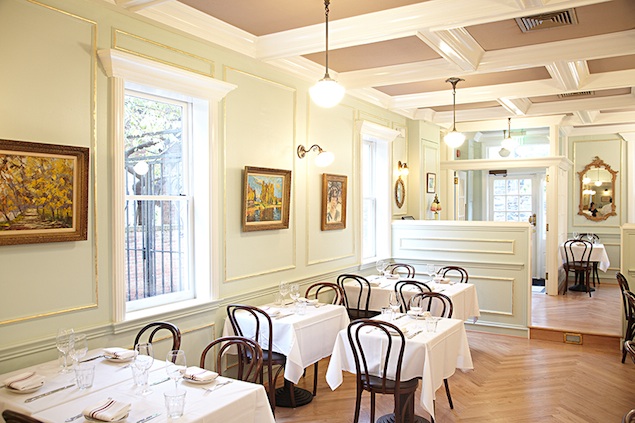 The cuisine: Southern French. While this is the Hilton's first duplicate restaurant, the menu leans more sud. Classics like steak or moules frites, beef bourguignon, and profiteroles join new dishes from chef Brendan L'Etoile. A few we have our eyes on: red wine-poached duck eggs with roasted-garlic toast and chanterelles; scallops with braised leeks and mushrooms sauced with chive beurre blanc; and an apple tart with chai ice cream.
The drinks: Concise and classy. While the Petworth original has a large bar, the drinking space here is smaller, which the menu reflects. Five cocktails, all $12, include a tasty-sounding "Death of a Frenchman" with calvados, lemon, Champagne, and anise-flavored liqueur. Wines hail, naturally, from France, as do aperitifs and some beers.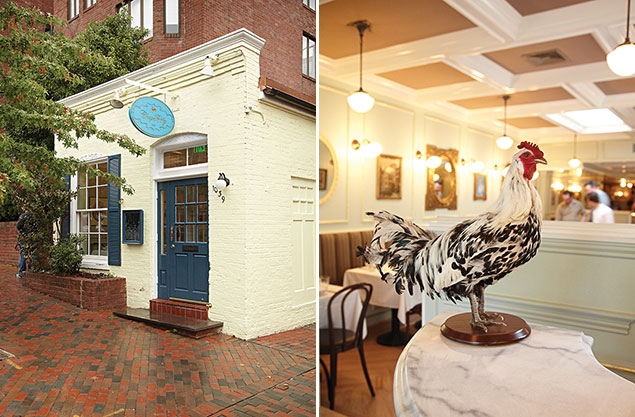 The rooster's name: Guillaume (pronounced "ghee-ome"), the restaurant's mascot. He's very busy right now.
The future: Lunch and brunch, which start later this autumn. Drop by now for dinner, with reservations available by calling the restaurant and OpenTable.
Chez Billy Sud. 1039 31st St., NW; 202-965-2606. Open for dinner Tuesday through Sunday 5 to 10.