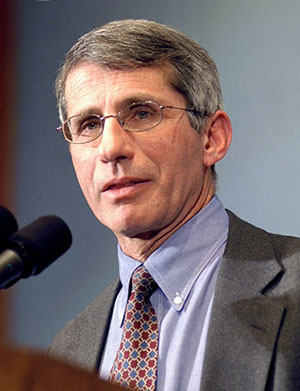 Five days after Dallas nurse Nina Pham was flown more than 1,000 miles to be treated for Ebola at the National Institutes of Health's (NIH) Special Clinical Studies Unit in Bethesda, a NIH press release reports that her "clinical status has been upgraded from fair to good." NIH is one of four American hospitals with high-tech bio­containment facilities, with state-of-the-art isolation capabilities and infection-control algorithms.
In other words, Pham is in good hands. But even for Dr. Anthony S. Fauci, Director of the National Institute of Allergy and Infectious Diseases (NIAID) and an NIH staffer for more than 20 years, this is still very new territory. We spoke with Fauci about how the hospital is handling this case of Ebola and its capabilities should more cases arise.
Which building is the Clinical Studies Unit located in and how many beds does it have?
It's in the NIH Clinical Research Center, otherwise referred to as building 10. It has seven beds, but when you have people in isolation, such as the Ebola patient, that requires all of the protocols, then we only have a two-bed capability. But we have seven beds to do other things that require less isolation.
Is there a possibility of expanding that if you start to need more?
Not for the foreseeable future because we just don't have the room or the space. With one patient in there now, my patient, Nina Pham, we have one open bed. So right now we can take a patient. If, as I hope, Nina Pham recovers and leaves, then we'll have two beds.
Has the protocol for treating an Ebola patient changed at all in NIH's Special Clinical Studies Unit because of the Texas hospital?
No, we have always had the very stringent protocol that we have right now, which much more resembles the new CDC protocols—namely, no bare skin exposed, precise training, drilling, and continuing to train and retrain, having trained monitors watch you put your clothing on and as you take off your garments.
What previous Ebola experience does the Special Clinical Studies staff have?
We have experience with someone brought in from West Africa a few weeks ago, a medical doctor who had a risk exposure that we observed for a period of time until we proved that he was in fact not infected.
So none of your staff have direct experience treating Ebola?
Well, first of all, very few people have Ebola experience in the United States. Most of [our staff] are highly trained, skilled in intensive-care and infectious-disease medicine. One of our staff members, a physician on the staff in our Special Studies Unit, has actually spent time in West Africa, treating Ebola patients.
Is your unit working with the Washington Hospital Center? Would they be the ones to send Ebola patients to you?
We are the referral of people that have Ebola. There are hospitals in the Washington area [that are designated for] people who fly in to Dulles, who might have to be isolated until they determine whether they do or do not have Ebola. That is not us. That is Virginia hospitals, either Inova Fairfax or Reston. They're both being discussed for that.
NIH will only receive them if they are diagnosed with Ebola?
That's right. We do not take rule-outs, because we want to use our capabilities for people who have documented Ebola, not people who are suspected of Ebola. The reason we did it for that other person, is that we didn't have anybody in the beds and we were able to do it, because there were no Ebola patients at the time.
What other diseases can this unit treat?
Any disease that requires isolation or acute care, in which you need a special facility to protect the people in the community as well as the workers. It could be any disease—Ebola, plague, outbreaks of different types of other communicable diseases.
What's the key to meeting that challenge?
We train, we train, we train.
Are your staff free to come and go as much as they please?
We have the standard CDC protocol. They self-monitor their temperature—like I'm doing right now—twice a day.
Is it possible to send Nina Pham get-well cards?
You could send her a get-well card. Send it care of the NIH Clinical Center.