Guest List is Washingtonian's monthly roundup of the fantasy cast we'd like to see for dinner this month.
1. Martina Hingis
Seven years after her last appearance in a Grand Slam singles event, the Washington Kastles tennis star makes it to the final in women's doubles at the US Open.
2. Richard Craig Smith
The Norton Rose Fulbright lawyer and former prosecutor has been retained by the NFL play-ers' union to investigate Ray Rice's spousal-abuse allegations and the league's handling of the case.
3. Cynthia Hogan
A former Joe Biden aide who helped write the 1994 Violence Against Women act, she's been hired by the NFL to head its DC lobbying operation. We'll seat her next to Smith and eavesdrop.
4. Barry Trotz
The Washington Capitals' new coach assigned lockers to the players based on what he expects from them. Fine—as long as he stays on the right side of Alex Ovechkin.
5. Britt McHenry
The former WJLA sports reporter, stolen by ESPN earlier this year, is helping give the network's NFL pre-game show a feminine voice.
6. Erwin Andres
The Gorove/Slade civil engineer oversaw a report calling a proposed DC United soccer stadium "an excellent starting point" for revitalizing Buzzard Point.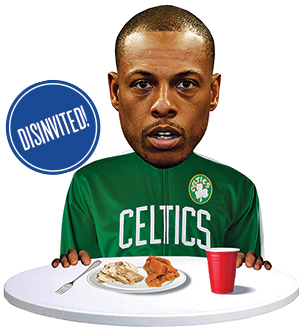 Disinvited: Paul Pierce
For wearing a Celtics jacket at Derek Jeter's last game at Fenway. We know he's going into the Hall of Fame as a Celtic, but is it too much to ask to represent the Wizards while taking their money?
This article appears in our November 2014 issue of Washingtonian.