Tuesday, November 11, is Veterans Day, a day to reflect on the service and sacrifices of America's 20 million veterans (and a day you probably don't get off work unless you're a federal employee). This year, HBO, Chase, and Starbucks have also partnered to produce the massive, free Concert for Valor on the Mall, expected to attract more than 800,000 people. The lineup includes performances by the Black Keys, Dave Grohl, Metallica, Bruce Springsteen, Rihanna, Carrie Underwood, Jessie J, and more; plus appearances by John Oliver, Jamie Foxx, Jack Black, Bryan Cranston, Bob Woodruff, and George Lopez, among others.
The concert runs from 7 to 10, but many of the roads around the Mall—and the Smithsonian Metro station—will be closed long before that, and Blue Line trains will be replaced by Yellow Line trains all day. Metro Center, Federal Triangle, L'Enfant Plaza, Archives, Gallery Place, Federal Center SW, Union Station, Judiciary Square, and Capitol South will stay open past midnight, if needed, to accommodate concert-goers, though you have to be in line for the Metro by midnight. WMATA has a printable guide to all the service changes available online.
All attendees must pass through one of the security checkpoints listed below, opening at 10 AM, to get to the Mall. The National Park Service provides a list of prohibited items, which includes bicycles, alcohol, folding chairs, and hardshell coolers. The weather should be relatively mild, with a high of 66 and a low chance of rain.
Bottom line: Get there early (like, really, really early), and be prepared for long lines and no cell service. And if you can't make it—or don't want to struggle through the crowds—just phone your favorite HBO-subscribing friend: The concert will be broadcast live on the network and its affiliates.
See Metro's altered service map and a full list of road closures, Mall access points, and prohibited items below.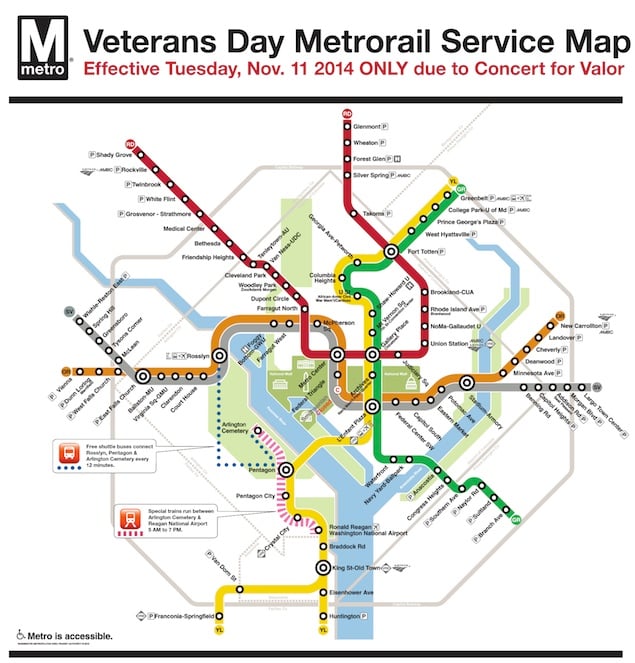 Road closures, beginning at 6 AM Tuesday:
Constitution Avenue NW from Pennsylvania Avenue NW to 18th Street NW
Madison Drive NW from 3th Street NW to 15th Street NW
Jefferson Drive SW from 3rd Street SW to 15th Street SW
Independence Avenue SW from 3rd Street SW to 17th Street SW
Maryland Avenue SW from Independence Avenue SW to 7th Street SW
3rd Street from Constitution Avenue NW to C Street SW
4th Street from Pennsylvania Avenue NW to C Street SW
6th Street NW from Pennsylvania Avenue NW to Constitution Avenue NW
6th Street SW from Independence Avenue SW to C Street SW
7th Street from Pennsylvania Avenue NW to C Street SW
10th Street from Pennsylvania Avenue NW to Independence Avenue SW
12th Street ramp from I-395 to Pennsylvania Avenue NW
14th Street from E Street NW to C Street SW
15th Street from E Street NW to Maine Avenue SW
17th Street from C Street NW to Independence Avenue SW
Additional closures:
4th Street from Pennsylvania Avenue NW to C Street SW will be closed from 12:01 AM Monday, November 3, through Wednesday, November 12, at 10 AM
Madison Drive NW from 3rd Street NW to 4th Street NW will be closed from 6 AM on November 10 through 10 AM on November 12
Public access points, opening at 10 AM on Tuesday until venue can no longer accommodate additional people:
4th Street NW and Madison Drive NW
4th Street SW and Jefferson Drive SW
7th Street NW and Madison Drive SW
7th Street SW and Independence Avenue SW
12th Street NW and Madison Drive NW
12th Street SW and Independence Avenue SW
14th Street NW and Madison Drive NW
15th Street NW and Constitution Avenue NW
Public entry points, opening at 2 PM on Tuesday until the concert venue can no longer accommodate additional people:
15th Street SW and Independence Avenue SW
17th Street NW and Constitution Avenue NW
Prohibited items:
Alcohol
Ammunition
Animals other than helper/guide dogs
Balloons
Bicycles
Hard shelled coolers
Explosives/fireworks
Glass containers · Illegal firearms
Laser pointers
Mace/pepper spray
Folding tables, tents, chairs (and other items that could be considered "structures")
Weapons
Unmanned aerial systems
Any other items determined to be a potential safety hazard