Smithsonian Secretary G. Wayne Clough's term runs out in a month, but he's dropping at least one last major endeavor before he leaves with the release of a decade-spanning proposal to renovate several Smithsonian facilities along the south side of the National Mall, including a major overhaul of the vastly under-utilized castle.
The $2 billion project is designed by the Bjarke Ingels Group, the Danish firm behind last summer's National Building Museum maze, and includes significant changes to the Freer Gallery, the Enid A. Haupt Garden, the Hirshhorn Museum and Sculpture Garden, and the Arts and Industries Building, which would finally reopen to the public after its 2004 shuttering. (The Smithsonian spent ten years and $55 million on renovating the building with the intention of opening it in September, but its rededication was snubbed earlier this year.)
The castle—which houses the Smithsonian's administrative offices—will undergo the most work, from restoring its Great Hall exhibition space to a two-level subterranean expansion that will contain a café, gift shop, restrooms, and underground passages to the National Museum of African Art and the Arthur M. Sackler Gallery. The quadrangle building under the Haupt Garden will get a new roof that lets in natural light to illuminate the Smithsonian's lower depths.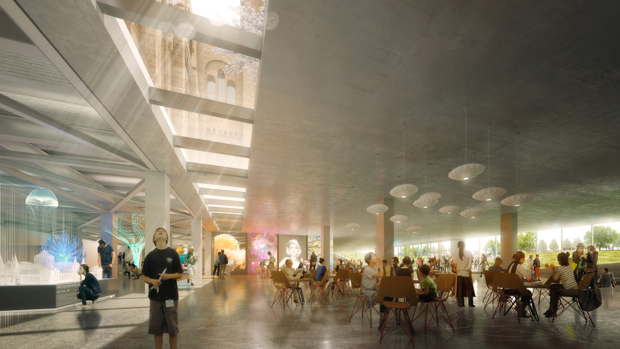 The Hirshhorn, which just underwent a makeover, will get a new courtyard anchored by an in-ground fountain and a reconfigured sculpture garden to make room for new, high-ceilinged galleries and a larger auditorium. The design also calls for lowing the concrete perimeter around the toric museum to better incorporate it with the rest of the Smithsonian campus and adjoining Mall.
"We believe this plan holds the potential to guide the Smithsonian South Mall campus into the future while remaining firmly rooted in its heritage," says Bjarke Ingels, the principal of his namesake architecture firm and the proposal's lead designer.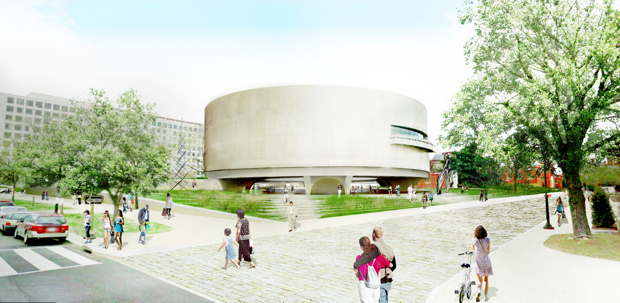 While the ambitious proposal contains several components for the Arts and Industries Building, it does not give the unused museum a long-term purpose. While the building would get expanded gardens and some traffic to its rotunda—from which visitors would be able to survey the surrounding campus—it will still be without a permanent function. The building is also still a candidate to house a proposed American Latino Museum.
The Smithsonian says the $2 billion plan will be paid for with a mix of public and private funds. Perhaps the largest component of the entire project is something that will go unseen by tourists—a new central utility plant the institution says will cut the south Mall campus's energy consumption by 34 percent and carbon dioxide emissions by 39 percent.
Don't expect any changes that soon, though. Construction is not intended to start until 2021, and all the renovations will take between ten and 20 years to complete.