Maryland lawmakers have spent tens of millions of dollars to keep Netflix's House of Cards and HBO's Veep shooting in their state, but for all the critical plaudits and statuettes those television shows win, the financial returns to the communities where they film aren't much, according to a new report published by the Maryland Department of Legislative Services.
The state intends to pay out $62.5 million in tax credits to film productions between 2012 and 2016, but nearly all of it—96.5 percent—is going to those two prestige series, with just a few independent films left to fend for the table scraps. But for all that financial grease to keep the plots and schemes of Presidents Frank Underwood and Selina Meyer in Maryland, the state only gets back 6 cents for every dollar of incentives.
House of Cards received $26 million in incentives over its first two seasons. But its production company, Media Rights Capital, threatened to leave Maryland unless it got at least $15 million for the third. State officials threw themselves in front of the figurative Cathedral Heights train in April, and settled to give the soapy political thriller $11.5 million. Governor Martin O'Malley announced the deal as a major economic coup for the state, claiming House of Cards had created 3,700 jobs and $100 million in economic activity.
But today's study suggests O'Malley is exaggerating on any impact House of Cards has had on Maryland's economy. Jobs and local revenue generated by visiting movie and television productions are short-lived and not a model for sustainable economic growth, the report states.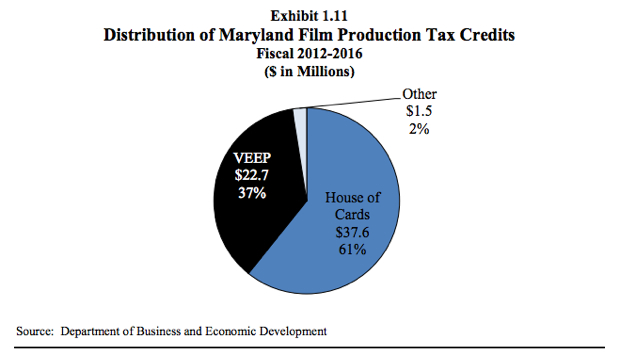 "While the credit is a short-term stimulus to the economy, it does not provide much, if any, long-term economic stimulus due to the nature of film production captivity," the 65-page document reads. "The credit does not provide any sustainable employment; the economic activity is dependent on continued productions in each year and does not provide long-term economic development."
Maryland, even when its not subbing in for less-film friendly DC, has been a hub of high-profile televison production for more than a decade, but with vastly diminishing returns. While the producers of House of Cards and Veep have spent about $268 million collectively since 2011, that is far less spending per incentive dollar than what the producers of The Wire spent between 2002 and 2008. The fourth season of David Simon's urban serial spent about $28 million after receiving a $1.6 million wage rebate, or $17.67 for every dollar it received back from the state. Contrast that with the upcoming fourth season of Veep: the $27.5 million it spent after receiving $7.5 million in tax credits comes out to $3.70 for every dollar it got from taxpayers.
Read the full report below:
WEB Draft Film Tax Credit Report
Find Benjamin Freed on Twitter at @brfreed.