Just in time for frigid weather comes Denson Liquor Bar, a cozy, subterranean watering hole from the Ghibellina and Acqua Al 2 team. Mindful Restaurant Group co-owners Ari and Stacy Gejdenson debut the Art Deco-style space in Penn Quarter on Wednesday, bringing classic cocktails and late-night noshing to 600 F Street, Northwest. Here's what to know before you drop in—or under.
The inspiration: A hotel bar in the 1920s. The Art Deco style runs throughout, from bronze inlay tables and black-and-white tiling to pull-chain toilets in the bathrooms.
The cocktails: Classic. While the barmen get riff-ier at sister watering hole Harold Black, here you'll find a more straightforward list with a Negroni, Sazerac, Aviation, and Hemingway daiquiri. For those who like their spirits stiffer, the bar pours one- and two-ounce servings of fine whiskeys and Scotches.
The best seat in the house: A corner booth to the right of the door. Not that you have too much choice in the 49 person-capacity bar, lined with deep leather booths. Still, if you want to gaze over the scene while also discreetly sipping drinks with a date, this is the place.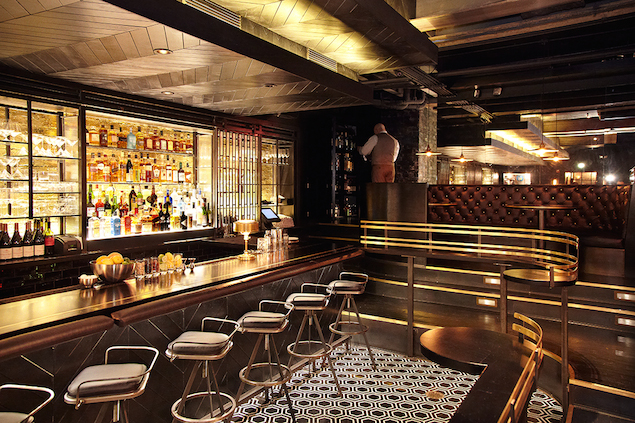 The fun fact: Booths are divided by chicken-wire glass from the historic Hecht Warehouse. The panes are not only a cool memento of DC's past, but also a nod to its future. Gejdenson's next project involves bringing three concepts to the restored building, which is being transformed into the mixed-use Hecht Warehouse District development. While plans aren't fully set, at least one project will be a sit-down restaurant, the first of its kind in Ivy City.
The "hotel" food: Better than real hotel food, which doesn't have the best reputation. The small menu follows the bar's theme, serving an eclectic mix that a traveler might enjoy. Guests can snack on bar nuts or cheese and charcuterie platters, or take comfort in warm dishes like a Cubano panini or curried-chicken pot pie.
The late-night noshes: Still to be set, but you'll likely find that spicy pot pie. The full menu runs until 11:30 most evenings, with a few eats served until last call.
Denson Liquor Bar. 600 F St., NW. Open Monday through Thursday 5 to 2, Friday and Saturday 5 to 3. Closed Sunday.