Not even death could prevent Marion Barry from thowing a party to celebrate a Marion Barry television appearance, as dozens of the late DC icon's friends, supporters, and former staffers piled into the Democracy Prep Public Charter School on Martin Luther King, Jr. Avenue, Southeast, in Congress Heights on Sunday night to watch a Barry interview broadcasted by the Oprah Winfrey Network. That the event would go on was one of the first things Barry's representatives mentioned early Sunday morning, just hours after the District's "Mayor for Life" expired.
Barry recorded his interview with Oprah Winfrey in June, shortly after the publication of his memoir, Mayor for Life: The Incredible Story of Marion Barry, Jr. That it only aired the day of his death was a morbid coincidence, but that turned what would have been an ordinary scene of a local official congratulating himself into a preview of the public memorials for Barry that are likely to envelop Washington in the coming weeks.
"He lived life by his own terms," said Mayor-elect Muriel Bowser, an occasional Barry foe when the two served on the DC Council together, but who became politically aligned during this year's mayoral election. Bowser also recalled what Barry would say in his own eulogies.
"It doesn't matter what you do the day you're born, it doesn't matter what you do the day you die," she said, "it's what you do with the dash in between, and ladies and gentlemen, what a dash!"
Another thing that didn't seem to matter: that the party's planners couldn't actually get a working feed of the Oprah channel on a laptop hooked up to a projector. Stalled video and broken audio did not thin the crowd much; instead, people lingered to trade their own Barry memories. While a few people were still bristling over TMZ's send-off that referred to Barry as the "Crack Mayor" in boldfaced type, the stories told last night described a neighborhood hero.
"We knew him better than anyone else," said former Barry staffer Robin Simpson-Wharton, who stood near the door wearing a T-shirt featuring Barry's face with text reading "In loving memory, mayor for life."
Like many other Washingtonians, Simpson-Wharton, 48, also credits Barry with landing her first job—doing clerical work in Howard University's engineering department in the summer of 1987 when she was 15 years old. Simpson-Wharton, who now works for the Internal Revenue Service, still carries her card from the Summer Youth Employment Program, one of Barry's most visible accomplishments as mayor.
"He had unconditional love for everyone," she said. "He wanted the best for everyone."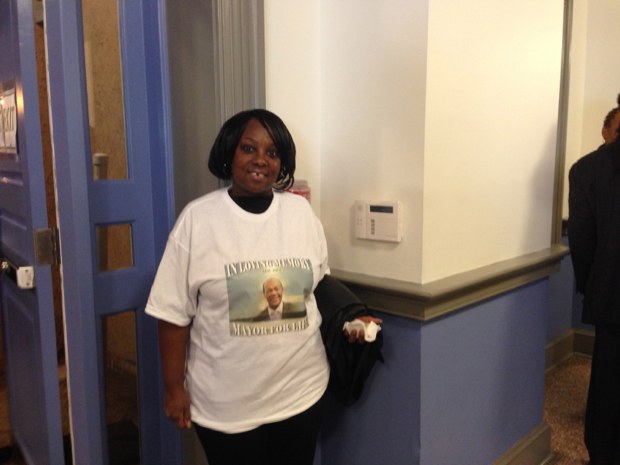 Ron Moten, a Ward 8 neighborhood activist and political gadfly, remembered Barry for more than just his political moxie. As a Council member, Barry staked out a role as an advocate for the rights people being released from prison, a position Moten said Barry held "more than most," in part because Moten credits Barry with keeping him out of jail in 1995.
"Who writes a letter for a guy on the streets?" Moten said. "Boy, did he write a letter."
Even with the video faltering and the food running out, the Barry stories continued in the crowd. While Barry's written obituaries remember him as a skilled, but personally burdened politician with lifelong resiliency, his legend in Southeast DC runs far deeper as someone who devoted his life to building up the black community in a divided city.
"There would be no Marion Barry in politics if there was no Marion Barry in the movement," Moten said.
And while details for what will certainly be a large, spectacular funeral are still underway, Barry's community outreach continues even without his presence. His annual turkey giveaway will go on as planned Tuesday at Anacostia's Union Temple Baptist Church, distributing 3,000 birds to people looking to complete their Thanksgiving meals.
Find Benjamin Freed on Twitter at @brfreed.