In 2010, Washington artist Aniekan Udofia was approached by the Murals DC project to create a painting for the west side of Ben's Chili Bowl, the U Street landmark with a rich history in the community. That history includes visits to Ben's from both Malcolm X and Barack Obama, and a long relationship with Bill Cosby—which is how the now-disgraced comedian and the nation's President came to share a prominent wall on one of DC's most traveled thoroughfares.
Now some are asking whether Cosby, accused of sexually abusing women throughout course of his career, deserves to remain in that place of honor, and whether the mural has become awkward for Obama.
The figures on the mural, which also include Chuck Brown, the godfather of go-go, and longtime WPGC deejay Donnie Simpson, were not Udofia's choice alone. Murals DC is aimed at changing young people's thinking about graffiti and pointing them toward more edifying street art, so the artist worked with neighborhood children to design and paint the mural. "The first approach was to have 20 people on there," Udofia told Washingtonian. "So we had to narrow it down to those four, four being visually sound. I wanted to create something that had rhythm."
It seemed natural to include Cosby, who has come to Ben's since he was a fledgling comic and who remained loyal to the restaurant even after he'd become a nationally known. "Bill and [his wife] Camille used to come on dates here," says Ben's owner Nizam Ali.
The mural's origin with the community—and the positive nature of murals as homages to a group—protects Obama from any untoward association with Cosby.
"If you look at the history, it was well thought out," says Udofia. "The allegations shouldn't change anything about why he's on the wall."
Chuck Thies, a political consultant and Mayor Vince Gray's former campaign manager, agrees. "I could see if the mural were going up, perhaps Obama and some of the others wanting to be kept out, but the fact is it's been up for over five years now," he says, adding, "I don't think it's that awkward for any of them now, especially Obama."
Even if it discredited Obama, says Thies, painting Cosby out would not be good public relations for the President. "A rush to judgment is always in poor taste. It's best for Obama to stay out of this."
But if the community turns against Cosby, says Thies, Ben's should consider a new mural. "Ben's is a leader in this city. If the allegations became criminal, and if he's found guilty, I could see people saying they don't want to be on it anymore."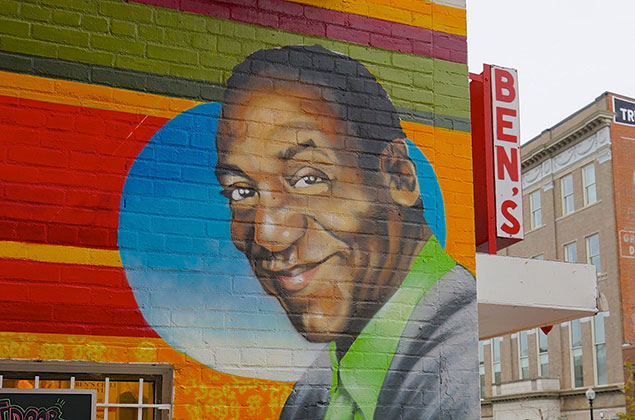 See also: Read the Smithsonian's Awkward Statement on Its Benefactor Bill Cosby