DC
National Christmas Tree
An obvious choice, perhaps, but still worth the tourist-heavy trek. Located directly adjacent to the White House, it has more than 350 red, green, and white LED lights that can be viewed in all their brightness every night through New Year's. Then again, shouldn't we expect the White House to set an example of not leaving one's lights up after Christmas Day?
When: Through January 1
Where: The White House
Cost: Free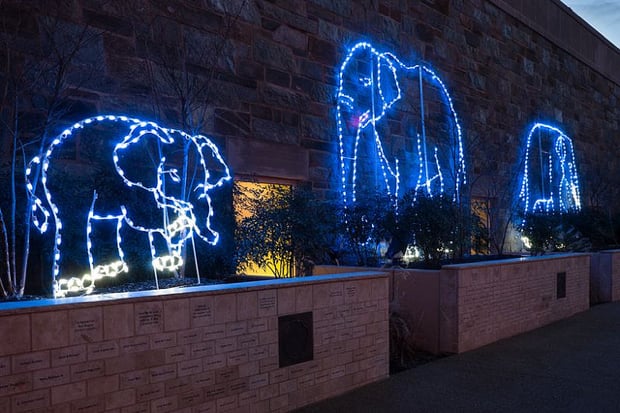 ZooLights
This is the much better federal light show, featuring elephants, sea lions, octopi, Komodo dragons, and other fauna in holiday-light form. And yes, there are Christmas-light pandas.
When: Through January 1
Where: Smithsonian National Zoo
Cost: Free
Maryland
Symphony of Lights
Columbia residents might bicker over developers' plans for the Symphony Woods park, but there should be no argument over the allure of its annual holiday display, which this year adds a bike route to the usual walking and driving tours. If admission seems a bit steep, remember that the light show's proceeds benefit the Howard County General Hospital.
When: Through January 4
Where: Symphony Woods at Merriweather Post Pavilion, Columbia
Cost: $20 per car, $45 for vans, and $125 for buses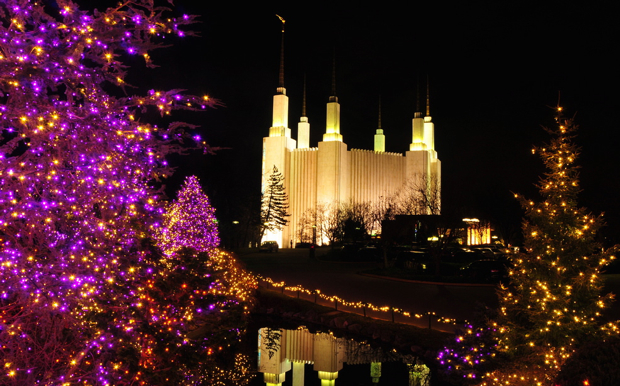 Washington DC Mormon Temple
The local LDS headquarters decorates its temple and surrounding grounds with 600,000 bulbs, accompanied by nightly nativity scenes between 6 and 9. There are also live musical performances at 7 and 8 every night.
When: Through January 1
Where: 9900 Stoneybrook Dr., Kensington
Cost: Free
Seneca Creek State Park
The Winter Lights Festival at Gaithersburg's Seneca Creek State Park dazzles with more than 300 displays and 65 illuminated vignettes. For an additional $2, car passengers can get prism glasses that make the show appear extra sparkly. (No special specs for drivers, natch.)
When: Through December 31
Where: Seneca Creek State Park, Gaithersburg
Cost: $12 Monday through Thursday, $15 Friday through Sunday
Virginia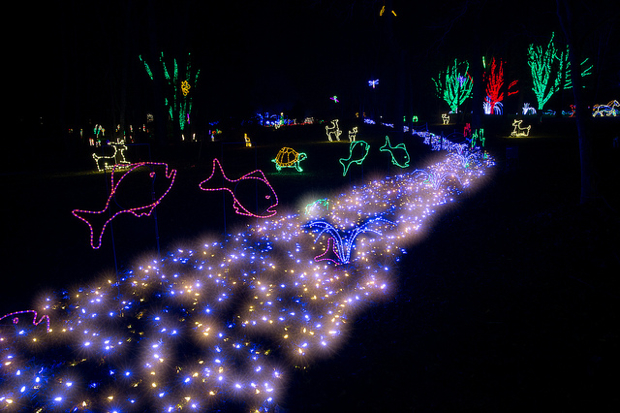 Winter Walk of Lights
It took more than three months for Meadowlark Botanical Gardens to transform itself into this winter light show. The park includes a scavenger hunt, family photo spots, and a tree decorated with 50,000 LED lights.
When: Through January 4
Where: 9750 Meadowlark Gardens Ct., Vienna
Cost: Ticket prices vary
Bull Run Festival of Lights
Take a drive through this two-and-a-half-mile-long light show, made up of 40,000 animated lights set to music. This event also includes a pop-up holiday village with rides, food, and shops.
When: Through January 3
Where: 7700 Bull Run Dr., Centreville
Cost: $15 per car Monday through Thursday, $20 per car Friday through Sunday
Find Hallie Golden and Kay Wicker on Twitter at @HallieGolden4 and @kaycandlewick.