Alexandria Public Schools teacher Ryan Suto was lucky today's schedule only featured administrative meetings. Suto, who teaches English as a Second Language, ducked out of work at 1:30 so he could get to Penn Social and raise a glass to the DC Council's vote approving the use of city funds to assemble the land for a new stadium for his beloved DC United soccer team.
"Luckily, since there were no classes today, it was okay," he said, wearing one of the freshly minted T-shirts United was giving out at the door.
Nearly an hour after the Council voted unanimously to spend up to $150 million on the nine-acre site on Buzzard Point in Southwest, United players and front-office staff walked into the Penn Quarter bar, trailed by their most fervent supporters, in celebration of a public-private partnership designed to produce the most expensive stadium in Major League Soccer history. The 20,000-seat venue, which could open in time for the 2017 season, is being touted by DC's politicos as a signature achievement in economic development.
"Vamos!" said Mayor-elect Muriel Bowser, whose push to remove a land swap with the development firm Akridge for the Frank D. Reeves Center at valuable 14th and U streets, Northwest, actually complicated the stadium deal in its final steps.
"This is a great day for the District of Columbia," said Council member Jack Evans, a longtime proponent of stadium development deals.
But a repeat of the apartments, condominiums, offices, shops, and restaurants that swept through Navy Yard after the construction of Nationals Park isn't guaranteed. A $200,000 study published last month on the stadium's cost and potential benefits stated that "Buzzard Point is highly unlikely to repeat the rapid large-scale development boom."
Still, United's most die-hard fanatics are offering to jump-start the investment. Back in June 2013, when DC officials and the team first announced the stadium plan, Donald Wine suggested that he would move to Southwest DC so he could live just blocks from soccer.
"That's the idea, now it's a reality," said Wine, an attorney and a member of the Screaming Eagles, a fan club that gets rowdy in the stands at RFK Stadium, the crumbling, 53-year-old American football coliseum in which United has been stuck since entering MLS in 1996.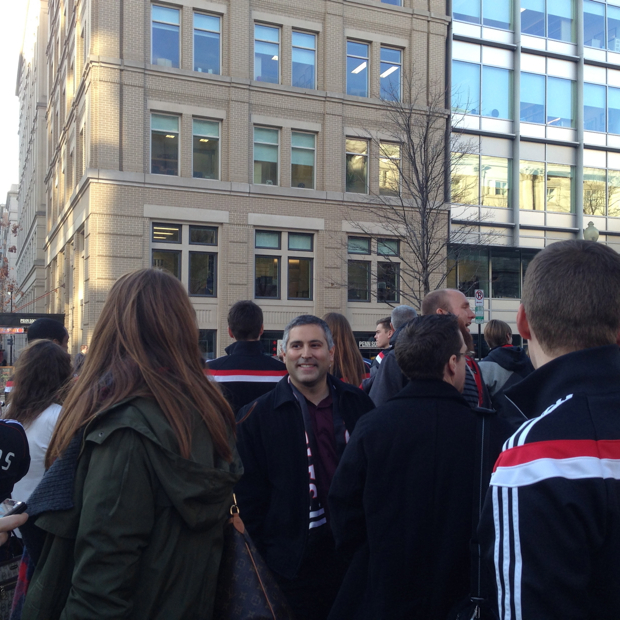 As for Wine's fellow superfans who skipped work today, they feel their team is closer to equal footing with Washington's franchises in more popular American sports leagues.
"We're like the Green Bay Packers of MLS," said Jayme Thysell, a government contractor who moonlights as the drummer for the Screaming Eagles and other supporter groups.
Okay, but the Packers are operated as a nonprofit public trust in a small city in Wisconsin. United is in a major East Coast city and is owned by Erick Thohir, an Indonesian media billionaire with holdings around the world.
"I'm talking about earning trophies and tradition," Thysell clarified. "DC United fans, we act more like a small-market team."
He might be on to something there. While many players from the Nationals, Wizards, or Washington's NFL team might be easily recognized around town, soccer players can slip in and out of a crowd without much notice (I didn't realize till well after the event that the short blond guy with whom I exchanged brief pleasantries by a buffet table was actually forward Chris Rolfe, who scored six goals in 21 games during United's 2014 season). Thysell did have one idea to build United's profile around Washington, though it's unlikely the team would go in for it.
"What this team needs is a bad boy or a diva," he said. "I don't want a Ray Rice, but we need that bad boy to get in the news so the team gets in the news."
There might have been a malcontent somewhere in the building. The fire alarm went off about 3 PM, forcing the team's players and hangers-on to evacuate the basement bar and head back into the daylight. The all-clear sounded ten minutes later.
Find Benjamin Freed on Twitter at @brfreed.