In June, New York Times columnist Maureen Dowd wrote a column about a wild night she spent in Denver after eating a pot-laced candy bar. The advocacy group Marijuana Policy Project honored the column by placing a billboard in the city featuring a Dowd look-alike holding her head.
Dowd told U.S. News & World Report's Steven Nelson in September that she planned to use a billboard as her Christmas card (that same month, she also talked weed with Willie Nelson on his bus outside the 9:30). "We decided to go ahead and make her a Christmas-themed version, and we mailed it to her on Friday," MPP spokesperson Mason Tvert tells Washingtonian.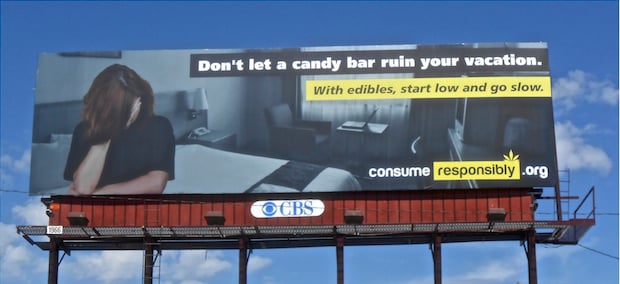 "The message is just as important this holiday season as it was earlier this year," Tvert writes in an e-mail. Too many edibles could "not make for a very merry Christmas."
Through a Times spokesperson, Dowd says she has been on vacation and doesn't know whether she received the card.