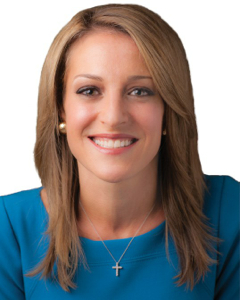 Emily Miller, the chief investigative correspondent at Fox affiliate WTTG, spent part of the Martin Luther King, Jr. holiday on Monday in Richmond, telling a group of gun-rights advocates that the District is not part of the nation of which it is marked as the capital on most conventional maps.
"It's great to be in Virginia, which is part of America, where you recognize the Second Amendment," Miller said at a statehouse rally staged by Virginia Citizens Defense League (VCDL). "I came from DC this morning, which is not part of America, because they don't recognize the Second Amendment."
Miller's remarks were captured on video by Media Matters for America. Several members of the gun group attended the event carrying weapons varying from handguns to AR-15 semi-automatic rifles.
It's possible Miller's remark was in jest. After all, she is a DC resident who has long chronicled her experiences as a gun owner navigating some of the most stringent firearms laws in the United States, which she compiled in her 2013 book, Emily Gets Her Gun: …But Obama Wants to Take Yours. But Miller did not respond to queries asking if she assess a state or city's inclusion in the fabric of the country based the restrictiveness of its gun regulations.
Miller joined Fox last April from the Washington Times, where she had been an editor on the opinion pages. Since jumping to television, she has reported extensively on DC's gun laws, among other stories.
The District's gun-control laws loosened a bit last October after a federal judge ruled a citywide ban on concealed handguns was unconstitutional. The DC Council responded by passing emergency legislation allowing concealed carry, but on a case-by-case basis as evaluated by the Metropolitan Police Department. The plaintiffs in the original case say the new law is still too restrictive, and are asking the judge to hold the District government in contempt, Miller reported last November.
Miller was not paid for her speech to VCDL, whose positions include advocating against background checks for gun purchases and prohibitions on gun ownership for convicted violent criminals. She has also made appearances before other gun-rights organizations. A spokesperson for WTTG, which is one of the Fox Broadcasting Company's owned-and-operated stations, did not clarify what the network's policies are regarding on-air talent making appearances before political groups.
Find Benjamin Freed on Twitter at @brfreed.