It's about to get a lot more crowded around here, according to new projections from the Urban Institute. The Washington metropolitan area's population is expected to grow by at least 2 million between now and 2030, according to an interactive map charting out the country's expected demographic changes over the next few decades.
By 2030, the organization predicts, Washington will have gone from a region of 5.4 million residents in 2010 to more than 7.4 million. And the future population will be slightly older and more diverse than it is today. In several ways, Washington's population is already visibly moving away from the country's at large, with the makeup of local residents expected to go from 48.3 percent white today to 42.4 percent white in 2030; whites are expected to become less than 50 percent of the national population in 2042, the Census Bureau forecasted in 2008.
But Washington's demographics are moving away from national trends more aggressively when it comes to age. The Urban Institute projects people 65 years and older will make up 15.3 percent of the Washington area by 2030. While that's about twice the current rate of 7.7 percent, it's below the national projection for 2030, when seniors will make up more than 19 percent of the population.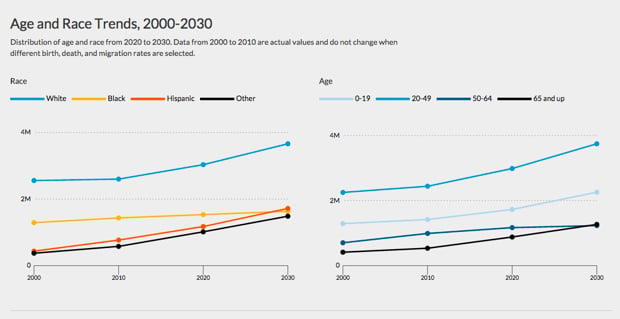 Still, it's the raw numbers that are most startling. Even setting Urban Institute's map to average birth, death, and migration rates, Washington's population will grow by 37.9 percent over the next two decades. The only large metropolitan areas expected to grow at a greater clip are Atlanta, Las Vegas, Charlotte, Raleigh, Orlando, and Austin. The Philadelphia area is only expected to grow by 6.5 percent, New York by 7.4 percent, and Boston by 7.5 percent.
The expected growth becomes even more jarring when DC is isolated. The District's population was measured at 658,893 last July, and according to the Urban Institute's project, will swell to 718,499 by 2030. But that's at an average growth pace, with current birth and death rates. It will also remain relatively young (though older than now), with seniors making up 15.1 percent of the city, and continue to become more racially mixed, with blacks shrinking to 42.9 percent of the population while white, Hispanic, and Asian populations continue to expand.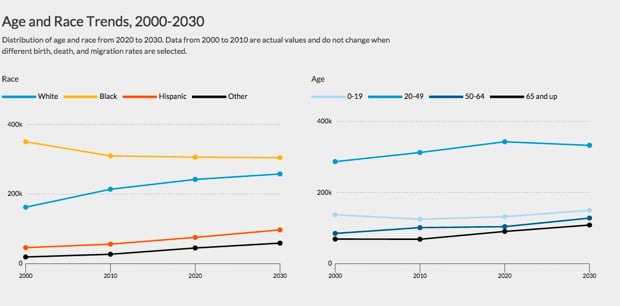 A 16-year population jump of 60,000 seems manageable, especially with the city's present-day migration slowing down to fewer than 1,000 net new residents per month. But the Urban Institute's map also allows the user to look at a population surge. Setting birth and migration rates to high and the death rate to low presents DC with a 2030 population of 807,761, which would be the largest in the city's history.
The upshot of any population forecast is that all these new residents will need to live somewhere. Even if DC only makes modest gains between now and 2030, it will still need to accommodate an additional 70,000 people, and that could prove difficult in a city where the housing supply is artificially constricted by the Height Act. The Urban Institute's projections recall similar scenarios raised in 2013 by then-DC Planning Director Harriet Tregoning, who proposed major revisions to the Height Act including allowing buildings as tall as 200 feet downtown and with no height restrictions in neighborhoods around designated transit hubs. Tregoning raised her suggestions based on models that predicted that even at a modest pace, the District would have to make room for an additional 99,100 households by 2040. Her proposal was slammed by the DC Council, discarded by the National Planning Commission, and ignored in Congress; the only change made to the Height Act was to allow penthouse construction downtown—an unlikely solution for tens of thousands of future residents.
But maybe if none of the rules about how DC can put up buildings change, the Urban Institute's projections won't pan out, though it'll do nothing to make the city a less expensive place to live. "Local policies can have an effect too," writes the organization's Serena Lei. "In some high-cost areas, restrictions on development that make housing too expensive could prompt young households to leave."
Find Benjamin Freed on Twitter at @brfreed.