Over the past few years, the art world has watched as Washington's two most august art institutions have struggled with their identities. The Corcoran Gallery of Art couldn't survive a financial crisis caused in part by disagreements between staff and trustees about what kind of exhibits it should mount and whom its shows were for. Two years ago, at the Smithsonian's Hirshhorn Museum, director Richard Koshalek quit after the board abandoned his vision for the museum's 1974 building by modernist Gordon Bunshaft.
In June, the Smithsonian hired Melissa Chiu, director of Manhattan's Asia Society Museum, to take the helm at the Hirshhorn. An Australian whose previous job had her shuttling among New York, Houston, and Hong Kong, Chiu promises to extend the Hirshhorn's global reach. But after the distractions of recent years, she'll first have to tend to matters at home—reconnecting a world-class museum to a city and the trustees to its day-to-day leader. Here's a conversation with Chiu about her plans for the Hirshhorn.
The last half decade has been a rough time at the Hirshhorn. An ill-conceived architectural folly went nowhere (see image below), and the importance and volume of the museum's scholarship fell off as leadership was focused on other things. What will be your focus in turning the place around?
As I came onboard as director, the Hirshhorn was celebrating its 40th anniversary. So I've spent some time looking at the history of the Hirshhorn, and what I found is that the fundamentals are great—the collection is one of the best in the country of postwar American and European art—and the actual financial fundamentals, being part of the Smithsonian, make it an institution that is on very sound footing.
I'm focused on two main priorities. One is building up the Hirshhorn's international standing through exhibitions and collection initiatives. There are a number of ways we're working on that. There will be an emphasis on scholarship around the collection we have, but also on building in this idea of new scholarship, or new insights into contemporary art.
The other priority is technology. I'm looking at it in art-making itself—work made in new media, web-based work, or work made in new technology is something we'll do. The show we have on at the moment, "Days of Endless Time," is mostly video work. The second part of that is visitor experience. We know that new technology, especially mobile technology, can augment an active, interpretive visitor experience within the museum. We've already developed some innovations such as a virtual Hirshhorn, created by our ArtLab educational center, which we hope to introduce to a greater number of visitors through our website.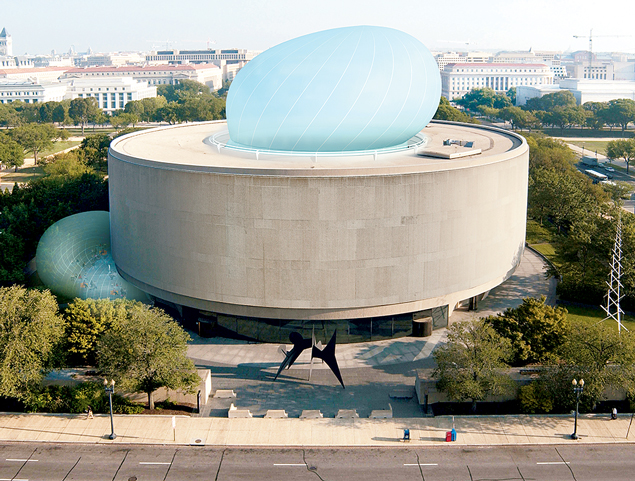 In recent years, museums like the Hirshhorn that have both modern and contemporary collections have emphasized the contemporary period. I'm thinking of the Walker Art Center in Minneapolis and the Whitney in New York. But the Hirshhorn's modernist holdings are among America's—and really the world's—best: Marsden Hartley, Willem de Kooning, Henri Matisse's sculpture, and so on.
This intersection between modern and contemporary is interesting, because we think of modern as being early 20th century and contemporary as kind of postwar. And yes, the Hirshhorn has a foot in both camps. What I would say is that there's been an enormous amount of scholarship already in the modern period. What interests me is looking for fresh insights into our modern collection, an exhibition program that teases out a new finding or a new thing that hasn't been addressed before.
Or I'd ask if there are new connections between modern and contemporary that can be teased out in a new way. I'm interested in bridging what would ordinarily be considered a disjuncture between the two.
Your first hire wasn't a chief curator but Gianni Jetzer as curator-at-large. Jetzer is a former director of the Swiss Institute in New York, and he lives there. The Hirshhorn has quite a strong in-house curatorial team—why do you need someone from the outside?
We have five permanent curators on staff, some of whom have been with the Hirshhorn for decades. So we have a whole lot of curatorial expertise based in Washington, people who do frequently go to New York. But Gianni Jetzer brings an expertise that will help us think globally. I come from a place where you identify the kind of shows you want to do, then look for the most talented people to do them. Sometimes that's an internal candidate, and sometimes it's external. I don't really distinguish where they're located.
Los Angeles is the other American city that's one of the world's art-making capitals. Will you be hiring a curator-at-large from there as well?
[Laughs.] Let's see. In my previous job, I worked a lot with independent curators. It's really about working out who the best curator for a particular show is.
In November, the Smithsonian announced a site plan for the area south of the Mall, by a Danish architectural firm led by Bjarke Ingels. Are you onboard with the plan?
I'm still learning about that architectural brief. The main aim of it, in terms of its goal for the Hirshhorn, is to physically open the Hirshhorn up to the Mall, which I'm fully in support of. Right now, there are structural issues that don't encourage foot traffic to the museum off the Mall, so if anything can be done to encourage that, I'm all for it.
Does Ingels's plan go far enough?
The physical experience of the Hirshhorn is unique. Gordon Bunshaft's vision was a round building that's now 40 years old. We just opened newly renovated third-floor galleries, which allow us to show sculpture, especially contemporary sculpture, in conversation with our paintings collection.
My priority is the lobby. I'm interested in how we can create a welcome, open environment to experience our art. I'm looking at considering artist commissions, or even additions to that lobby area. A number of my predecessors have been interested in expanding the physical footprint of the Hirshhorn, and I understand why, but my focus, at least in the short term, is really looking at that first encounter.
But if you want to encapsulate my approach, to the next few years at least, it would be to focus on software rather than hardware—I'm interested in the programs and the exhibitions and the collection right now.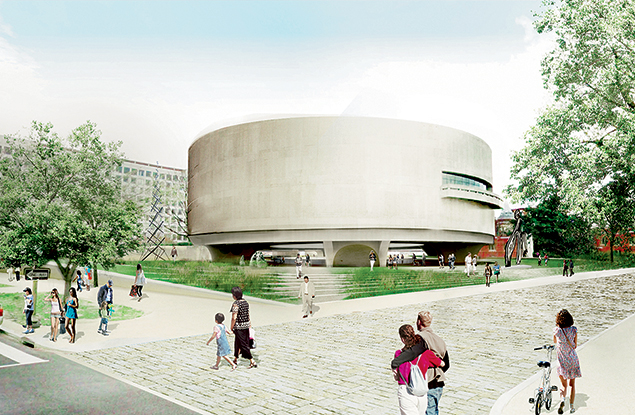 The Hirshhorn is a national museum, but it sits in one of America's largest metropolitan areas. In recent years, its connection with Washington has all but evaporated. Do you have a sense of how frayed that relationship is and what you'll do to address it?
Yes, I do. There are two main programs we have that have done a lot to build community relations—After Hours and ArtLab+. After Hours, my third week on the job, had [singer] Zola Jesus play in the plaza, and 1,800 people turned up! We had gallery tours and all those sorts of things. ArtLab is an educational program for teens that helps them use technology in different ways. They're the main signature programs we have right now that are about the community.
There are many other things we do in terms of adult public programs. To some extent, we also have work to do in just building up public outreach for our Washington audiences, but we have a number of programs in place to build on.
How much do you think of the Hirshhorn as a Washington museum? And how do you plan on using the museum's geography and community—from locals to the policy world to the international community—to your advantage?
Washington is a very international city. Many say the eyes of the world are on Washington because of its political importance. This attention coupled with the robust intellectual life provides an additional layer of complexity to thinking about exhibitions and collections.
Building on the Hirshhorn's international presence doesn't preclude us from having a vital engagement with our more immediate community. I'm very aware that we can create energy around our programming only from building a loyalty and interest in the museum. In the past, this has been done through exhibitions, lectures, artist talks, and films. After Hours performances on our plaza have been particularly successful in activating younger audiences, too.
It's important to consider audiences in Washington while also raising an awareness of the Hirshhorn as the nation's museum for modern and contemporary art.
Tyler Green, host of the Modern Art Notes podcast, is working on a book about the American photographer Carleton Watkins.
This article appears in the February 2015 issue of Washingtonian.