Dine like it's 1959
For some, bowing waiters, bursting bouquets, and veal Oscar can seem fusty. For others, haute cuisine formality feels as luxurious as a day at the spa. If you fall into the latter camp, get yourself to L'Auberge Chez François (332 Springvale Rd., Great Falls; 703-759-3800), where you can begin dinner with foie gras and Sauternes, move on to duck with Grand Marnier, and wind things down over baked Alaska.
At the Jefferson hotel's Plume (1200 16th St., NW; 202-448-3227), you'll find the same level of pampering—women will even get a teensy stool for their purses—but the luxe dishes (white-truffle-strewn risotto with a languidly cooked egg, lobster gratin bearing a whiff of blood orange) are more in step with the 21st century. Head to the hotel's swank cocktail lounge, Quill, for a nightcap to the tune of a live pianist.
Binge on oysters
Yes, the whole oyster-as-aphrodisiac thing is a cliché. But here's the thing: Slurping through a few dozen Kumamotos, Kusshis, and Olde Salts is just plain fun. At Hank's Oyster Bar (633 Pennsylvania Ave., NW, 202-733-1971; 1624 Q St., NW, 202-462-4265; 1026 King St., Alexandria, 703-739-4265), spiff up the meal with a bottle of sparkling Chenin Blanc and a buttered lobster roll.
At Eat the Rich (1839 Seventh St., NW; 202-316-9396), down those suckers to the tune of Guns n' Roses. Aphrodisiac? Who knows? But there's something to a dinner that doesn't leave you feeling leaden and lazy for the rest of the night.
Get outta town
Valentine's Day falls on a Saturday this year, broadening your options into daytime. Stroll the snow-globe-cute main drag in downtown Frederick and stop into Ayșe Meze Lounge (6 N. East St.; 240-651-5155) for a late lunch of Turkish dips and flatbreads.
Though the Eastern Shore can be blustery this time of year, the jewel-toned Bartlett Pear Inn (28 S. Harrison St., Easton; 410-770-3300) is a nice place to stave off the chill. We'd hit the folksy nearby BBQ Joint (216 E. Dover St., Easton; 410-690-3641) for a low-key dinner, then relax over the inn's excellent breakfast the next morning.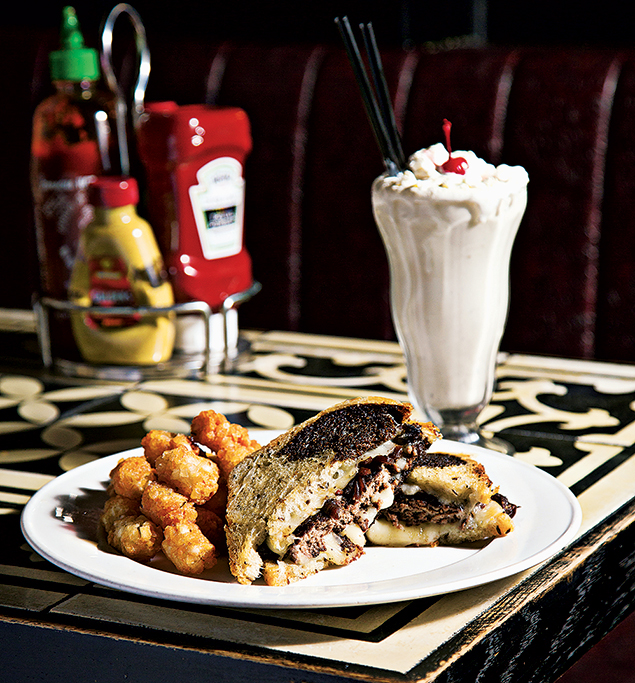 Go low-maintenance
A relaxed, budget-friendly dinner can feel special, or it can feel sloppily planned—it's all about the place. If you choose the right spot, your night is guaranteed to be way more fun than sitting in a somber dining room and shelling out ten times more for the tab.
We'd hit the Satellite Room (2047 Ninth St., NW; 202-506-2496) for gooey patty melts and bourbon-spiked Vincent Vega shakes. (Bonus points if you book tickets for SpeakeasyDC's Valentine's-inspired storytelling fest at the 9:30 Club next door.)
Or head to Victor Albisu's Taco Bamba (2190 Pimmit Dr., Fairfax; 703-639-0505) for rounds of guac and wondrously crispy fried-beef-and-tongue-filled El Beso tacos. And unless you like slapped-together salads and cooked-to-death salmon, just say no to any place hawking a too-good-to-be-true-sounding prix-fixe menu . . . or any place attached to a drive-through (but you knew that).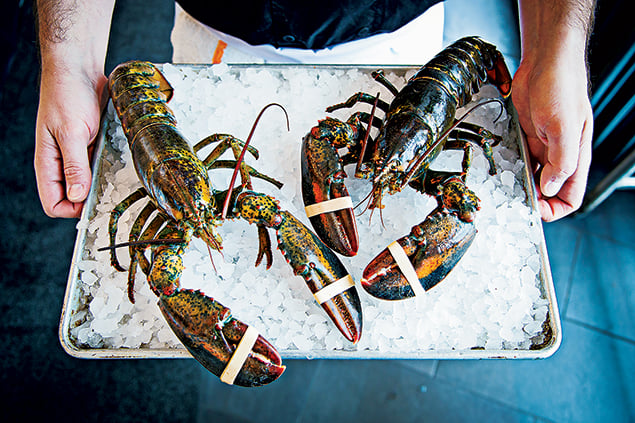 Stay in the kitchen
Provided you've got a big-enough stock pot and a non-squeamish cook, there may be no easier special-occasion dinner than steamed lobsters with drawn butter.
We like the crustaceans from Maine at BlackSalt (4883 MacArthur Blvd., NW; 202-342-9101) and Lobster Maine-ia (4280 Henninger Ct., Chantilly; 703-439-9750)—just make sure you order them the day before. There's also cacio e pepe, the ultra-simple, gloriously rich Roman pasta dish, which you can throw together using just four ingredients: butter, black pepper, pecorino cheese, and long strands of pasta. Make it with the hearty bucatini Dan O'Brien sells at his Shaw market, Seasonal Pantry (1314½ Ninth St., NW; 202-713-9866).
Order takeout
For a killer restaurant meal without the crowds, the Postmates app is your best friend. For a $5-to-$20 surcharge, a courier will deliver an order (in DC, Bethesda, and Arlington) from anywhere that does takeout. That means you can have Rasika's lamb rogan josh, Le Diplomate's cheeseburger, or Sushiko's hamachi crudo—all items that travel exceptionally well—while nestled on your couch.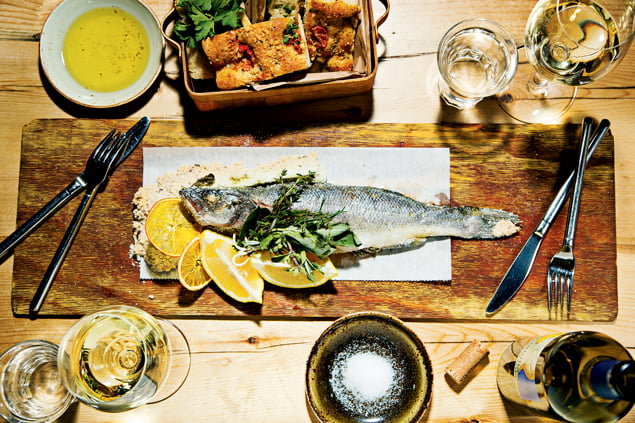 Share the love
There's something inherently romantic about tearing into one shared centerpiece dish—whether the rustic roast pork blanketed with thick, coconutty red curry at the cozy Thai joint Rabieng (5892 Leesburg Pike, Falls Church; 703-671-4222), an herb-stuffed whole branzino filleted tableside at Lupo Verde (1401 T St., NW; 202-827-4752), or an over-the-top seafood platter piled with chilled lobster, clams, and shrimp at Brasserie Beck (1101 K St., NW, 202-408-1717; 311 Kentlands Blvd., Gaithersburg, 301-569-4247). And it's far easier than haggling over which small plates to order.
You Might Also Like:
| | | |
| --- | --- | --- |
| How a Washingtonian Food Editor Decides Where to Go For Valentine's Dinner | Valentine's Day Champagne 101 | Valentine's Day Champagne 101 |