Valentine's Day—it brings out excessive behavior. The calmest people get a little crazy, and chefs who would never write "erection" on the menu, well, do. Don't believe us? Check out these six insane, over-the-top desserts at Washington restaurants.

The Titanic at Carmine's
427 Seventh St., NW
Your heart may not go on after taking down this anti-Valentine's dessert (see above), which can sink a table with five scoops of ice cream, whipped cream, bananas, strawberries, candied pineapple, and chocolate sauce. The glacial mass sits atop a flourless chocolate torte, and is served with a bottle of Prosecco ($65; feeds six). Alternatively, romance-haters can dig in as part of a garlicky prix-fixe dinner for six ($125).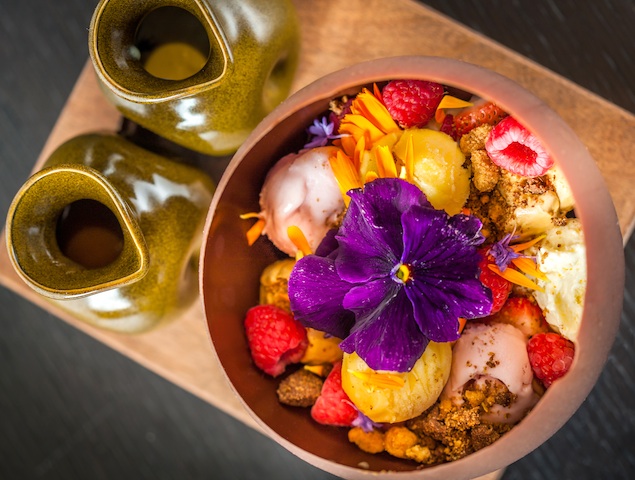 La Bomba at Toro Toro
1300 I St., NW
Servers dropping dessert sounds like a bad end to dinner, but it's all part of the plan at Toro Toro. "Bomba" literally translates to bomb—a giant chocolate egg filled with mousse, passionfruit sorbet, chocolate cookie crumbs, strawberry and dulce de leche ice creams, berries, caramel, and creme anglaise. Tables are wrapped in acetate to prepare for the explosion, which happens when the delicate shell is smashed, sending sweets everywhere to be scooped up by the couple. As far as tableside delivery goes, this is probably the most messy—and the most fun. Try it as part of a $85 set menu for two, or on the regular à-la-carte menu.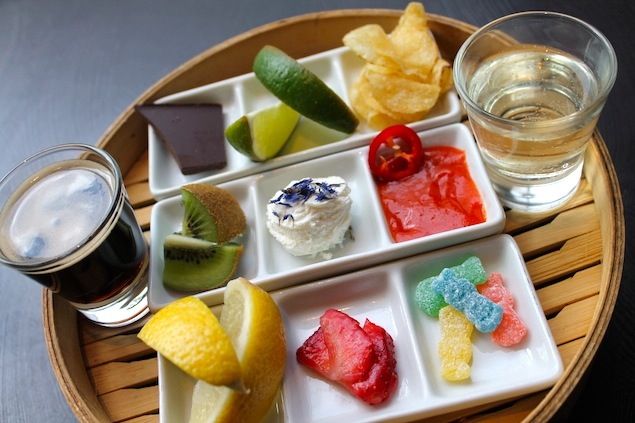 "Flavor tripping" platter at Ping Pong Dim Sum
900 Seventh St., NW; One Dupont Circle, NW
A plate with raw lemons, Sour Patch kids, potato chips, and a pool of Sriracha sauce hits the table after dinner. No, the cooks aren't stoned. You're "flavor-tripping." As part of a Fifty Shades of Grey promo, diners are blindfolded and given taste-altering tabs that melt on the tongue and make bitter foods seem sweet. The offerings aren't all sour; a real dessert sampler follows, and diners leave with a goodie-box of "bedroom accessories." The cost: $25, Friday through Sunday (hey, it's cheaper than the $1,500 alternative).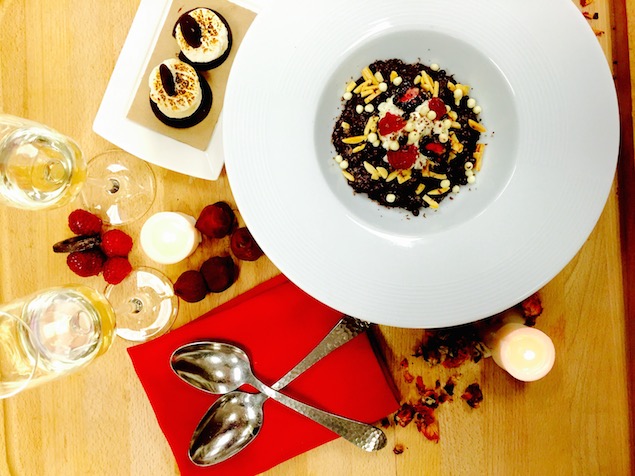 Chocolate risotto at Trummer's On Main
7134 Main St., Clifton
Count Chocula meets Marcella Hazan for this cocoa risotto, which makes for a rich dessert. Grandma's rice pudding has nothing on chef Austin Fausett's creation, which is made with dark chocolate, raspberries, toasted almonds, and Chantilly cream. Try it on Saturday and Sunday as part of a three-course brunch ($42 per person).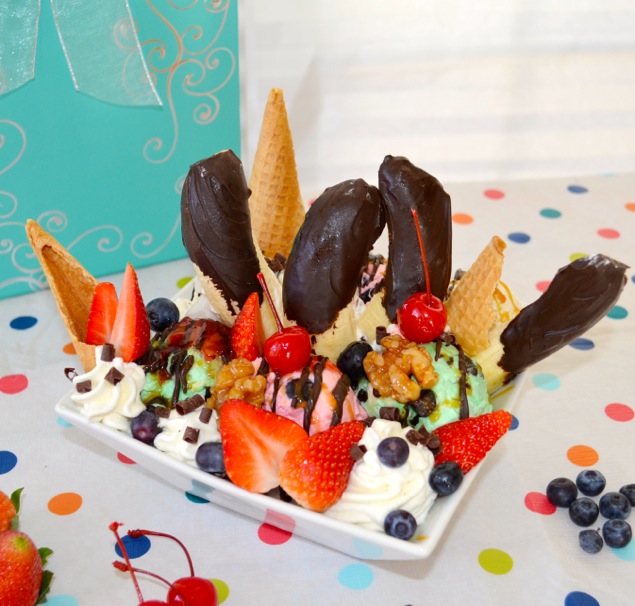 The "banana split erection" at Mansion on O
2020 O St., NW
Most restaurants play coy with their menus, but the Mansion dives right in—and up. True to the name, this sundae is what would happen if Ben & Jerry's came out with a Cialiscious flavor. Chef Karida Celestine's concoction includes three kinds of ice cream—strawberry shortcake, honey-lavender, and "tingling" mint—caramel sauce, and four very obvious bananas. The dessert is part of a $69 (heh) package on Friday and Saturday.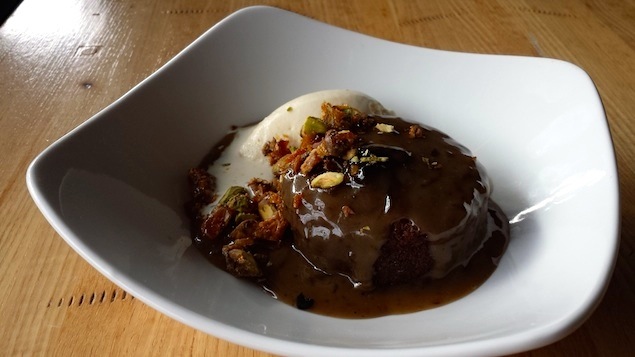 Blood cake with liver sauce at the Pig
1320 14th St., NW
You're in for a bloody Valentine at the swine-centric Logan Circle restaurant, where chef Michael Bonk adds pig's blood to his chocolate cake. The addition isn't just for holiday spirit—blood is similar to egg whites in protein and water content, and contributes to the cake's structure. The literal topping on the cake: "liverscotch," or butterscotch made from pork liver. There's also a pork-fat doughnut for medium-adventurous eaters. Try either as part of a four-course menu ($55 per person).