US Route 1 inside the Beltway in Maryland is no crummier than the turnpikes outside Amherst, Massachusetts; Bloomington, Indiana; or any other town that hosts a major state university. A traveler headed south through College Park takes in a view of Taco Bell, Burger King, and Pizza Hut; some insalubrious-looking hotels; and the Great Southern Tattoo Co.
Keep driving toward Amherst or Bloomington, though, and you'll bump into a historic square ringed with cute bookstores, ice-cream parlors, and funky coffee shops, with leafy lanes leading to quiet, professorial neighborhoods. Route 1, by contrast, defines College Park. About the best you can do by way of downtown charm is Ratsie's, a beloved pizzeria and gyro joint that, unfortunately, is liable to be dismantled by students in the event of a big Terrapins basketball win, as happened in 2002. A cosmopolitan hangout it is not.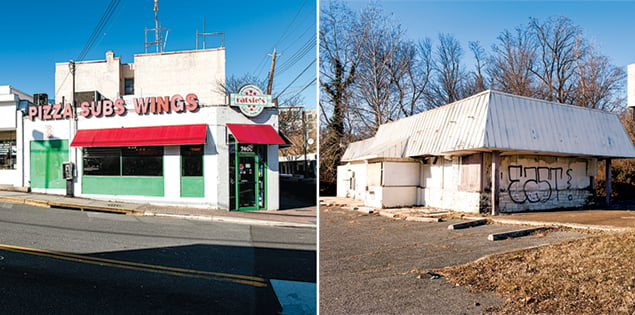 On the face of it, this is a strange situation. A city of 31,000 with a $57,000 median household income, above the US average, College Park is home to a large research university whose reputation has risen sharply of late. Last year, its sports teams joined the Big Ten and U.S. News & World Report ranked the University of Maryland 20th among the nation's public institutions. Its endowment is approaching half a billion dollars.
Yet the school's hometown shares little with the college neighborhoods and academic villages that house many of its peers. Fewer than 10 percent of UMD's faculty members and staff live in College Park; fewer than a third of its grad students do. In a 2013 study commissioned by the university, those who work there said they preferred to live in "progressive" towns like Takoma Park or historic Greenbelt, citing College Park's lack of culture.
In other college towns, the presence of so many PhDs on the PTA, or even in the aisles of the grocery store, means good things. But the public schools in Prince George's County, which includes College Park, pale next to the powerhouse education systems in neighboring Montgomery and Howard counties. And—apologies to Ratsie's—the Department of Agriculture lists College Park on its roster of "food deserts."
Until recently, the town and university were wary of each other, and flare-ups between them were common. Only recently did UMD begin a push to knock down the derelict former Sigma Chi fraternity building, which except for homeless people had been unoccupied since 2001. Because dorm space is tight at Maryland, most affordable rentals near campus are "student-ridden," to use a phrase from the 2013 report implying that 18-to-22-year-olds don't always make great neighbors.
But if the mystery of why College Park is no college town is an old and depressing one, there are also new reasons to hope the community can change into a place where the university is part of its appeal.
Originally called College Station, College Park began life as a rail stop serving the university, founded in 1856 as the Maryland Agricultural College. It grew up in the early 20th century as a "streetcar suburb" of Washington. Like most inner-ring suburbs, the town boomed again in the 1950s. With the arrival of the Beltway in 1964, its physical identity became entwined less with the university than with the automobile.
As the next wave of development came to Bethesda and Silver Spring in the mid-1990s, Montgomery County embraced an anti-sprawl policy that favored walkable centers and transit hubs. Two decades later, downtown Bethesda has high-rises, pedestrians, and the sort of street-level retail and dining that most cities would envy.
Smart growth, as this strain of urbanism is called, never reached College Park (ironically, seeing as the university houses a leading academic center on smart growth, championed by former Maryland governor Parris Glendening). Saddled with the perception of Prince George's as a less prosperous, higher-crime area, the town rarely won the competition for development dollars.
"Too often, what was built was projects that demonstrated the limited vision of the development community rather than the needs of residents," says College Park mayor Andrew Fellows. There was an assumption that the city didn't have the same negotiating power as its more affluent neighbors.
Now, though, boosters think the town's lack of development can itself be a virtue—allowing them to preserve a small-town feel while letting College Park grow enough to take its place among its college-town cohort.
"Our mission is to really create a top university community here," says Eric Olson, a former Prince George's County Council member who directs the College Park City University Partnership, a town/gown group that includes high-placed university officials, the mayor, and state senator Jim Rosapepe.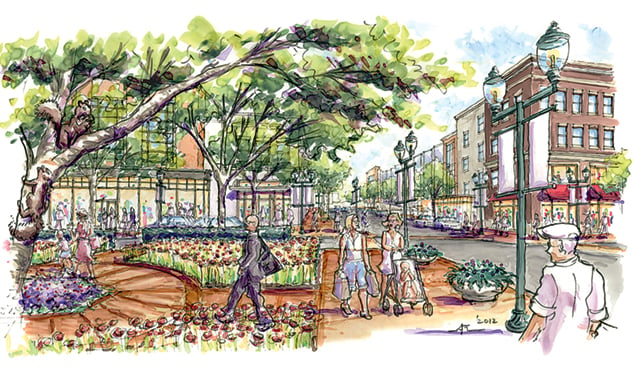 In 2011, the partnership released Vision 2020, an ambitious plan calling for more, and more types of, housing; new retail to fill in Route 1's checkered blocks; and mass transportation to get people to and around College Park. Meanwhile, the partnership has started its own charter middle and high school as a down payment to entice faculty to live nearby, creating a more diverse but more integrated university community.
Vision 2020 isn't the first such prescription for College Park. But the City University Partnership, founded in 1998, was for years the domain of "men in suits sitting in rooms, talking to each other," in the words of one planning veteran. It has now begun to pull in more voices: In October, in conjunction with the partnership, the university held its first "thinkathon," which brought students and residents together to discuss how to incorporate cultural and artistic spaces into a renovated downtown along Route 1.
The group's long-range plans are starting to bear fruit. A $250-million mixed-use development featuring Prince George's first Whole Foods is under construction just south of the city line in Riverdale Park. The university, meanwhile, has broken ground on its own "innovation district" on the east side of campus and recently hired Ken Ulman—the Democratic nominee for lieutenant governor who was defeated with Anthony Brown in November—as a consultant to foster a "start-up hub" in College Park.
Wallace Loh, the university's president since 2010, has signaled that he wants the school to contribute to College Park's revival in big ways and small. He recently announced a deal for a $115-million, four-star hotel and conference center to be built across the street from the university's main gate. And when Rosapepe resigned recently as chair of the charter school, College Park Academy, Loh accepted the post.
There's a precedent here. Universities, unlike governments, have a variety of tools at their disposal when it comes to improving their immediate neighborhoods—from giving staff incentives to live nearby to using its resources to turn local schools into places professors might want to put their kids.
After decades of planning, change is finally visible. Most of the infamous "Knox Boxes," student apartments known for rowdy parties and building-code violations (named for Knox Road), have been demolished, soon to be replaced by a larger, nicer complex called Terrapin Row. Several high-rise apartments for students have already popped up along Route 1, including the Enclave, near the intersection with Metzerott Road, and the Varsity, about a half mile to the south. These are close enough to campus that residents can hop onto a UMD shuttle or a bike. Car traffic along Route 1 has declined accordingly, says Olson, even as the number of people living there has risen.
A last, crucial piece of the Vision 2020 puzzle is the Purple Line. Planned in fits and starts since the '90s, the $2.4-billion, 16-mile light-rail service would run from Bethesda to New Carrollton, connecting the two arms of Metro's big U-shaped Red Line and linking the Green and Orange lines east of DC. Trains would run along the university's main road, Campus Drive, with four stops in town, including one at the student union.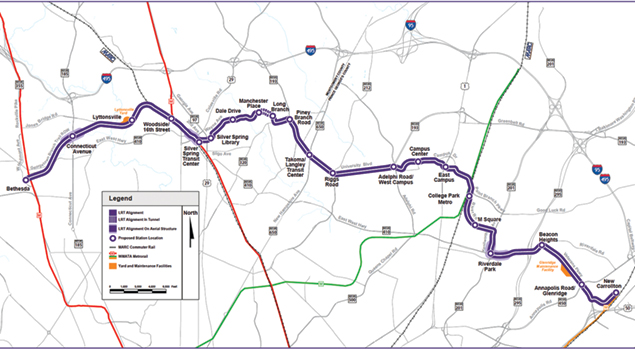 Maryland's new governor, Larry Hogan, campaigned on the idea that the Purple Line was too expensive and the state should concentrate on building roads instead. In his inaugural budget in January, Hogan included the state's promised $300 million in funding for the project but has made no public announcements about future spending.
Mayor Fellows ticks off the benefits the line would have for students, who'd find it easier to get to internships in DC or at NIH. Faculty and staff would be more eager to live in College Park if their spouses could take a train to work in Dupont Circle or Bethesda. (The closest Metro stop currently is more than a mile from the center of campus.)
When I ask Fellows if he also believes developers are readying projects with the expectation that the Purple Line will go ahead, he immediately says, "Yes."
Development will bring its own discontents, and if the Purple Line gets built, it won't likely turn College Park into a cosmopolitan university town like Ann Arbor. Instead, it will further knit the school and the downtown into the prosperous and quickly urbanizing metropolis next door, making College Park more akin to Cambridge or Berkeley. But it's a trade that town officials and most residents would jump at the chance to make.