DC Council member Jack Evans was asked, somewhat jokingly, if he would be willing to share a jail cell with Mayor Muriel Bowser if a high-ranking House Republican made good on his threat to lock up District officials who carry out the city's impending legalization of marijuana.
"I don't get arrested," Evans said before darting into a meeting with Metro officials instead of heading to a press conference Bowser and most of the Council staged Wednesday afternoon to defend Initiative 71, which takes effect tomorrow at 12:01 AM. He should have taken the question less seriously: the member of Congress doing the threatening, Representative Jason Chaffetz of Utah, is actually Washington's most powerless wannabe drug cop. No city officials are going to see the inside of a jail cell over the legalization of small-time pot possession, now matter how much nasty correspondence Chaffetz sends their way.
"We are prepared to enforce and enact Initiative 71," Bowser said. "Our government is prepared to implement and enforce Initiative 71 in the District of Columbia."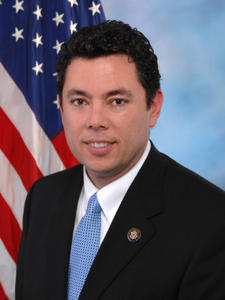 Bowser's statement was a clear shot at Chaffetz, who as chairman of the House Oversight Committee, is DC's de facto boss on Capitol Hill. Chaffetz, who tried to stall the District's medical marijuana program during his back-bencher days, sent Bowser a highly charged letter Tuesday night, warning the still-green mayor that if she or any other city employee could be charged with violating the Anti-Deficiency Act, a hoary federal statute that prohibits government agencies—and in DC's case, jurisdictions whose budgets are subjected to congressional review—from spending funds that have not been appropriated.
Chaffetz can send all the letters he want, but he's unlikely ever to get his pound of flesh. Besides the fact that since the law's 1884 passage, nobody has ever been prosecuted under the Anti-Deficiency Act, it would take a highly improbable sequence of events for Chaffetz to throw charges at Bowser. He'd have to convince the Justice Department to open an investigation into Bowser and the rest of the DC government. Besides the fact that there's no documented legal precedent, it seems just as implausable that Chaffetz would succeed in getting a Democratic attorney general to open an inquiry of a Democratic mayor carrying out a ballot referendum that passed with 69 percent support.
In recent weeks, Bowser and other top DC officials have been preparing city employees on how to carry out Initiative 71, especially rank-and-file police officers. Cops have been given reference cards reminding them of what is and is not legal under the legalization regime. Metropolitan Police Department Chief Cathy Lanier said it should not be too much of a problem.
"This will be enacted and in law after 12:01," she said. "It's really small changes from decriminalization."
Marijuana decriminalization, which went into effect last summer, replaced criminal penalties for possession of one ounce or less with $25 fines. Initiative 71 makes it legal for adults 21 years and older to possess up to two ounces of pot and grow six plants in their homes, but not exchange any of it for cash. A Republican-backed rider that will most likely be attached to a bill keeping the Department of Homeland Security funded prohibits the District from setting up weed retail markets similar to Colorado and Washington state.
Bowser said her administration will likely meet soon with US Attorney Ron Machen to discuss Chaffetz's Anti-Deficiency Act threat. But the DC government appears to be moving forward on legal pot without much hestiation at this point.
"Since I'm no longer being paid by the hour or by the word, I'll be brief," said DC Attorney General Karl Racine. "Initiative 71 is, in the attorney general's office's view, law."
Those statements, however, should not be taken as an endorsement to spark up in the middle of the street later tonight. Consumption is still banned in public, and Bowser has said she will seek to "extend" the definition of public by banning the creation of smoking clubs. But even with DC's marijuana-legalization regime being more conservative than those in Colorado, Washington, and Alaska, Bowser still took a few more shots at Chaffetz.
"I would hope he is focused on doing his job," Bowser said. "Bullying the District is not what his constituents expect."
And just in case Chaffetz can figure out a way how to haul Bowser off to jail for upholding her constituent's wishes, the mayor will not be doing time alone.
"A representative from half a continent away is threatening to lock up our mayor for the crime of implementing the will of District voters," said Council member Brianne Nadeau. "I support the will of the people and I reject the whims of overreaching congressmen. If they lock up the mayor, they better take me too."
Find Benjamin Freed on Twitter at @brfreed.