It's unusual for a Spanish restaurant to open in Washington without tapas—or any eatery given the popularity of share plates, snacks, and "nibbles." As of this week there's one breaking from the small plate pack: SER, where co-owners Christiana Campos-Candon, Javier Candon, and chef Josu Zubikarai choose to highlight the many other aspects of Spain's vibrant dining culture. The Ballston restaurant, whose name is both an acronym (simple, easy, real) and the verb "to be" hopes to offer something for everyone—outdoor dining and a lunchtime grab-and-go shop, homey servings of paella and exotic eats like lamb sweetbreads and steamed barnacles. And yes, you can still share if desired.
The restaurant soft-opens Thursday, March 5, and offers diners a 20-percent discount while it gets up and running through Wednesday, March 11. The grand opening is slated for Thursday, March 12. Here's what to look for in the sunny, 140-seat space.
Seafood platters and grandmother-style paella.
Chef Josu Zubikarai, a Basque native and the original head toque at DC's Taberna del Alabardero, created a menu (sample copy) that draws from various regions. Guests can start out with platters of meats and cheeses, or more unusual arrangements from the Spanish seafood bar such as fresh oysters with gazpacho granita, octopus picadillo, and crab cocktail. Entrees fall into three main categories: seasonal, frequently changing items like fresh whole fish or a market cut of beef; a rustic lineup "from our grandmothers" such as seafood paella or chicken braised in garlic and white wine; and travel-inspired dishes (pasta tossed with caviar, a cheeseburger with bravas sauce). Certain items are served in large portions for two or more.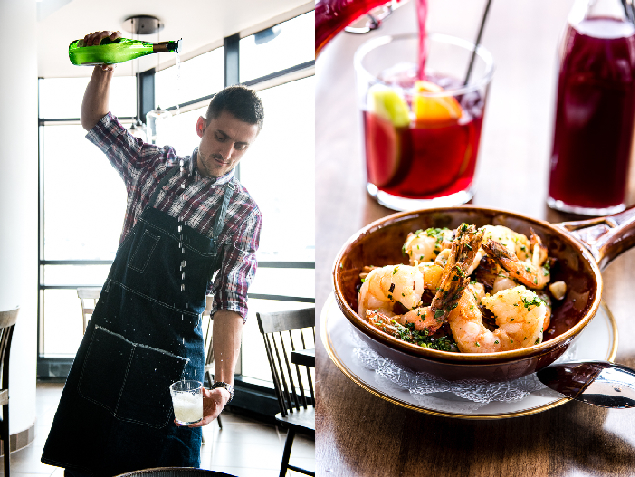 Eels and other eats for the adventurous.
Classics like croquetas and tortilla dot the menu, but there're plenty of options for diners looking to explore traditional Spanish foods less common in the US. Seafood platters can boast steamed gooseneck barnacles or "Spanish caviar," baby eels with garlic and olive oil. Lamb sweetbreads and codfish jaw with salsa verde join the appetizers, while txipirones, squid cooked in a sauce of its own ink, makes for an exotic entree.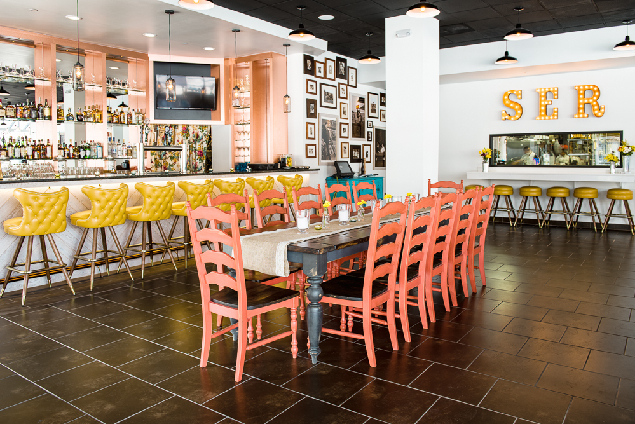 Sangria on a 100-seat patio.
The best way to defrost after a long winter: sip sangria on a spacious outdoor patio. Once the weather warms you'll find plenty of space to linger outdoors, where both humans and neighborhood dogs are welcome. Until then drinkers still have plenty of options: effervescent Txakolí wine and Mahou beer, local cider and Sherry, house cocktails, and three kinds of sangria (red, white, and sparkling). The restaurant also plans to serve wine by the boda, a shareable wine bag traditionally fashioned out of goatskin.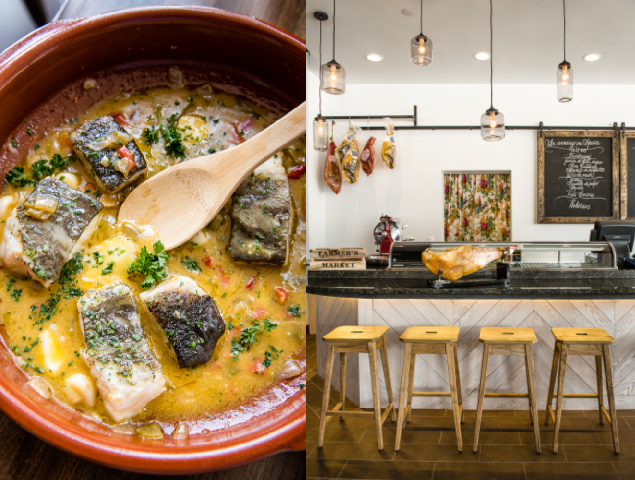 Fried chicken sandwiches and DYI salads to go.
Lingering over seafood and cava is the ideal dining scenario, but the restaurant also offers a grab-and-go lunch counter for weekday reality; it's open Monday through Friday until 3. A menu of sandwiches runs the gamut from traditional combinations (Serrano ham and manchego) to creative options such as fried chicken with Spanish bleu cheese, or a PB&J with sliced bananas and persimmons. Diners can also make their own salad combinations with various vegetables and proteins, and grab soups, snacks, and sweets. Making that average Monday better: a Nutella brownie.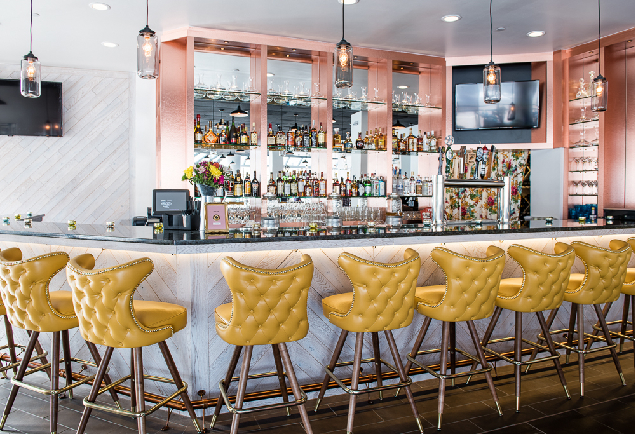 And if you need more incentives: daily happy hour and cheap parking.
While the restaurant isn't far from Ballston's business hub, it's a few blocks from the most highly foot-trafficked areas. The team wants to make the trip easy for potential customers, so offers $2 parking in the adjoining underground garage during dinner hours. Earlier guests are rewarded for their visit with daily happy hour deals from 4 to 7 (sample menu), when the bar serves $5 glasses of sangria, $6 wines, and $3 cañas of beer among other drink specials. The menu also includes $5 snacks like crispy squid with jalapenos, fried potatoes, and stuffed peppers. Just don't start calling SER a tapas restaurant.
SER. 1110 N. Glebe Rd., Ballston; 703-746-9822. Open for lunch, brunch and dinner: Sunday through Thursday, 11 to 10; Friday and Saturday 11 to midnight. Lunch shop open Monday through Friday, 11 to 3.