Getting dressed for party season has never been easier. Yes, fashion always rules, but the rules are more fun. Here's the rundown on playing dress-up.
If the invite says:
1. Casual Chic or Smart Casual
> Decoded: Swap sleek pants for jeans—this is the time for denim to save the day. Pair with a beautiful blouse and one statement piece, like a cocktail ring, drop earrings, or bold bangle.
2. Black Tie or Creative Black Tie
> Decoded: This is your Cinderella moment. Reach for floor-length gowns in luxurious fabrics that aren't part of your everyday wardrobe. If your host throws "creative" into the mix, stick to the same sophisticated style, but add an unexpected twist, like a bold pop of color via your heels or clutch.
3. Cocktail
> Decoded: Opt for a shorter hemline in a fun, unexpected texture, like lace or fringe. "I love the flapper look because it's really different and most definitely not something you'd see everyday," says Allan. This is also the time to reach for an embellished top and eye-popping color.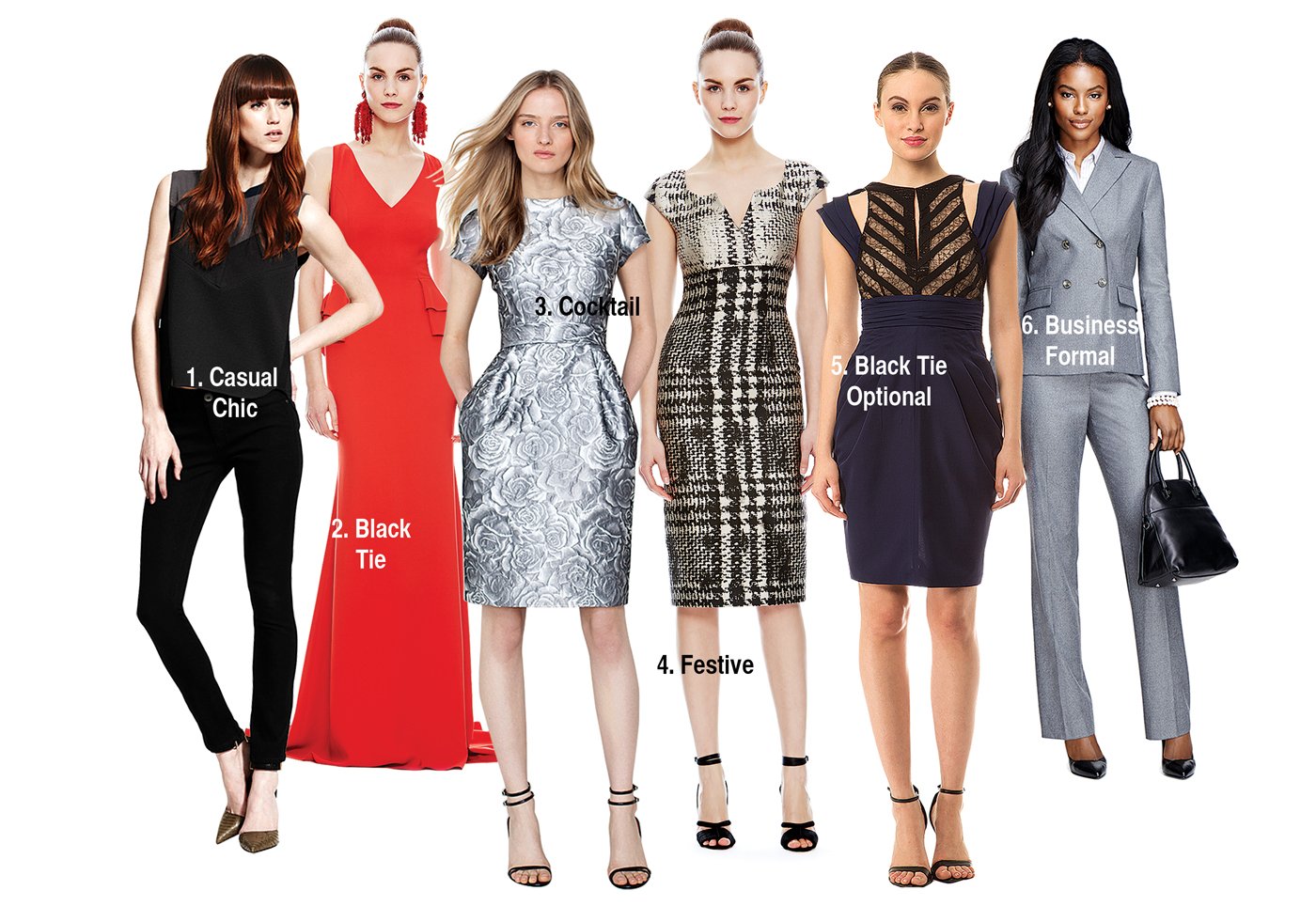 4. Festive
> Decoded:Bust out the sparkles. Go for the gold, or color, or sequins, or anything that screams fun (well, maybe it doesn't scream, but you know what we mean.) "Let the location be your guide as to how far to go," says local stylist Kara Allan.
5. Black Tie Optional
> Decoded: The level of formality is up to you, as long as it's still dressy. Though you'll want to skip the ball gown, you can still wear a floor-length dress. Cocktail looks are an ideal choice because the hemline practically ensures you won't be overdressed, but keep beading and shine to a minimum.
6. Business Formal
> Decoded: Conservative rules, regardless of your political affiliation. Go for a tailored, crisp look—be it pantsuit or pencil skirt and blouse—in toned-down shades of navy, gray, or black. A simple pair of pumps pulls everything together.