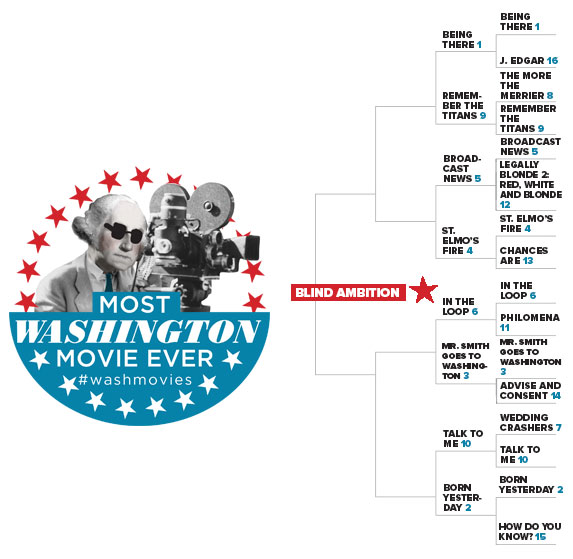 Welcome back to Washingtonian's inaugural movie bracket. This is the final quadrant of the second round, in which we thin out the group of films about wide-eyed saps who come to town in hopes of fixing whatever ails the nation—mostly, that means Jefferson Smith and his cinematic descendants. Speaking of Frank Capra's senatorial pipe dream, it was obvious before this started that Mr. Smith Goes to Washington would cut through its first opponent like a buzzsaw. The 1939 staple about a hayseed who prevents a critical bridge project from being built in his home state absolutely crushed Advise and Consent, a 1962 political thriller that tried to cast Richard Nixon to play a modestly fictional vice president.
Remember, no matter how "classic" film historians tell you that filibuster scene is, Washington—and the nation at large—today face crumbling infrastructure. The American Society of Civil Engineers 2013 report card gave the country's bridges a C+, and found that the District alone is home to 21 structrually deficient bridges. Thanks a lot, Jimmy Stewart. Mr. Smith Goes to Washington next faces Armando Iannucci's wonderfully dyspeptic In the Loop, which trumped Philomena. If only Malcolm Tucker ever crossed paths with Jefferson Smith.
Elsewhere in the first round of the "Blind Ambition" group, top seed Being There won a surprisingly close match J. Edgar, which featured the worst prosthetic effects in any Clint Eastwood film, at least until American Sniper's rubber baby. Broadcast News, perhaps aided by recent interest in television newspeople who embellish their credentials, edged out the peppy Legally Blonde 2; the timeless Brat Pack romp St. Elmo's Fire knocked out reincarnation rom-com Chances Are; 1950's Born Yesterday trounced 2009's disastrous How Do You Know; and, rather amazingly, the little-seen Petey Green biopic Talk to Me slipped past the bros of Wedding Crashers. Perhaps the most upsetting result was the triumph of feel-good Alexandria football story Remember the Titans over the 1943 farce The More the Merrier, which could not survive merely on Washington Post writer Dan Zak's enthusiasm.
1. "Nixon" beating "Dick" = bullsh*t. 2. "The Contender"? 3. "More the Merrier" = A+ 4. The winner is "Being There." http://t.co/l2KFz0YGKM

— Dan Zak (@MrDanZak) March 10, 2015
In the second round, it'll be Being There and Remember the Titans, Broadcast News and St. Elmo's Fire, Mr. Smith Goes to Washington and In the Loop, and Born Yesterday versus Talk to Me. Polls close Sunday, March 15, at 11:59 PM.