When the Watergate Hotel reopens after a lengthy renovation, its infamous name won't be the only throwback. Employees at the high-rise lodge overlooking the Potomac will be wearing uniforms designed by Hollywood costumer Janie Bryant, who is responsible for the painstakingly accurate 1960s fashions on Mad Men.
Euro Capital Properties purchased the fading landmark in 2010 for $45 million after a plan to turn it into condominiums collapsed. The New York-based firm, according to Washington Business Journal, plans to market the 340-room hotel as an "urban resort."
To that end, the company dumped $125 million on 27,000 square feet of new event space, 10,000 square feet of outdoor terraces, a new ballroom, a new fitness center and pool, a rooftop lounge, two restaurants, and an "opulent" whiskey bar. The bar, said Euro Capital design director Rakel Cohen, "will soon become the city's most exclusive venue for high-powered meetings or intimate tête-à-têtes," one of many Trumpian flourishes about the hotel plans.
Johnny So, the hotel's managing director, called the Watergate "the most famous hotel in the world." As accurate of a statement as that may be, the Watergate's fame has had little to do with mid-century modern design for nealry 43 years. Euro Capital Properties wants to rebrand Luigi Moretti's tower with "chic, retro glamour," which with Bryant's threadwork, apparently includes putting the staff in period dress.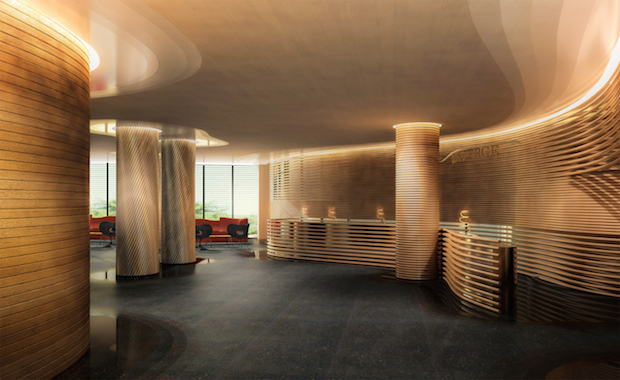 The Watergate Hotel is scheduled to start receiving guests again this summer, though the unfinished rooms and exposed wiring in the lobby makes that schedule appear a bit tentative. And when it does open, rooms will go for an average of $400 per night. If that doesn't lure people to stay a 10-minute walk from the nearest Metro station, perhaps the hotel can fall back on Mad Men-themed tourism.